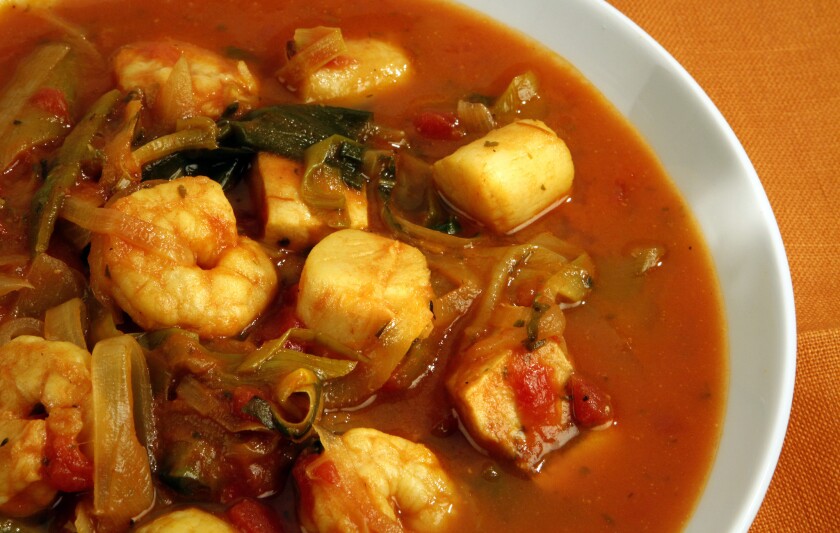 Craving a hearty one-dish meal? These (which happen to be gluten-free) are bound to warm you up on a chilly night.
Ciopinot's "no work" cioppino: It may take a little work prepping the ingredients, but Ciopinot's take on this classic contains a lot of flavor in just a few simple steps, and it makes a perfect dinner for a chilly evening.
Winter squash risotto: Creamy risotto is cooked with tender cubes of butternut squash, the colorful dish garnished with toasted walnuts and fried sage leaves. A perfect choice, whether you're fixing a quick meal for the family or are planning dinner for company.
Creamy butternut squash soup with ginger: This soup from Times Food editor Russ Parsons tastes so complex your guests will be guessing what's in it. Really, though, it's not much more than squash itself, pureed. The final addition of vinegar is crucial, though, to keep the flavors focused. You can find the recipe below.

CREAMY BUTTERNUT SQUASH SOUP WITH GINGER

Total time: 1 hour and 10 minutes | Serves 6
1 (2 1/2 -pound) butternut squash
2 tablespoons butter
1 onion, chopped (about 1 cup)
3 cloves garlic, sliced

2 tablespoons minced fresh ginger root
6 cups water
2 teaspoons salt, more to taste
Apple cider vinegar
Creme fraiche or sour cream
Toasted slivered almonds
1. Peel the squash, using a sharp vegetable peeler. Cut it in half lengthwise and scoop out the seeds with a spoon. Cut in 1-inch chunks.
2. Heat the butter in a large soup pot over medium heat. Add the onion and cook until it softens, about 5 minutes. Add the garlic and ginger root and cook until fragrant, about 3 minutes. Add the diced squash, water and salt and bring to a simmer. Cook at a low simmer until the squash is tender enough to smash with a spoon, about 30 minutes.
3. Puree the soup, either using an immersion blender or grinding it in several stages in a regular blender. The soup should be completely smooth and a little thicker than heavy cream. Ladle the soup through a strainer into a clean soup pot, discarding any bits of squash or ginger left behind.
4. Heat the soup through once more and season to taste, adding salt first and then the vinegar. Add the vinegar one-half teaspoon at a time; it will take a little more than 1 tablespoon.
5. To serve, stir the creme fraiche to loosen the texture. Ladle the soup into wide bowls and spoon 1 to 2 tablespoons of creme fraiche in a decorative pattern onto each. Scatter a few toasted slivered almonds over the soup and serve immediately.
Each serving: 163 calories; 3 grams protein; 22 grams carbohydrates; 4 grams fiber; 9 grams fat; 5 grams saturated fat; 20 mg. cholesterol; 795 mg. sodium.

Love cooking as much as I do? Follow me @noellecarter
---