Egg Slut to open at the Cosmopolitan Hotel in Las Vegas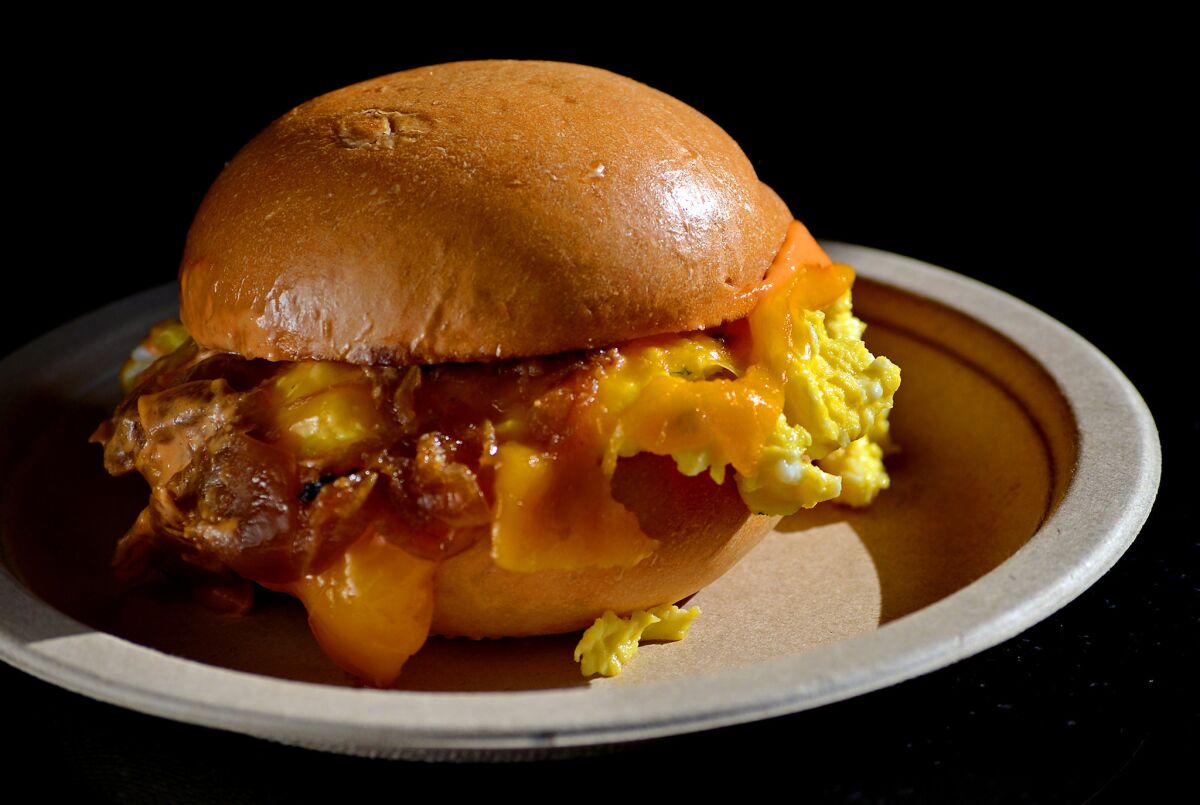 Egg Slut, the truck-turned-food-stand at Grand Central Market, will open a location at the Cosmopolitan Hotel in Las Vegas some time next year. Known for its loaded egg sandwiches, the stand routinely has the longest line at the market.
Cosmopolitan CEO Bill McBeath came to Los Angeles to stand in that line, on the recommendation of his daughter, a USC student. He waited 30 minutes to get an egg sandwich — then got back in line and waited another 30 minutes for his second.
"I said, 'Wow, what a great concept,' " said McBeath. "We're doing a lot of innovative stuff here and it's important to us, as a stand-alone independent brand, to align ourselves with other independent, unique brands. And Egg Slut certainly fits in with that."
When McBeath approached Egg Slut founder and chef Alvin Cailan, who is working on opening an Egg Slut location on Pacific Avenue in Venice Beach, Cailan said he was "shocked and stoked."
"I mean, my idols are there," said Cailan. "Thomas Keller, Jose Andres. I thought we were like a decade away from actually being a part of the Las Vegas food scene — if that."
Cailan says that, for the most part, the food will be the same as what's served at the Grand Central Market location, with a couple of Las Vegas-specific menu items that are still in progress. The space is about 1,500 square feet and will feature a counter and some high-top seating.
"We want to keep it true to what made us popular here in L.A." said Cailan. "Breakfast in Vegas is, you know, usually a Starbucks muffin and a coffee or like the buffet. We figured, why not put our stamp on things in Vegas?"
Expect to see a lot of the bacon, egg and cheese sandwiches Egg Slut is known for, for breakfast, lunch and maybe dinner.
Both McBeath and Cailan said late-night Egg Slut sandwiches, after an evening out at the hotel's Marquee nightclub, are also a possibility.
"When I'm kind of tipsy and I just finished going out, I don't mind a bacon, egg and cheese at all," said Cailan.
And those long Egg Slut lines? "It shouldn't have a drop off," said Cailan. "And [we] could be even busier."
At least you'll be able to wait in line at Las Vegas Egg Slut with a margarita in your hand. Because: Vegas.
3708 S. Las Vegas Blvd, Las Vegas, (702) 698-7000, www.eggslut.com.
#Eggyolkporn is a real thing. Follow me on Twitter @Jenn_Harris_
ALSO:
This new chile vodka claims to be the hottest in the world
Le Beaujolais Nouveau est arrivé: Here's where to celebrate Thursday
Hello Kitty Cafe pop-up to open in Irvine, and the Hello Kitty truck is headed to Glendale
---
Get our L.A. Goes Out newsletter, with the week's best events, to help you explore and experience our city.
You may occasionally receive promotional content from the Los Angeles Times.