10 great places for food lovers in the Downtown Arts District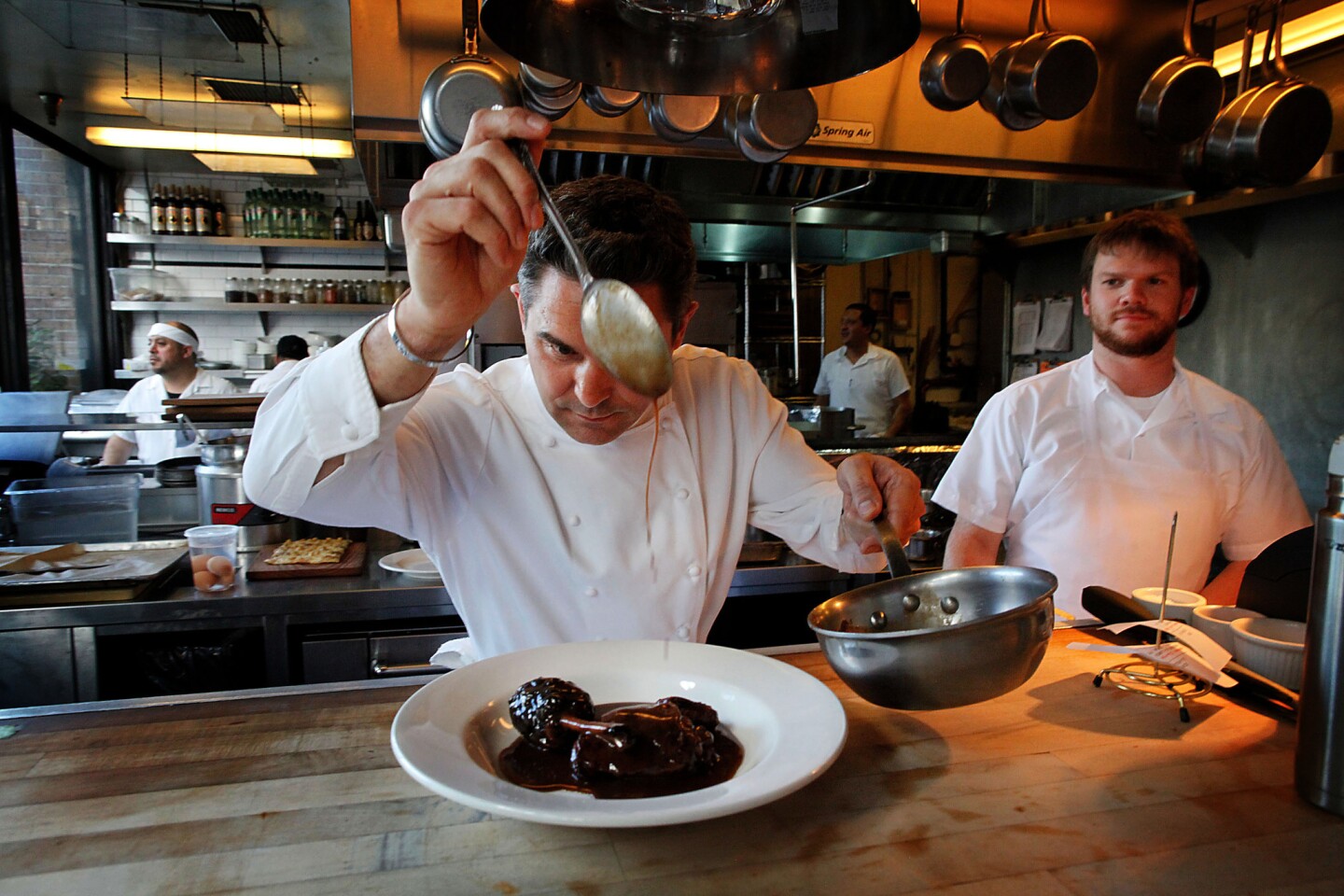 Executive chef Tony Esnault of Church & State puts the finishing touches on his coq au vin - chicken, carrot, mushroom, pearl onion and sauce.
(Barbara Davidson / Los Angeles Times)
Chef Ori Menashe of Bestia with a roasted suckling pig.
(Kirk McKoy / Los Angeles Times)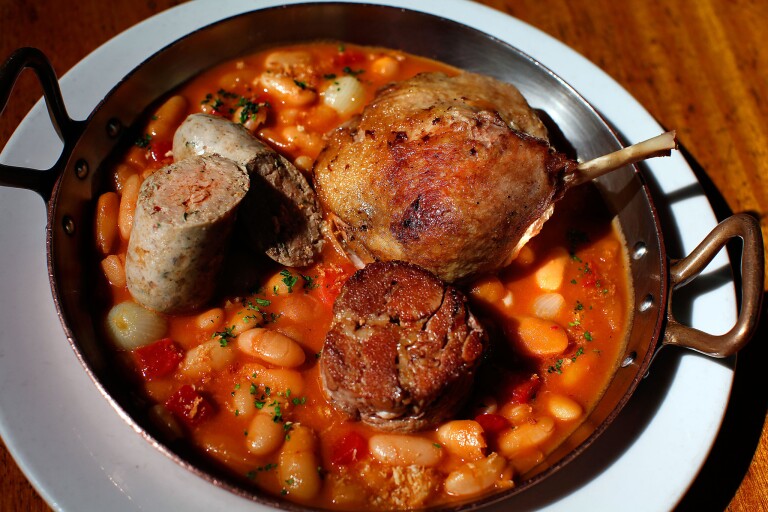 Cassoulet featuring seven-hour lamb, pork garlic sausage, duck leg confit and white beans at Church & State bistro in the downtown Arts District.
(Barbara Davidson / Los Angeles Times)
San Francisco's Blue Bottle Coffee Co. has taken over the former Handsome Coffee in the Arts District.
(S. Irene Virbila / Los Angeles Times)
"On the Bird" sandwich served at Bread Lounge in downtown L.A.
(Ricardo DeAratanha / Los Angeles Times)
Barista Frank Valerio gets a cup for a coffee drink he is preparing at Stumptown Coffee at 810 S. Santa Fe Avenue in 2013.
(Al Seib / Los Angeles Times)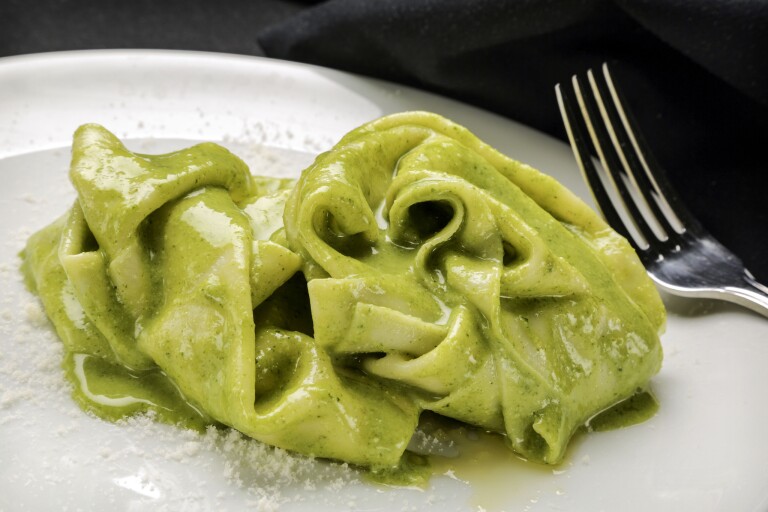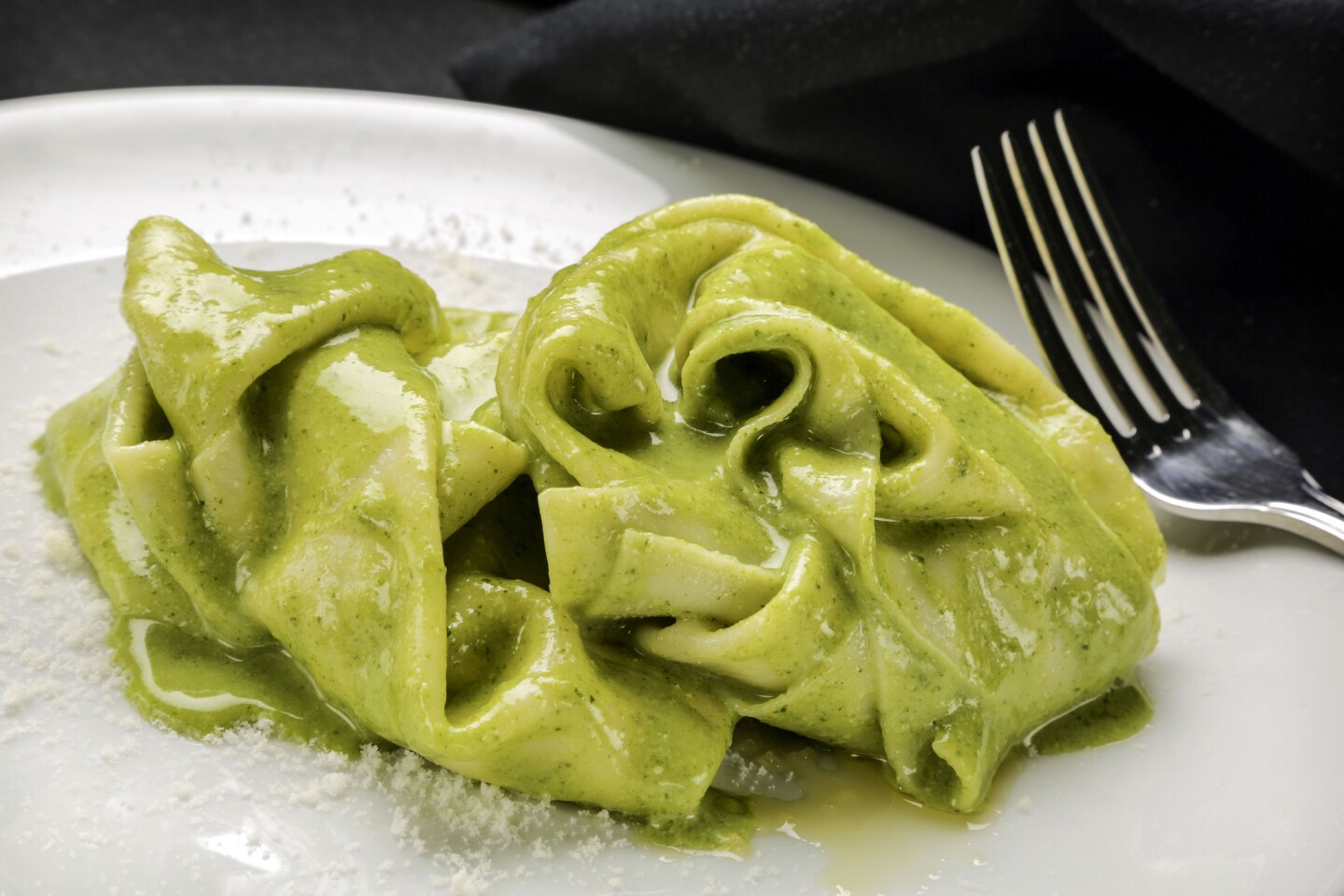 Mandilli di seta (handkerchief pasta, ligurian almond basil pesto, fiore sardo) served at Factory Kitchen
(Ricardo DeAratanha / Los Angeles Times)
The cacao pasta parcels with braised ox tail, burro fuso, grana padano, pine nuts and currants is one of the dishes offered at Bestia.
(Katie Falkenberg / Los Angeles Times)
Spencer Moody works on the coffee roaster at Stumptown Coffee at 810 S. Santa Fe Avenue in the Arts District in 2013.
(Al Seib / Los Angeles Times)
Church & State, a French Bistro in the Arts District is packed on a Saturday night in 2014.
(Barbara Davidson / Los Angeles Times)
Food is served on the outdoor patio at Bread Lounge in the Arts District.
(Ricardo DeAratanha / Los Angeles Times)
Bags of single origin coffee beans line the counter at Blue Bottle Cafe Co. in the Arts District.
(S. Irene Virbila / Los Angeles Times)
A waiter at Bestia talks with a table at the Italian restaurant from restaurateur Bill Chait and husband-and-wife team Ori Menashe and Genevieve Gergis in 2013.
(Katie Falkenberg / Los Angeles Times)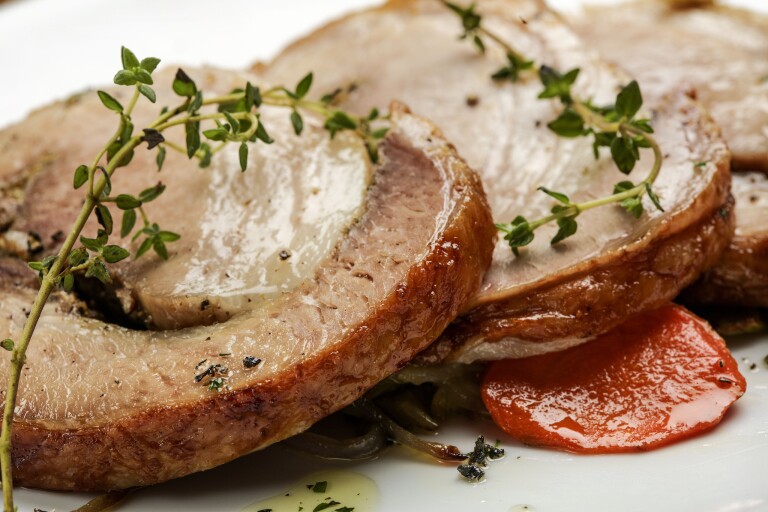 Porchetta (rolled pork belly, red onion, carrots, fennel, celery) served at the Factory Kitchen
(Ricardo DeAratanha / Los Angeles Times)
Andrew Lambert checks on fruit and produce at the grocery store Urban Radish in the Arts District.
(Al Seib / Los Angeles Times)
Urban Radish is an upscale grocery in the downtown Arts District.
(Al Seib / Los Angeles Times)
Some of the bottles on offer in the wine section at Urban Radish.
(S. Irene Virbila / Los Angeles Times)
Yoga instructor Gloria Baraquio and owner Kimberly Helms chat in the restaurant in 2014 at The Springs, a vegan business in the Arts District featuring yoga, juice, vegan food, wellness massage and more.
(Bob Chamberlin / Los Angeles Times)
The Springs, a vegan business in the Arts District has many healthful features in one place.
(Bob Chamberlin / Los Angeles Times)
Wine is poured in the main dining room at Factory Kitchen, a minimally redecorated loft space in 2013.
(Ricardo DeAratanha / Los Angeles Times)
For those who don't live downtown, Saturdays are a great day to visit the sprawling Downtown Arts District. There's a lot happening and much of it is walkable once you find a parking spot for car or bike or jump off the bus. On Saturdays, two of the best food trucks also park in front of Blue Bottle Coffee and Stumptown, respectively. Art galleries are generally open, quirky shops and boutiques too.
Every third Sunday, you can pop into Artists & Fleas on Mateo Street. That's the L.A. version of the flea market that started out in Brooklyn. It's mostly crafts and vintage clothing, but you can find hand-made cutting boards or indigo-dyed napkins too. Some great food trucks are usually parked out front.
As rich as the Arts District is, especially in terms of world-class coffee, more is to come in the first quarter of 2015. The One Santa Fe complex will include the high-end GROW market from Manhattan Beach, yet another Café Gratitude and BOL, an Asian spot from Andrea Uyeda, former COO of Border Grill. To add to the impressive ice cream choices in L.A., New York-based Van Leeuwen Ice Cream plans a shop there too.
Bestia — In a sprawling loft complex is the wildly popular Italian restaurant Bestia, from Ori Menashe and his wife, pastry chef Genevieve Gergis. After more than two years, Bestia is still one of the toughest reservations in town. That's because the menu isn't the same old generic Italian you see all over L.A. Come for the housemade salumi, pizze from the wood-burning oven, rustic pasta dishes, roast suckling pig and other hearty fare. Menashe has even managed to make pan-roasted chicken gizzards a hit at the bar. The wine list is as geeky as they come, and cocktails are designed by Julian Cox. With its high energy and fashionable crowd, Bestia feels more like something in New York's meatpacking district than anything we've experienced in downtown L.A. before. 2121 East 7th Place, Los Angeles, (213) 514-5724, bestiala.com.
Blacktop Coffee — Tyler Wells, one of the Handsome Coffee Roasters founders, peeled off to do his own project, the tiny Blacktop Coffee next to Wurstküche on East 3rd Street. Blacktop feels personal and inviting, just the place to pop by for an espresso made from San Francisco's Sightglass Coffee beans. The cold brew is terrific. And if you're into mochas, he makes his with real chocolate. 826 E. 3rd St., Los Angeles, (213) 599-8496, blacktop.la.
Blue Bottle Coffee Co. — Blue Bottle is the San Francisco phenom. They have a cafe in Venice, but last year the pioneering coffee company bought out Handsome Coffee Roasters, bringing some of the staff on board. The bags of beans wear the Blue Bottle logo — and you can now get sugar for your coffee, if so desired. A high communal table and a couple of counters constitute the seating. The place is always almost bursting with downtown types sipping the only-for-L.A. Dandy Espresso or single origin drip coffee. On Saturdays, Wes Avila's Guerrilla Tacos truck is parked out front. 582 Mateo St., Los Angeles, (213) 621-4194, bluebottlecoffee.com.
Bread Lounge — Ran Zimon's pointy baguettes, made with just flour, water and salt, are some of the best in town. Zimon uses his own natural yeast, and the process from mixing the dough to pulling the loaf from the oven takes 48 hours. Small wonder that there's always a line at the retail bakery. But Zimon is also selling more than bread — breakfast is served all day long. You could have some of that good bread with Plugra butter and housemade confiture or a Jerusalem bagel to eat with labneh garnished with olive oil and za'atar. There's borek, focaccia, quiche and sandwiches both hot and cold, and a constant parade of people picking up big lunch orders to go. 700 South Santa Fe Ave., Los Angeles, (213) 327-0782, breadlounge.com.
Cerveteca — Oscar Hermosillo has brought his Cerveteca concept to the former R23 space on East 3rd Street, making this the place for oysters, ceviche, Peruvian tiradito — and Baja fish tacos. He's got barbacoa and vegetarian versions too. At dinner, all that, plus platos grandes such as churrasco ribeye steak, red snapper a la Veracruzana and a board piled with housemade sausages, bacon — and sauerkraut. Eight beers are on tap, including Angel City Angeleno IPA and Smog City Sabre Toothed Squirrel, another 10 are in bottles. But this spot, which is open from lunch until late at night, is also worldly enough to have sake and soju, Michelada and a short wine list with Albariño, Riesling, Picpoul de Pinet and a Malbec from Argentina. 923 E. 3rd St., Suite 109, Los Angeles, (213) 805-5862, cervetecaDTLA.com.
Church & State — Just across 7th Street in the old Nabisco Biscuit Co., the French bistro Church & State draws a Francophile crowd. It looks like a party with piazza lights strung across the ceiling and tables of exuberant diners toasting each other with Champagne or rosé. It's been through many chefs, including République's Walter Manzke. The current chef is Tony Esnault, a Frenchman and Alain Ducasse alum previously at Patina, so expect to see some fine dining flourishes on basic bistro dishes such as tarte flambé, coq au vin and cassoulet. The snails wear puff pastry hats and the charcuterie is house-made, presented on big wooden boards. And at the bar, you can order a kir royale or sip absinthe with all due ceremony. 1850 Industrial St., Los Angeles, (213) 405-1434, churchandstatebistro.com.
The Factory Kitchen — Ex-Valentino chef Angelo Auriana came back to L.A. to open this soulful Italian restaurant on the edge of the Arts District. The space is brick-walled, industrial, with simple tables and chairs and a menu of Italian specialties. There's a lovely calamari salad, steamed clams with garbanzo beans, and chicken liver crostini with crushed pistachios to start. His handkerchief pasta with Ligurian almond basil pesto is as good as it gets. Try the paccheri pasta with pork sausage and spicy tomatoes or the egg pasta with lamb sugo and root vegetables. Auriana's rolled pork belly is terrific too, and he does a prime beef rib chop in Nebbiolo sauce that's worth a splurge. 1300 Factory Place, Los Angeles, (213) 996-6000, thefactorykitchen.com.
The Springs — Inside this vegan-themed business, which includes a yoga studio and wellness spa, is an organic juice bar and raw vegan restaurant. The space is open and light-filled, a great place to sit down with a glass of cold-pressed organic juice or a smoothie. They've also got grab-and-go salads and snacks, such as a banh mi collard wrap with housemade Sriracha. The cafe serves salads, and entrees such as zucchini noodles with green curry or spaghetti alla carbonara with smoked coconut bacon, along with Blacktop coffee and August Tea. They also serve organic wines, including selections from Scholium Project, Matthiasson and Alta Maria, which means you can actually get a pretty great glass of wine. 608 Mateo St., Los Angeles, (213) 223-6226, thespringsla.com.
Stumptown Coffee Roasters — It's hard to snag a table on the sidewalk veranda in front of Portland-based Stumptown Coffee Roasters, especially on Saturday when the Free Range food truck is parked out front serving up fried chicken and egg dishes. Stumptown takes coffee seriously, without being twee about it. Check out their Hair Bender espresso, named for a burned out hair salon on the site of the first Stumptown cafe in Portland. They carry some great gear too, and on Wednesdays, a selection of single origin beans are discounted. Fill up your Cold Brew Growler for a road trip. Or come by for one of the public tastings at 1 p.m., Wednesday through Sunday. Their Direct Trade beans are roasted in back. 806 S. Santa Fe Ave., Los Angeles, (213) 337-0936, stumptowncoffee.com.
Urban Radish — One block over from Church & State is the stealth gourmet market Urban Radish. The name is painted on the side of the building, but there's no real sign. What a surprise then when you pull into the parking lot and see a cook barbecuing outside on the weekends. Inside is a full-fledged market for people who actually cook. The prices are fair, and they've got just about everything you need, even a meat counter with an in-house butcher and organic chickens, grass-fed or grass-finished beef, pasture-raised pork and lamb, and handmade sausages. Produce is mostly organic and from small, local farms. There's a good selection of grains, flours and beans, a long counter of charcuterie from the best producers, some wonderful cheeses and a great little wine shop at the back. Plus, if you want to get a sandwich and a cheese or charcuterie plate, you can drink any bottle for its retail price and no corkage fee. 661 Imperial St., Los Angeles, (213) 892-1570, urban-radish.com.
Follow @sirenevirbila for more on food and wine.
---
Get our weekly Tasting Notes newsletter for reviews, news and more.
You may occasionally receive promotional content from the Los Angeles Times.