Vendors at the Wednesday Santa Monica farmers market cope with Southern California's devastating new wildfires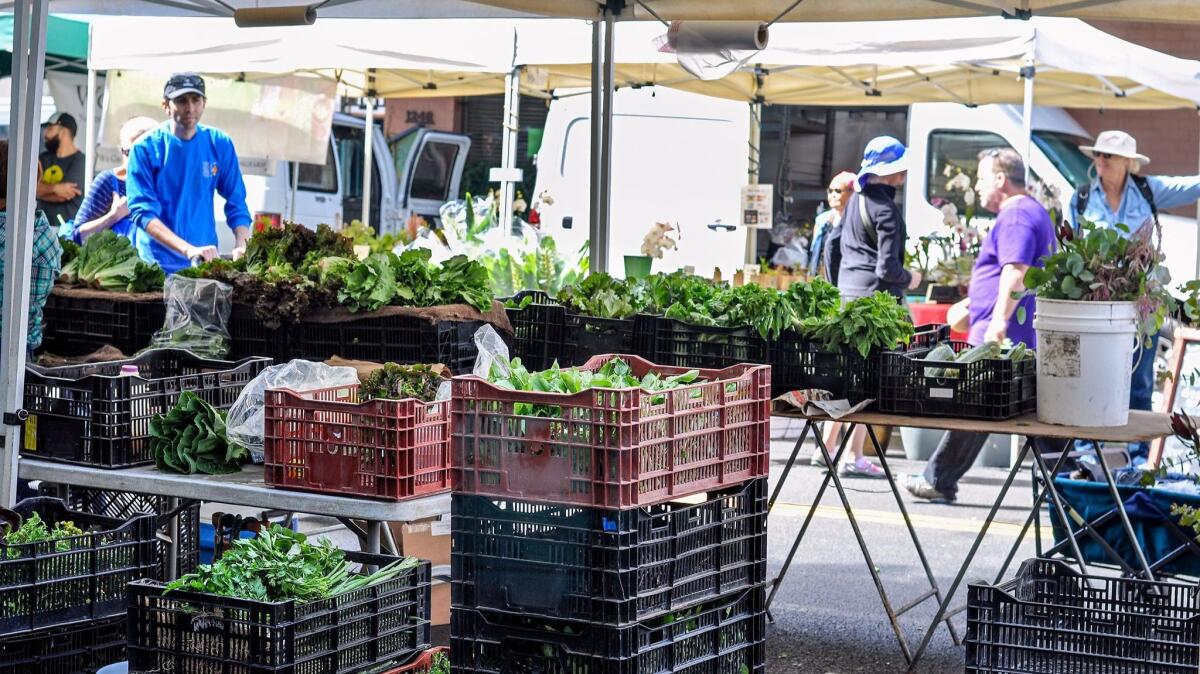 Orin Cadwell was operating on two hours of sleep when he drove through flames on either side of the 101 near La Conchita en route to the Santa Monica farmers market at 3 a.m. today. Usually, that route belongs to Barbara Whyman, who has worked Tutti Frutti's farm stand every Wednesday in Santa Monica for years, but on Tuesday, Whyman was one of 27,000 residents in Ventura who were forced to evacuate, and one of two employees of Tutti Frutti Farms to lose their homes to the Thomas fire in Ventura County, so Cadwell was called to fill in.
Many of the farmers and farmworkers who are familiar faces at Los Angeles area farmers markets work, live and farm in the areas affected by the Thomas fire — one of multiple wind-driven fires raging now in Southern California. Stories like Whyman's circulated down Arizona Avenue this morning, where a thinner than usual crowd shopped amid falling ash, many wearing paper face masks. Six of the market's 75 vendors were missing, leaving noticeable holes in a market that is usually vibrant and jam-packed.
One of those holes was left by Mud Creek Ranch, a citrus and avocado farm in Santa Paula known for growing more than 200 varieties of organic citrus. On Instagram, Matthew Smith, son of ranch owners Steven and Robin Smith, posted a photo of the blaze nearing the family's property with the caption "sounds like a jet engine." Hours later he posted a video of destruction on the ranch, updating followers that while many structures on the property were destroyed, they managed to save the house and the garage. By phone, his sister Marguerita confirmed that some of the orchard was damaged as well.
Mark Carpenter of Coastal Farms in Santa Paula was also missing from today's market. He and his wife Pernille posted a series of harrowing images on Instagram, the latest of which said that while his vegetable farm was unharmed, his landlords lost 50% of their avocado orchard; much of the farm equipment was destroyed.
Next to the empty space usually occupied by Coastal Farms' stand on Second Street, Coleman Family Farms' table display was eerily small. Where you would normally find an ocean of lettuces and crates spilling out of a box truck and 20 feet of tables piled high with greens, there was a modest collection of crops from the family's Carpinteria property. According to one worker, it was about 200 crates less than the usual Wednesday haul.
Farmworkers were unable to pick kale and lettuces from Romeo Coleman's second property that sits adjacent to Highway 33 in Ojai, where fires have been raging. The Coleman table worker said Coleman and a neighbor took a fire hose to the fields Tuesday in an effort to spare his crops from the encroaching flames.
Nick Brown of Rincon del Mar Ranch, whose cherimoya and avocado groves are not far from Coleman's Carpinteria property, learned at 10:30 a.m. that the fires had reached the perimeter of his family's ranch. According to Market Manager Laura Avery, he leapt into action upon hearing the news, left behind his unsold produce and headed back to the farm early. (At the close of the market, at 1 p.m., the status of many farms was uncertain.)
For some farmers, it wasn't the fire but the wind that threatened their crop and kept them from the market. Emily Thacher, who grows Ojai Pixie and other citrus at Friend's Ranch in Ojai, told Avery, "our whole crop is on the ground right now."
As the market drew to a close, one of the most pressing questions for many farmers who travel south to Santa Monica was whether they would be able to get home.
Cadwell from Tutti Frutti joked that he might go to a Clippers game if the roads were closed. Even if he could get home, he has five refugees from the Thomas fire camped out on his floor.
"It looks like a Dust Bowl camp," he said of his place. "Woody Guthrie should be playing the ukulele."
ALSO:
An easy guide to pairing beer with barbecue
Jonathan Gold goes to Bell for Rocio Camacho's take on a boozy Oaxacan taqueria
This new Anaheim sweet shop is serving totally loaded Hungarian ice cream cones made for Instagram
Get our weekly Tasting Notes newsletter for reviews, news and more.
You may occasionally receive promotional content from the Los Angeles Times.