Full of flavor, low in alcohol, it's Gosebusters to the rescue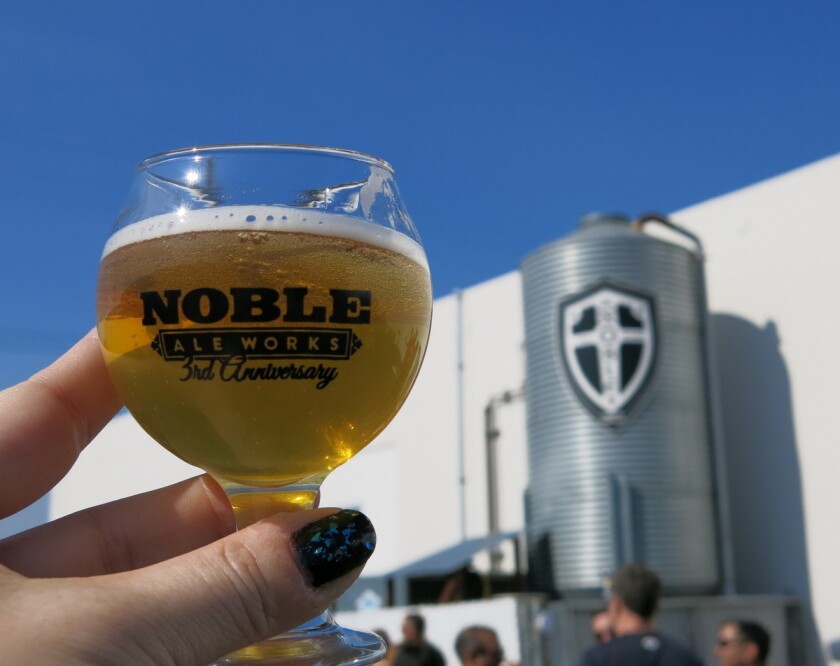 Anaheim's Noble Ale Works is turning out consistently excellent beer and they're doing it with levity and flair. We've told you about their Naughty Sauce -- it felt like the most talked-about beer of 2013 -- and their IPA Fest-winning Tongue Tickles, and they've kept the beer geeks talking with their "Showers" series -- imperial IPAs that each feature a single hop variety. Recently, Brewmaster Evan Price turned to a long-forgotten European beer style for his latest hype-worthy brew, and Gosebusters is another Noble Ale Works beer that may be worth driving across town to try.
Gose, pronounced "goes-uh," is a wheat beer from northern Germany that is brewed with salt and spices. Pale and tart with a notable salinity, a gose can be as refreshing as a bottle of Gatorade. The style all but died out until a handful of German brewers began to experiment with the historical techniques, and American craft brewers were quick to add gose to their quiver of beer styles to experiment with.
Noble's cheekily named version makes little attempt to stick to the German brewers' script; Price infuses the fermented gose with magnolia oolong tea for an additional layer of flavor. He says it's "maybe my favorite beer we've ever made" and calls it "infinitely drinkable."
The floral, herbaceous tea is well matched to the citric tartness of the base beer, and it doesn't overwhelm the more subtle malt and mineral flavors of the gose. It's a beer that is really strange -- not beer-like at all -- but is light and refreshing and full of flavor (even though it's less than 5% alcohol).
Unfortunately, Gosebusters is available only on tap at the Noble Ale Works tasting room in Anaheim (and only for a limited time). But keep your eyes out for any Noble Ale Works tap takeovers, as Price says the beer will be making appearances at special events around town.
Intrigued by the idea of a salty gose beer, but can't get down to Anaheim? There are some bottled versions that should be easier to find; try Almanac's Golden Gate Gose (made with lemon verbena and a spicy saison yeast) or the German import Freigeist Geisterzug Gose (which features spruce tips).
Noble Ale Works, 1621 S. Sinclair St., Anaheim, (714) 634-2739.
---
Get our weekly Tasting Notes newsletter for reviews, news and more.
You may occasionally receive promotional content from the Los Angeles Times.