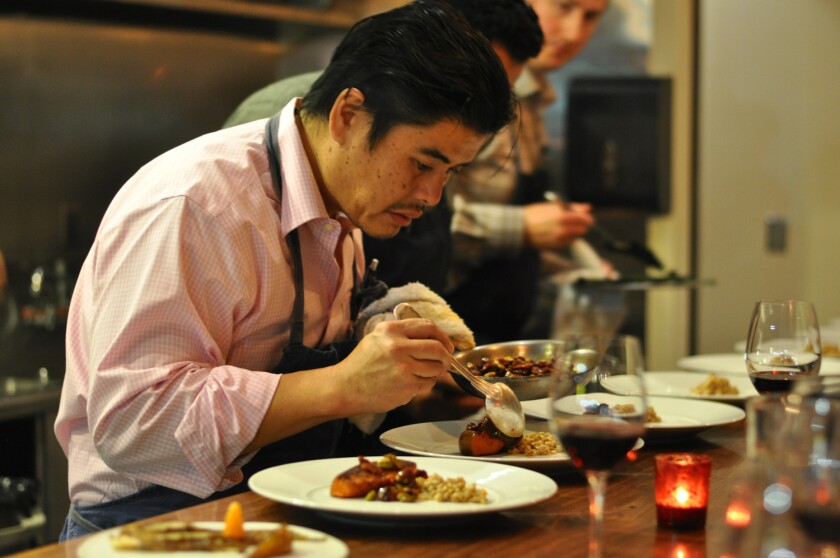 It's been a long wait to get a seat at this counter. But after many months, years really, we can all finally pull up a chair at Le Comptoir, chef Gary Menes' 10-seat restaurant, which opened Friday night.
Le Comptoir — "the counter" in French — is exactly that, a bar counter in the Hotel Normandie building in Koreatown, in a small space that was once the Dragon Lady Bar. It's a concept that Menes has been trying out for a few years now, as a traveling pop-up restaurant. Le Comptoir had incarnations in the Tiara Cafe downtown, the Wine Vault in Glendale, Olive & Thyme in Burbank, among other locations, as Menes worked on his project, always with the goal of opening his own permanent restaurant.
And now he's realized that dream, opening Le Comptoir by himself, without partners. "I own the restaurant outright," Menes says. "That's been my goal since I started on this journey 19 years ago."
It's been some journey for the chef, who is from Long Beach and who trained at the French Laundry and cooked at Palate Food + Wine, Patina and Marche before starting his pop-ups. When not popping up in various locations, Menes has been gardening in Long Beach, where he still lives with his family.
This is not just any garden, any more than Menes' counter is a regular counter. The chef leases the entirety of the Gladys Ave Urban Farm, an organic farm in Long Beach that's been farmed organically since 1983. Menes works the farm every day, with a helper who comes in once a week, and with the sometimes help of Joshua Lu, Menes' apprentice and a senior biochemistry major at UCLA, who also works at Le Comptoir.
And it's that produce that you'll find on your plate at Le Comptoir, or rather the series of plates that make up the multi-course tasting menu that Menes presents over the course of the evening. It's a prix-fixe tasting menu, with supplements (of meat and seafood, of truffles) and optional wine and coffee pairings. Menes' small staff includes Lu, Jason Koh (who works at Eggslut during the day), Randy Moles and Alex Guzman (whose day job is at Bar 9 in Culver City).
Together, the men enact a kind of performance art in front of you, cooking not at a stove — there is no stove here — but on the four hot plates behind the bar. Other than the hot plates, there's a baking rack filled with ingredients, and a convection oven the size of a dorm room mini-refrigerator. All this goes on a corollary counter to the one at which you're seated, a system of refrigerators below it. That's it — the whole tiny restaurant illuminated by a few beautifully retro lighbulbs. The seats at the counter are still a patchwork of styles: One of them Menes inherited from the Dragon Lady Bar.
The menu on the second day of service comprised six courses, all vegetable-focused. Among them, a first course of sweet summer corn veloute, made from corn Menes grew on his farm over the summer and Cryovaced, poured into a pretty ceramic bowl and served with Greek yogurt and hon shimeji mushrooms; a stunning "vegetable and fruit" plate, lightly cooked produce from the garden arranged like a Flemish still life painting; an egg cooked in an extremely hot little cast-iron skillet with brown butter, lemon, Parmesan and wilted garden greens and served with Clark Street bread, as Menes was out of his own sourdough bread.
Most courses come with optional supplements, most notably another of Menes' favorite dishes: house-made tagliolini with black truffles shaved over the top like giant confetti.
Menes pairs his courses with wines, mostly from Central California, and finishes the meal with pour-over coffee — which you order at the beginning of the meal — from Bar 9. It's a fitting end to your dinner, as Menes adds coffee grounds to the compost of the dried leaves and "spent veggies" he uses on his organic farm. The term "farm to table" is often used in current cuisine, but here it actually describes the restaurant and its project. Well, OK, farm to counter.
Le Comptoir's menu changes weekly. The six-course menu is $67 per person, with additional fees for optional supplements. The wine pairing is $40; coffee is $7. There's a corkage fee of $25. The restaurant is open Tuesday through Saturday, with two seatings at 6 and 8:30 p.m. Email lecomptoirla@gmail.com for reservations.
Le Comptoir, at the Hotel Normandie, 3606 W. 6th St., Koreatown. lecomptoirla.com.
Lotsa pictures of pretty vegetables, although not as pretty as Gary's, on Instagram @ascattergood.
---