Curious about gose-style beer? This California brewery has it.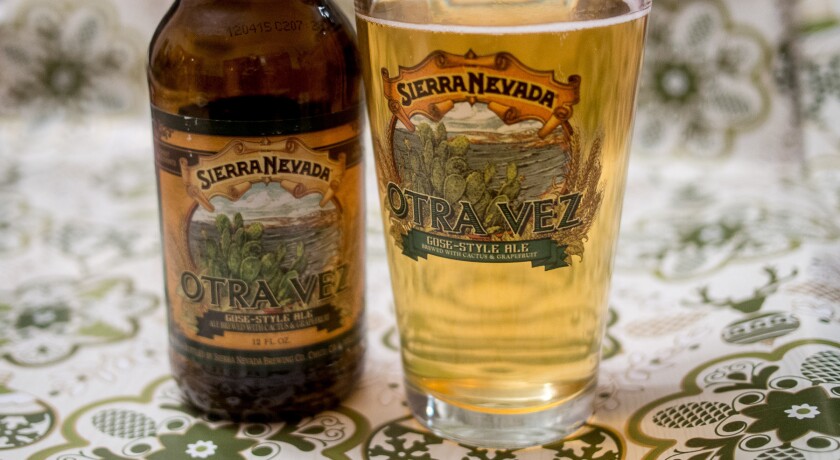 California's largest craft brewery is set to launch a new year-round brand called Otra Vez. But instead of focusing on the pungent hop aromas that Sierra Nevada Brewing is best known for, the beer will be flavored with prickly pears and grapefruit. The light and tart brew, a nod to the traditional German gose style, has been in development for more than four years and will be released nationwide this month.
The gose style (pronounced "gose-uh") is a wheat beer that balances a sour twang from lactic acid-producing bacteria, a distinct salinity and a subtle floral spice from added coriander. Sierra Nevada's interpretation took more than 100 iterations before deciding on the final formula, and it took a "beautiful accident" for the brewers to get it just right.
"Gose was an almost forgotten style from Eastern Germany," Sierra Nevada's billionaire founder Ken Grossman told a group assembled for a launch event at the Surly Goat in West Hollywood. "It's been revamped by American brewers, and it's a very unique style because it's made with a souring process using a natural bacteria like what you'd find in yogurt. This provides a natural acidity; a really nice tartness that helps balance. It has a really clean and dry finish with a bit of salt."
The most difficult thing in developing the Otra Vez recipe was finding the balance point between the tartness and the salinity while keeping the bacteria culture from producing too much funk. The brewers tried dozens of different strains of lactobacillus bacteria before they stumbled on a novel strain that had accidentally infected a yeast sample. "We liked the way it tasted," said Grossman, and that house strain is the key to the complex production of Otra Vez.
Unlike a standard ale — the result of the typical brewing routine of soaking grains in hot water, boiling the resulting sweet liquid (the wort), and then fermenting the whole batch with yeast at fairly cool temperatures (usually below 70 degrees Fahrenheit) — Otra Vez is a blend of wort made from wheat and barley fermented with Sierra Nevada's house ale yeast strain, and an acidic component that's made from unboiled wort fermented only with the lactobacillus bacteria at a very high temperature (over 100 degrees Fahrenheit). A new experimental variety of hops that is low in bitter compounds, but high in natural antimicrobial acids, greatly increases the stability of the beer once it's packaged.
"Otra Vez means 'another time,'" said Brian Grossman, Ken Grossman's son and general manager of Sierra Nevada's North Carolina brewery. "This is a throwback to the California roots that we have. All the additional ingredients are California sourced — the prickly pear cactus, the grapefruit, it even uses California coriander. Otra Vez isn't about the hops — it's about the palate of American craft beer drinkers changing."
And the marketplace is thirsty for gose-style beers. While IPA remains the most popular, and the fastest growing, style of craft beer, gose is one of the trendiest styles in the beer world. Light in body, low in alcohol, and most importantly, tart, gose has captured the tastebuds of craft beer drinkers looking for both "sessionable" and "sour" brews. Ken Grossman credits Anderson Valley Brewing Co. in Mendocino County for popularizing the style with its canned The Kimmie, The Yink, and the Holy Gose brand (and its blood orange variant). Adding citrus to craft beer is another growing trend in the industry, with Ballast Point's Grapefruit Sculpin the most visible example, and the grapefruit component of Otra Vez is a defining flavor of the new brew.
Fruity and tart, Otra Vez is quaffable in quantity. The prickly pear adds a distinctive melon-like aroma, and the clean lemony tartness is well matched with a salt addition that's more subdued than many goses on the market. The ale has less than 5% alcohol, so as Brian Grossman puts it: "You can have two or three beers and not be blottoed."
The new brand is rolling off the production line at Sierra Nevada's Chico brewery, and bottles will hit store shelves over the next few weeks. Cans of the brew will follow in time for spring, and Otra Vez is tailor-made for California's warm months. The brewery also plans to create one-off draft releases under the Otra Vez brand that will feature other additives and fruit flavors.
ALSO:
Shake Shack to open in downtown Los Angeles
Six of the most memorable, new local craft brews from 2015
---
Get our new Cooking newsletter.
You may occasionally receive promotional content from the Los Angeles Times.