Pizza as health food? Reinventing crust with red and black dough at the 2014 Pizza Expo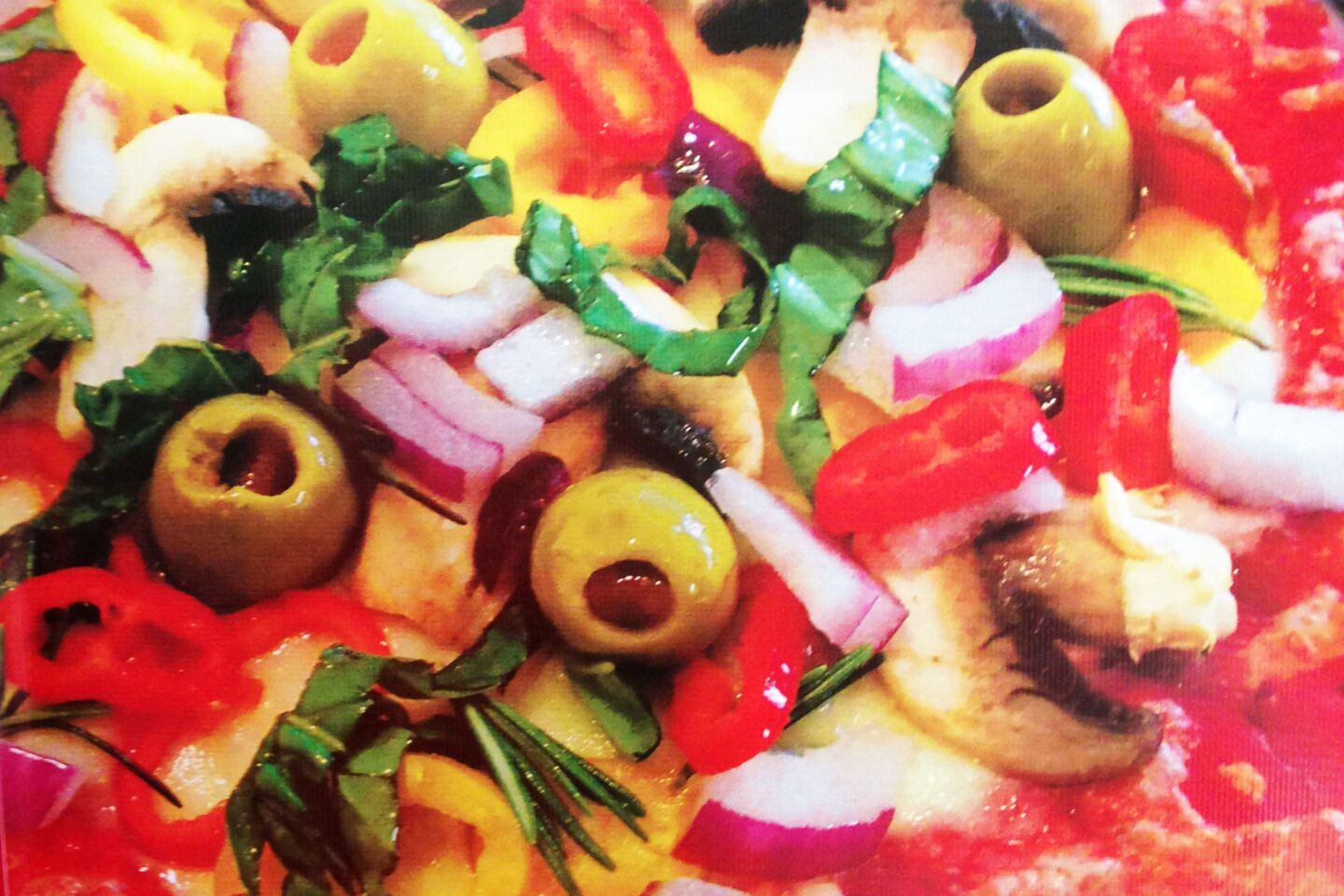 Red pizza dough with an additive by Enky Energy.
(Jenn Harris / Los Angeles Times)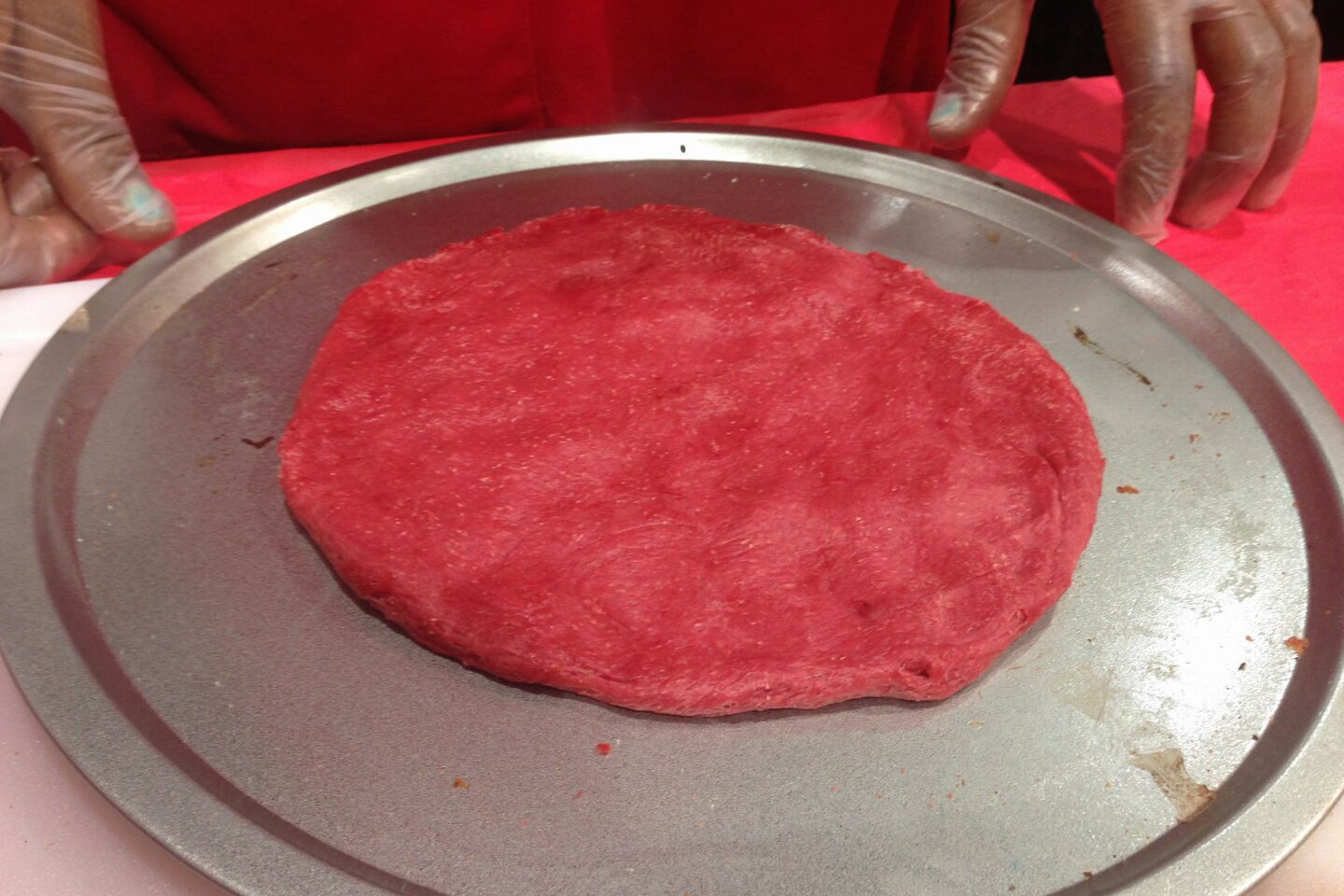 A man rolls out the red dough at the Pizza Expo in Las Vegas.
(Jenn Harris / Los Angeles Times)
The red dough gets its color from this additive.
(Jenn Harris / Los Angeles Times)
Black dough from Molini Spigadoro.
(Jenn Harris / Los Angeles Times)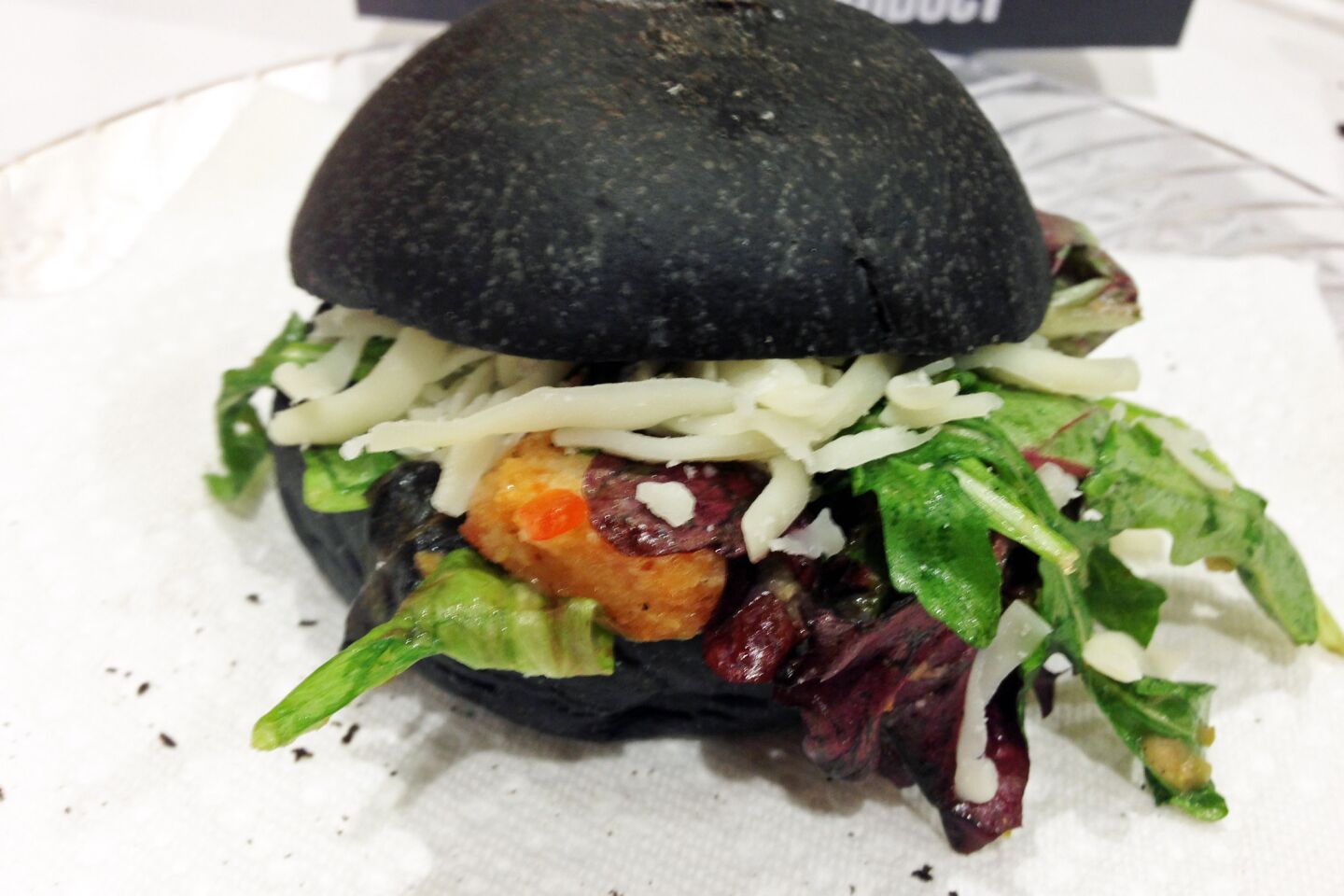 The black charcoal dust is used to make this sandwich bun.
(Jenn Harris / Los Angeles Times)
Pizza enthusiasts and industry leaders from around the world met this week for the annual Pizza Expo at the Las Vegas Convention Center for a three-day pizza-palooza.
One of the center's halls was transformed into a pizza wonderland with booths showcasing pizza flour, new toppings, pizza boxes, special ovens and even a selection of beer to pair with all those pies. Just walking through the hall could give you a pizza high.
And there were plenty of cannolis, tiramisu and gelato for anyone with a sweet tooth.
GUIDE: Great L.A. pizza, mapped
It seemed every direction you turned there was a new gluten-free product to try, but the big takeaway were those attempting to make pizza into a health food.
The Enky Energy booth advertised an energized pizza crust. Intrigued, I found a man at the booth rolling out red dough.
"It's a mixture of guarana and whey powder for energy, beet root and some other ingredients," he said.
Those other ingredients included tomato powder, honey powder, ascorbic acid, caffeine and natural enzymes. The company claims these ingredients add valuable protein.
The idea is to add the "Hip 'n Fit" powder to any dough recipe. But what does the red dough taste like? Regular pizza dough with a hint of tomato.
The red powder comes in small tubs and is available for sale only on the Enky Energy website. For $99.95 you can buy enough to make 100 10-inch pizzas crusts.
PHOTOS: Where to get the best pizza in the city
But Enky wasn't the only company looking to market enhanced, colored dough. There were platters of black bread at the Molini Spigadoro tent.
We know, black dough is nothing new. Restaurants use squid ink to color and flavor dough all the time. But at this tent, they used charcoal. And it didn't alter the taste of the dough, but gave it a slight chalky texture.
This activated charcoal dust colors the dough, but the company claims it does much more. Just as charcoal pills are sometimes taken for indigestion, Molini Spigadoro says, this product can be used to treat indigestion, reduce intestinal problems, lower cholesterol levels and help with hangovers.
A post-late-night hangover-fighting pizza does sound like a good idea....
If black charcoal dough sounds familiar, you may have had the black lobster roll at Hinoki & the Bird in Century City. The restaurant colors its lobster roll bun with charcoal dust.
Molini Spigadoro, like Enky Energy, is looking for a distributor before its products hit the U.S. market. The charcoal dust is to be available for sale on the company website in mid-April.
Want more quirky food news? Follow me on Twitter: @Jenn_Harris_
ALSO:
Roy Choi's Pot is open: Hot pots, uni dynamite and Bell Biv DeVoe
Taco Bell to Canada: You can have breakfast if you take back Justin Bieber
Woman named Crispi accused of trying to burn down ex's house with bacon
Get our L.A. Goes Out newsletter, with the week's best events, to help you explore and experience our city.
You may occasionally receive promotional content from the Los Angeles Times.