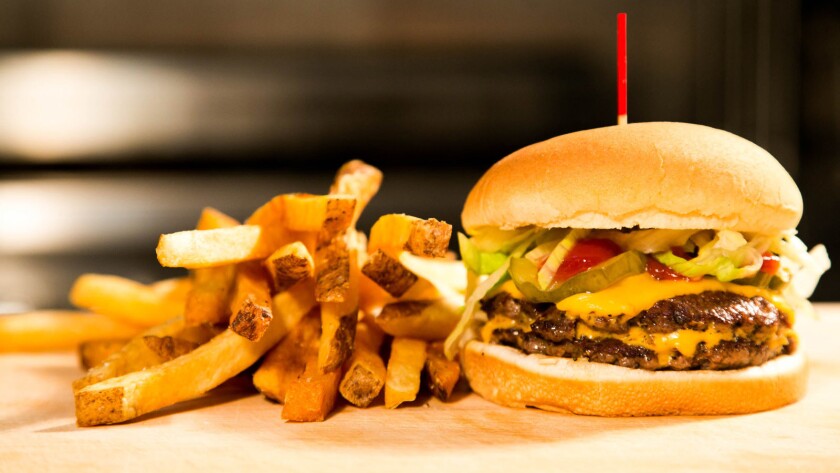 Name: HiHo. This burger restaurant's founding crew, Matt Levin (entertainment industry), Jerry Greenberg (restaurateur who is one of the owners of Sushi Nozawa LLC), Ajay Sahgal (entertainment industry) and Lowell Sharron (restaurant industry and one of the founders of Uovo, a pasta bar next to HiHo) say they turned their passion for hamburgers into business.
The original HiHo opened in Ojai in 2015. It closed earlier this year and was moved down to Santa Monica, in its current location on 2nd Street, and opened in June. The four worked as a team on the recipes for the restaurant, including the burger itself ("we ate more burgers than you can imagine," said Levin), the bread and butter pickles (Sahgal's recipe) and the onion jam used on the HiHo burger.
The name is supposed to evoke "nostalgia and happiness." If you start whistling "Heigh-Ho" from "Snow White and the Seven Dwarfs" while you wait for your burger, you won't be the only one.
Concept: There are three burgers on the menu, plus fries, shakes, pies and beer and wine. You can also order a kid's grilled cheese and a salad, if for some reason your kid doesn't want burgers. All of the burgers are made with 100% Wagyu beef sourced from a cooperative in New Zealand.
"We tasted what we thought was every grass-fed beef option there was and grass-fed Wagyu just tasted clean and like no other beef," said Greenberg.
The mentality behind the hyper-focused menu is similar to that of some of Greenberg's other businesses, Kazu Nori and Sugarfish, in that there's a heavily curated menu that specializes in one thing, whether it be sushi or burgers, without a lot of wiggle room. (Greenberg stressed that HiHo is a completely separate company.)
"If you want to give guests consistently good food, we believe you have to focus and get down in to the details," said Greenberg,
At HiHo, you order at the counter, take a number, then sit at one of the wooden tables in the small dining room. It's also a restaurant that requests "please, no tips," although a service charge is not added to the bill at the end.
Seeing double: Both the HiHo burger and the Classic burger are double cheeseburgers, and both are made with 1/3-pound Wagyu beef patties and American cheese. The HiHo also comes with Heinz ketchup, a sweet onion jam, bread and butter pickles and mustard ($9.75 with fries). The bun is the soft, squishy kind that melts into the burger, the perfect vessel for the gooey cheese and the meat. It's more of a textural element than one that imparts any real flavor. According to Greenberg, the idea was to find a bun that didn't get in the way of the meat. If you're watching your carbs, you can ditch the bun and get a lettuce wrap.
Why you saved room for dessert: HiHo has two pies on the menu: a Key lime and a banana cream pie, both made from scratch at the restaurant. The Key lime is classic, with a tart custard filling and a buttery graham cracker crust. The banana cream pie has a layer of whipped cream that's equal to the layer of banana custard underneath it. Neither is fancy, they're both just good pie.
What you're drinking: The milkshakes (chocolate or vanilla) are made with Straus Family Creamery ice cream, the dairy in Petaluma, CA. The soda machine is full of Puck's "craft" sodas. You can also order beer and wine.
Better than In-N-Out? Yes, but maybe it's not fair to compare the two. One is a SoCal fast food giant, beloved by almost everyone who grew up in Southern California. The other is an excellent, 100% Wagyu beef double cheeseburger with an almost fancy, totally necessary onion jam. HiHo uses shredded lettuce (blasphemy for some), while In-N-Out uses leaf lettuce. But there are similarities that can and should be addressed. Maybe it's the bun to meat to cheese ratio. Maybe it's the fact that both burgers have two layers of pale orange American cheese. Or maybe it's that squishy bun, the kind you can't help but actually crush a little when you cradle the burger with both hands.
Just the one, for now: Greenberg and Levin say they can't see past the one location right now. "We're not trying to build some sort of burger empire," said Greenberg. "We are using a very hard-to-get, high quality beef and it doesn't lend itself to attacking the burger space."
Info: 1320 2nd Street Ste. B Santa Monica, (310) 469-7250, www.hiho.la.