Holiday cookie recipe: Almond candy cane cookies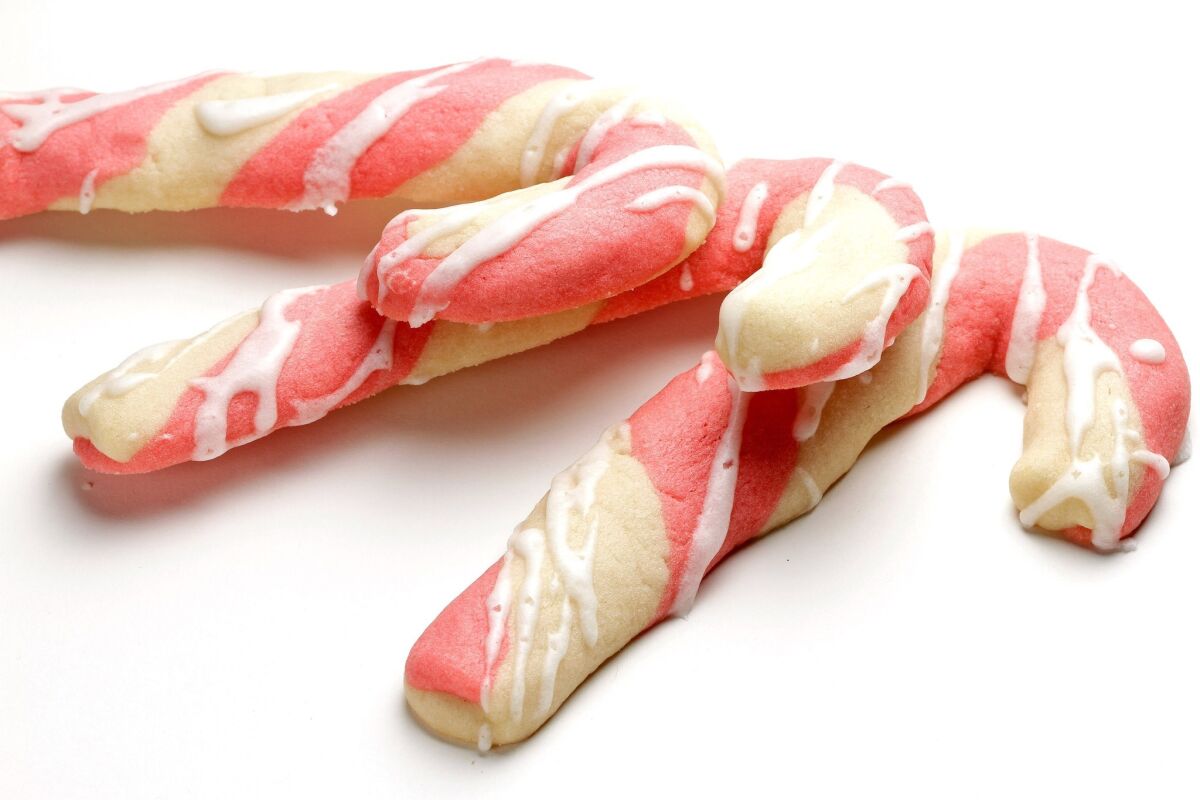 Nothing says Christmas quite like candy cane cookies. Kristen Johnson, a reader from Santa Monica, as well as a finalist one year in our L.A. Times Holiday Cookie Bake-Off, submitted this recipe, flavored with aromatic almond extract. She writes:
"My mother, Wendy Johnson, had me brainwashed as a child. Chocolate cake with almond frosting for my birthday? Yes! Sugar cookies with almond flavoring? Delicious. It wasn't until I was in college and I made my roommate the homemade chocolate cake with almond frosting that I quickly learned my mom totally messed me up. Apparently using almond in lieu of vanilla flavoring in everything is not normal. I learned to hide my familial love of almond for the much more universally accepted vanilla. With one exception. The almond candy cane cookie. The family cookie of our holiday. Why? Because it is unapologetically, unabashedly blissfully almond. From the dough to the glaze — blatantly almond. And We. Don't. Care."
ALMOND CANDY CANE COOKIES
Total time: 1 1/2 hours, plus chilling time for the dough | Makes about 4 dozen cookies
Note: Adapted from a recipe by Kristen Johnson.
COOKIES
1 1/2 cups (3 sticks) butter
1 1/2 cups shortening
3 cups powdered sugar
3 eggs
1 tablespoon plus 2 teaspoons almond extract
2 1/2 teaspoons vanilla extract
2 1/2 teaspoons salt
Scant 9 cups (38 ounces) flour
Red food coloring
1. In the bowl of a stand mixer using the paddle attachment, or in a large bowl using a hand mixer, cream together the butter, shortening and sugar. Add the eggs, one at a time, until incorporated, then add the almond and vanilla extracts. Add the salt, then slowly add the flour, a little at a time, until completely incorporated to form the dough.
2. Divide the dough in half. Cover and refrigerate half. To the other half, add enough food coloring to turn the dough a rich pink. Cover the other half; and refrigerate both pieces of dough about 30 minutes.
3. Heat the oven to 375 degrees.
4. Form the cookies: Take a heaping tablespoon each of the pink and white dough. Roll each piece into a strip, then take the two strips and place them side by side so they are touching each other. Roll them together so you have one uniform piece, red on one side and white on the other, then twist to swirl. Twist the dough to form the shape of a candy cane. Continue forming the cookies with all of the dough.
5. Bake the cookies on a cookie sheet until set, 6 to 8 minutes. Remove the hot cookies from the sheet carefully, as the "hook" of the cane can break easily; allowing them to sit on the cookie sheet for a minute or so after baking makes the removal a bit easier. Glaze while hot.
GLAZE AND DECORATING
1/4 cup ( 1/2 stick) butter, softened
3 cups powdered sugar, sifted
2 to 3 teaspoons almond extract
1/4 cup milk, more as needed
Cookies
1. In the bowl of a stand mixer using the paddle attachment, or in a large bowl using a hand mixer, beat the softened butter with the powdered sugar. Beat in the almond extract, then slowly add the milk. Add enough milk to create a glaze-like consistency (not as thick as frosting, but thick enough to coat the cookie). Glaze the cookies generously while hot. Feel free to add a second coating of glaze if you'd like!
2. The cookies are good warm, but they are actually at their best the second day, or after they have had time to really cool and properly set.
Each of 4 dozen cookies: 264 calories; 3 grams protein; 32 grams carbohydrates; 1 gram fiber; 14 grams fat; 6 grams saturated fat; 30 mg cholesterol; 15 grams sugar; 128 mg sodium.

Love cooking as much as I do? Follow me @noellecarter
ALSO:
There's a Baby Blues BBQ in downtown L.A., with cocktails
Holiday cookie recipe: Oatmeal cookies with coconut toffee
Otium, the new restaurant at the Broad museum, is just as beautiful as you'd think
---
Get our L.A. Goes Out newsletter, with the week's best events, to help you explore and experience our city.
You may occasionally receive promotional content from the Los Angeles Times.