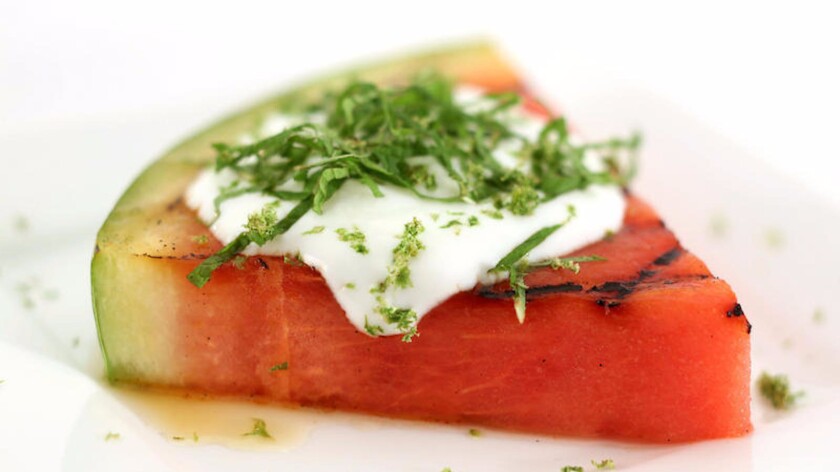 Have you ever wanted to make your own yogurt, but thought the process was too hard? Maybe you need special equipment, or worse, an advanced degree in chemistry? Lucky for you, you don't. Cookbook legend Marion Cunningham shared a simple technique for homemade yogurt a number of years ago in a story for The Times. She writes,
"One of the best companions to all fruits is yogurt, and homemade yogurt is leagues better than what you buy in the store. Not only is it more wholesome, it is much cheaper than buying ready-made. Flavor your yogurt with fresh fruits and berries, preserves or grated lemon zest.
"You do have to have a yogurt starter, though, and since most of us don't have friends we can get it from, you will probably have to start with commercial yogurt for your first batch. But after that, you're set. Save some of the yogurt from the first batch you make for the starter of your next batch. With each succeeding batch, your yogurt will get better and better."
Make your own yogurt in about a day using her simple technique. It's the perfect complement to this easy grilled watermelon dish, which works as a simple meal or dessert. Check out the video below for a quick demonstration.
KITCHEN PRO-TIP: Are you a fan of Greek-style yogurt? While it shares that great tang you find with standard yogurt, what sets Greek yogurt apart is its rich texture, which is noticeably thicker than most of the other yogurts you'll find at the market. Greek-style and other yogurt products such as labneh and yogurt cheese are strained of excess liquid (whey) to give them that signature consistency. Straining is easy to do at home: simply place the yogurt in a cheesecloth-lined strainer set over a bowl (you can also use a coffee filter or linen dish towel). Set the strainer and bowl in the fridge for a few hours until you get the consistency you want.
GRILLED WATERMELON WITH MINT, LIME, HONEY AND YOGURT
Total time: 15 minutes | Serves 4 to 6
4 to 6 thick slices seedless watermelon
Olive oil
2 limes, juice and zest
Honey
Leaves from 1 bunch fresh mint, thinly sliced
Plain yogurt, preferably Greek-style
Heat a grill over medium high heat until hot. Brush each of the watermelon slices on both sides with olive oil. Grill the slices until barely softened with defined grill marks, about 2 minutes on each side. Remove from heat. Place 1 slice on each serving plate. Drizzle over a little lime juice and honey, then top with a dollop of yogurt. Sprinkle over a little lime zest and mint leaves. Serve immediately.
Each of 6 servings: Calories 92; Protein 3 grams; Carbohydrates 22 grams; Fiber 1 gram; Fat 0; Cholesterol 1 mg; Sugar 19 grams; Sodium 8 mg
Love cooking as much as I do? Follow me @noellecarter
ALSO
12 great things we ate at The Taste
Farmers market report: Asian pears are in season, with recipes
Try this slow-braised rib recipe, and learn how to trim ribs like a pro
---