'A New Napa Cuisine' from Meadowood wins IACP cookbook of the year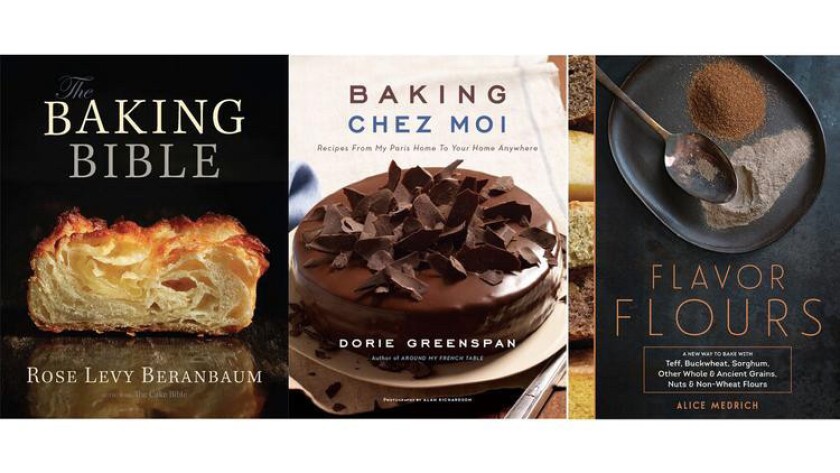 Christopher Kostow's "A New Napa Cuisine," which documents the cooking at his Michelin-starred Restaurant at Meadowood outside of St. Helena was named the best cookbook of the year Sunday by the International Assn. of Culinary Professionals.
Presented at the group's annual conference in Washington, D.C., the prize is one of the two main cookbook competitions in the United States, the other being the James Beard Foundation's awards April 24.
Of the competition's 21 categories (plus two Judge's Choices and a People's Choice), none was more competitive than that for best baking book, which pitted three cookbook legends against each other.
Rose Levy Beranbaum's "Baking Bible" took home the win, besting Dorie Greenspan's "Baking Chez Moi" and Alice Medrich's "Flavor Flours."
In the chef's and restaurants category, another very competitive field, "Bar Tartine" by Nicolaus Balla and Cortney Burns beat out "Plenty More" by Yotam Ottolenghi and "Heritage" by Sean Brock.
Cookbook of the Year: "A New Napa Cuisine" by Christopher Kostow; Jane Grigson Award winner: "Liquid Intelligence" by Dave Arnold; Wine, Beer and Spirits: "Proof: The Science of Booze" by Adam Rogers; Single Subject: "Mrs. Wheelbarrow's Practical Pantry" by Cathy Barrow; Photography: "The Slanted Door" photographed by Ed Anderson; Literary Food Writing: "In Search of the Perfect Loaf: A Home Baker's Odyssey" by Samuel Fromartz; International: "Ikaria: Lessons on Food, Life, and Longevity from the Greek Island Where People Forget to Die" by Diane Kochilas; Health & Special Diet: "At Home in the Whole Food Kitchen" by Amy Chaplin; General: "Twelve Recipes" by Cal Peternell; Food Matters: "Citizen Farmers" by Daron Joffe with Susan Puckett; Julia Child First Book: "Heritage" by Sean Brock; Culinary Travel: "Cyprus: A Culinary Journey" by Rita Henss; Culinary History: "Precious Cargo: How Foods from the Americas Changed the World" by David DeWitt; Compilations: "The Great Outdoors Cookbook: Adventures in Cooking Under the Open Sky" by Elaine Johnson & Margo True; Children, Youth & Family: "FutureChefs: Recipes by Tomorrow's Cooks Across the Nation and the World" by Ramin Ganeshram; Chefs and Restaurants: "Bar Tartine: Techniques and Recipes" by Nicolaus Balla and Cortney Burns; Beverage/ Reference/Technical: "Butchering Poultry, Rabbit, Lamb, Goat, and Pork" by Adam Danforth; Baking: Savory or Sweet: "The Baking Bible" by Rose Levy Beranbaum; American: "Down South: Bourbon, Pork, Gulf Shrimp & Second Helpings of Everything" by Donald Link & Paula Disbrowe; E-Cookbook: "Tutka Bay Lodge: Coastal Cuisine from the Wilds of Alaska" by Kirsten Dixon and Mandy Dixon; Global Design: "A New Napa Cuisine" by Christopher Kostow and edited by Julie Bennett; Design Award Winner: "Relae: A Book of Ideas" by Christian F. Puglisi; Judge's Choice: "Good and Cheap: Eat Well on $4/Day" by Leanne Brown; Judge's Choice: "North: The New Nordic Cuisine of Iceland" by Gunnar Karl Gíslason and Jody Eddy; People's Choice: "Vegetarian Dinner Parties" by Bruce Weinstein & Mark Scarbrough.
Culinary Classics: "The Taste of Country Cooking" by Edna Lewis,1977; "Greene on Greens" by Bert Greene, 1984; "The Making of a Cook" by Madeleine Kamman, 1978; "The Greens Cookbook" by Deborah Madison, 1987; "Book of Great Cookies" by Maida Heatter, 1977. Historical Cookbook Award: "Bartolomeo Scappi's Opera" by Terence Scully, Year 1570.
Are you a food geek? Follow me on Twitter @russ_parsons1
---
Get our weekly Tasting Notes newsletter for reviews, news and more.
You may occasionally receive promotional content from the Los Angeles Times.