If your hot dog is topped with seaweed or noodles, it must be a Japadog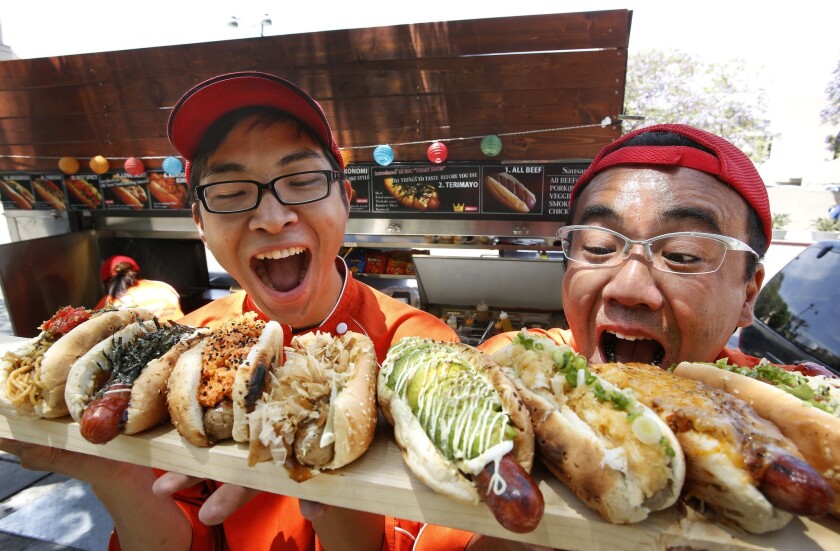 Chances are you're not expecting today's lunch to involve a hot dog topped with Japanese yakisoba noodles or shaved radish and bonito flakes, unless you've found the Japadog hot dog cart.
The Vancouver, Canada, brand, which started in 2005 and is known for fusing Japanese flavors with hot dogs, arrived in Los Angeles just three weeks ago. Some of their most popular toppings include nori seaweed, Japanese mayonnaise, teriyaki sauce and kimchi.
On Thursday the cart was parked on Wilshire Boulevard in Koreatown with a growing line of men and women in business attire. A few browsed some of the photos on display of owner Noriki Tamura with Anthony Bourdain and the hosts of the "Today" show while waiting for their hot dogs.
"People were requesting us from Vancouver, so we came here," Tamura said via his translator and marketing manager, Hideki Aizawa. He and his staff wear matching orange chef's coats that say "Japadog" across the back. "We felt that people wanted it here."
His first L.A. cart is a small operation with a wooden top and a 2-foot-by-2-foot grill. Tamura currently has one roaming cart and plans to have another cart at a permanent location at the Santa Monica Pier. He's also looking to have a Japadog food truck and a storefront opened by the end of the year.
The cart, which is currently serving Monday through Friday around Koreatown and Little Tokyo, has a limited selection of the dogs Japadog is famous for in Canada. The most popular dog, the Terimayo, is served with an-all beef dog topped with fried onions, teriyaki sauce, Japanese mayo and seaweed.
The cart is also serving the Okonomi dog, with fried cabbage, bonito flakes, Japanese mayo and a special soy sauce; the Oroshi dog, with a pork bratwurst, Daikon, green onions and special soy sauce; the Love Meat dog. with homemade beef and pork meat sauce and flambeed cheese; and the Hot and Spicy dog, with jalapeño hot sauce and lettuce. You can also order the Yakisoba dog, topped with yakisoba noodles and slivers of pickled ginger. All the dogs are $5, but Tamura says the price could change.
"I've always just loved hot dogs, but that's why I got a little, you know," Tamura said via his translator while rubbing his stomach. "I made it a little bit healthy with the Japanese flavors, then I got a little bit thin."
All the sausages, sauces and toppings are Tamura's own recipe. They're made by a local distributor Tamura says he'd like to keep a secret. One of his signature sausages, the Korabuta pork, will soon be available in L.A., along with a veggie dog and a chicken sausage. He also plans to add French fries and ice cream to the menu once the food truck is launched.
Halfway through the lunch rush Thursday, Terimayo dogs were flying off the cart, and Japadog was already out of the Avocado dog.
"I saw the truck two weeks ago and tried the Terimayo." said Linh Contreras, who stopped by the truck with a few coworkers for lunch. "It has this teriyaki kick to it and a garlicky taste to it. It was great."
Christopher Lee also walked down to grab a dog from one of the surrounding businesses. "I like Japanese-style food, so it's great," he said as he bit into a Terimayo dog.
The three staff members traded places behind the grill, turning the sausages and slicing deep slits into the meat. They were at it until parking became an issue later in the afternoon.
"We're really new, so we're just trying to research around L.A.," said Aizawa. "The weather is just so great."
Customers can track the Japadog cart via its Twitter, Facebook and Instagram accounts.
---
Get our weekly Tasting Notes newsletter for reviews, news and more.
You may occasionally receive promotional content from the Los Angeles Times.