Jeni's Splendid Ice Creams finally opens its doors today in Loz Feliz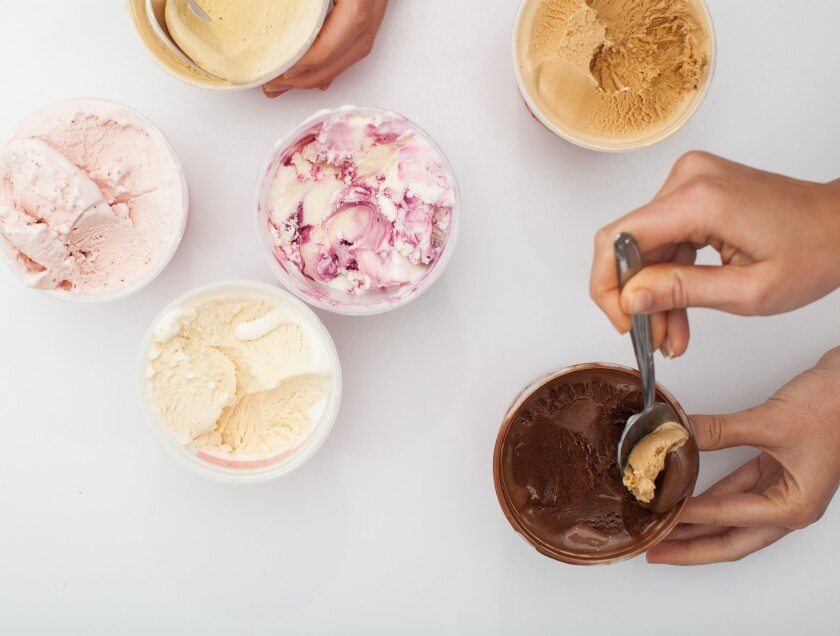 Jeni's Splendid Ice Creams isn't abandoning its Columbus, Ohio, roots, but is instead expanding when it opens its corner store for business on Hillhurst Avenue between Franklin Avenue and Los Feliz Boulevard later Friday. The shop will open from 7 to 10 p.m. for an opening party — with regular hours starting Saturday at noon. Because while it's still not ice cream season yet in Ohio, it definitely most certainly is in L.A. No need to wait until summer when it's 90 in March.
The popular ice cream company that Jeni Britton Bauer founded in 2002 has been teasing Angelenos with its goods well in advance of its Los Feliz debut, which is its first West Coast brick-and-mortar presence, totaling 19 shops. (Other cities include Chicago; Charleston, S.C.; Nashville; and Atlanta.)
Up until this week, Jeni's pints have been available in the freezer cases of select grocery stores such as Gelson's, Bristol Farms and Urban Radish in the downtown Arts District, and a truck has been making the rounds.
But an actual, real shop is an entirely different level of commitment and reliability, so now locals know they can always get a fix of Intelligentsia Black Cat espresso, salty caramel, pistachio and honey, brambleberry crisp and brown butter almond brittle ice creams.
While not as unconventional as some of Salt & Straw's ingredient fusions, Britton Bauer can hold her own in the experimental ice cream and frozen yogurt flavor department. Newly added to the roster is a wheatgrass, pear and vinho verde sorbet that's been formulated especially for the L.A. outpost.
Architecture firm GRA+D from Britton Bauer's hometown designed the space, which features decor elements including magnetic tile menu displays and oversized decorative ice cream pints that contrast with slick Danby marble counter surfaces from Vermont.
So why this particular location?
"Los Feliz is the kind of neighborhood where you can have a self-contained perfect day. Start with coffee and breakfast at your favorite cafe on Vermont, an early matinee at Los Feliz 3, a late picnic lunch in Barnsdall Art Park, drinks and dinner on Hillhurst and then off to a show at the Greek Theatre," Britton Bauer said. "We're proud to step into that amazing lineup."
With Gelato Bar (although it's closed for renovations) and a frozen yogurt shop that packs in the after-school crowd down the street, Jeni's should find its place on this block.
Hours are noon to 10 p.m., Sunday through Thursday; noon to 11 p.m., Friday and Saturday.
1954 Hillhurst Avenue, Los Feliz, (323) 928-2668.
---
Get our weekly Tasting Notes newsletter for reviews, news and more.
You may occasionally receive promotional content from the Los Angeles Times.