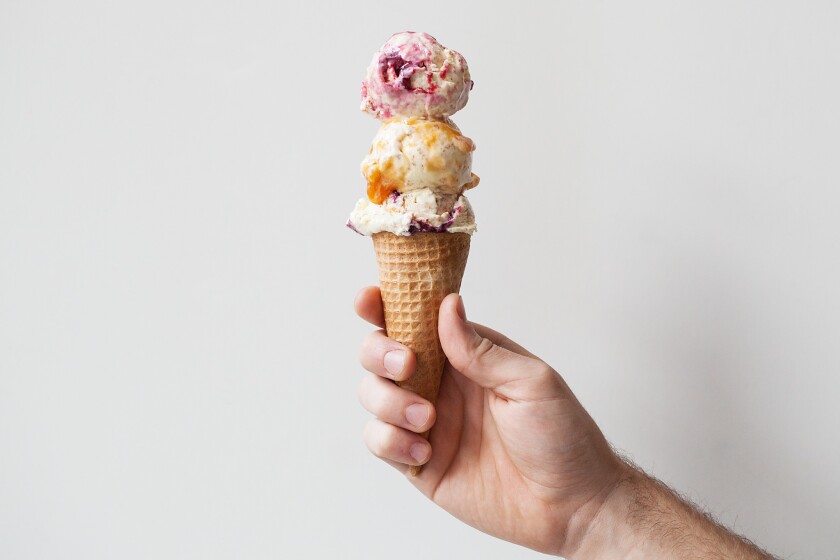 Jeni's Splendid Ice Creams out of Columbus, Ohio, has been getting raves for quirky flavors for years. Founder Jeni Britton Bauer has also written two books, "Jeni's Splendid Ice Cream Desserts" and "Jeni's Splendid Ice Creams at Home." And though her ice creams are stocked in a several supermarkets in Southern California (Gelson's, Whole Foods, Bristol Farms, Lassen's and Urban Radish among them), the big news is that she'll be adding a Los Feliz branch to her 18 other ice cream shops across the country sometime this winter.
But we won't have to wait that long for a taste of her hand-scooped butterfat-rich ice creams. To preview the shop, she's sending out one of her Street Treats ice cream trucks later this month. A few dates are already set up, but you can also follow the truck and the progress of the new shop on Twitter or Facebook.
Most important, what will the Jeni's Street Treats truck have on board? Right now the word is mostly her signature flavors.
That would be Salty Caramel (she just won a Good Food Award last week in San Francisco for her salty caramel sauce), Brambleberry Crisp, Ndali Estate Vanilla Bean, Intelligentsia Black Cat Espresso, and Whiskey & Pecan. If those sound too classic, she's known for odder flavors, too, such as Riesling-Poached Pear and Goat Cheese with Red Cherries. Those flavors might not be on the truck, but something new and exciting doubtless will.
Get out your calendars and mark down the truck's confirmed stops as of now:
Jan. 28 at Urban Radish, 661 Imperial St., Los Angeles, 5 to 9 p.m.
Feb. 7 at Poketo, 820 E. 3rd S., Los Angeles, 1 to 4 p.m.
Feb. 14 at Silverlake Flea Market, noon to 5 p.m.
When the Los Feliz shop finally opens, you can line up to taste the new Toasted Brioche with Butter and Jam ice cream, and the Lime Cardamom Buttermilk frozen yogurt. Because she makes unconventional frozen yogurt, too, in flavors such as Mango Lassi and Grapefruit. Flavors are changed up all the time and the ingredients, many of them fair trade, are sourced directly from the producers, whenever possible.
The brick-and-mortar Jeni's Splendid Ice Creams will be located at 1954 Hillhurst Ave. in Los Angeles.
Follow @sirenevirbila on Twitter for more on food and wine.
---