Where to get tacos and more great Mexican food from Jonathan Gold's 101 Best Restaurants
Of the many terrific places to eat on Jonathan Gold's 101 Best Restaurants list, where can you go for a great taco or a tlayuda, a bowl of fideo and a michelada, maybe a sheet pan loaded with pescado zarandeado? Here are the 11 Mexican restaurants on this year's 101 — or rather, 10 Mexican restaurants and one food court with some pretty terrific Mexican food.
Taco Maria
If you were going to write a novel about 2017 Orange County, Taco Maria might be a good place to start. Young cook from a Mexican-restaurant family leaves home to work in a famous modernist kitchen and returns to run a taco truck, which quickly leads to a tasting-menu restaurant in a comically overwrought hipster mall, then fame for the chef's breathtaking "Chicano cuisine." It's straight out of Jonathan Franzen. But while it is easy to dismiss the perfection of Carlos Salgado's narrative, it is far more difficult to dismiss his food
Guerrilla Tacos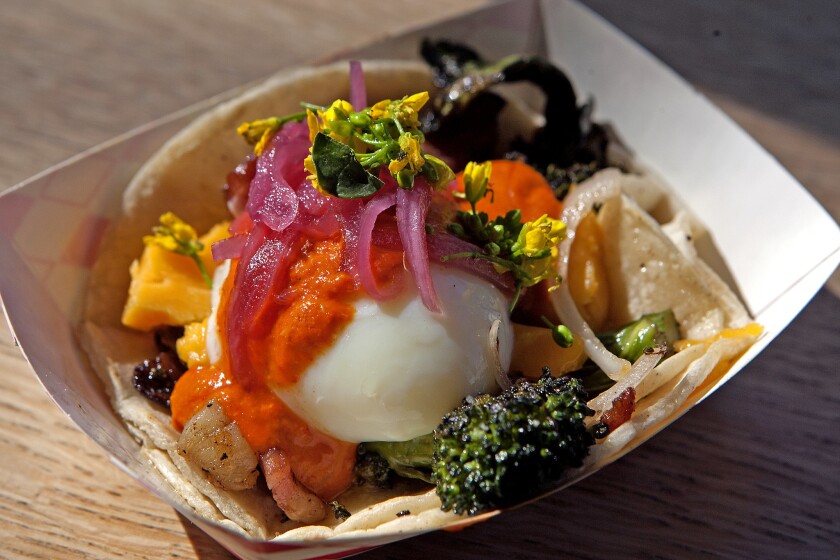 If you were trying to choose a kitchen most emblematic of the Los Angeles food scene at the moment, Guerrilla Tacos is a good place to start. Wes Avila trained with Gary Menes, Walter Manzke and Alain Ducasse before he ditched the world of fine dining to start making tacos. He uses the same farmers market produce, high-end seafood and sustainably raised meat as the best chefs in town, including the occasional Perigord truffle. And if you happen to be by Blacktop or Cognoscenti Coffee when his truck rolls by, you can eat what is in effect a first-rate tasting menu, except that you are sitting on the curb instead of having a white tablecloth spread before you, the dishes come rolled into tortillas instead of on fine china, and you are spending a tiny fraction of the cost.
>>PHOTOS from the Jonathan Gold 101 Best Restaurants list party
Broken Spanish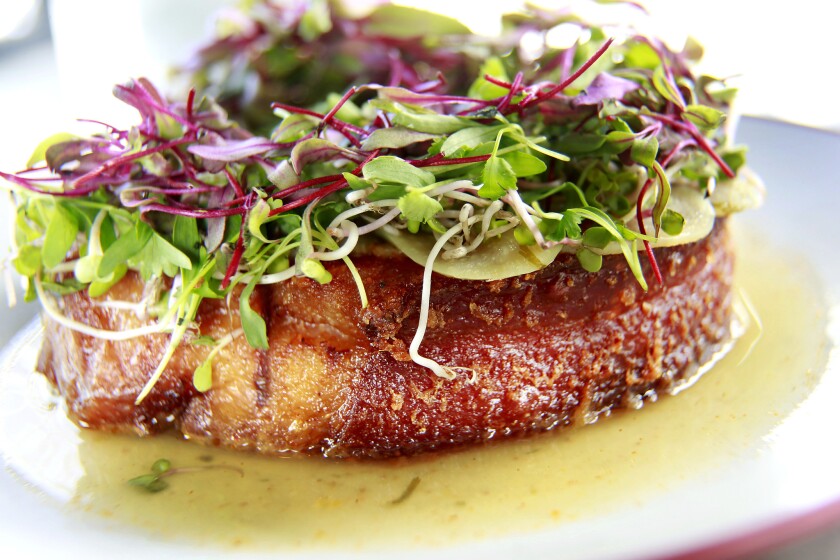 Ray Garcia is a Guillermo del Toro of the kitchen, a master of technique whose serene farmers market cooking and gory late-night taqueria fantasies exist not just in the same restaurant but on the same plate. Broken Spanish's complex menu hasn't changed much since the restaurant opened a couple of years ago, but inconsistencies seem to have evaporated — it is probably the most accomplished Mexican kitchen within the borders of L.A.
Holbox/Chichén Itzá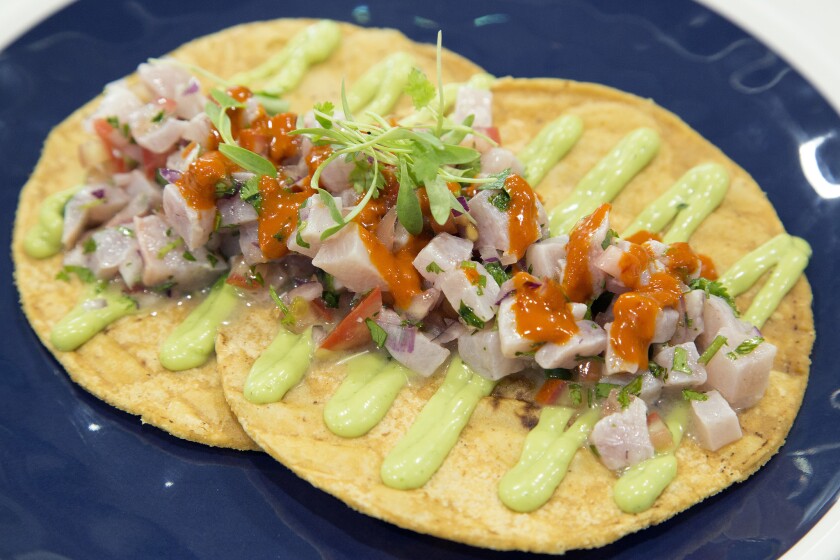 Holbox is the new Yucatán-style seafood restaurant from Gilberto Cetino Jr., whom you may know from Chichén Itzá. Like Chichén Itzá, Holbox occupies a corner of the Mercado La Paloma complex. As at Chichén Itzá, you wait in line to order, and commandeer as many kinds of chile sauce as you are allowed. As at Chichén Itzá, you will wind up with twice as much food as you thought you might be — especially if you also walk over to Chichén Itzá and order a couple of panuchos and a plate of papadzules to go along with your seafood.
Salazar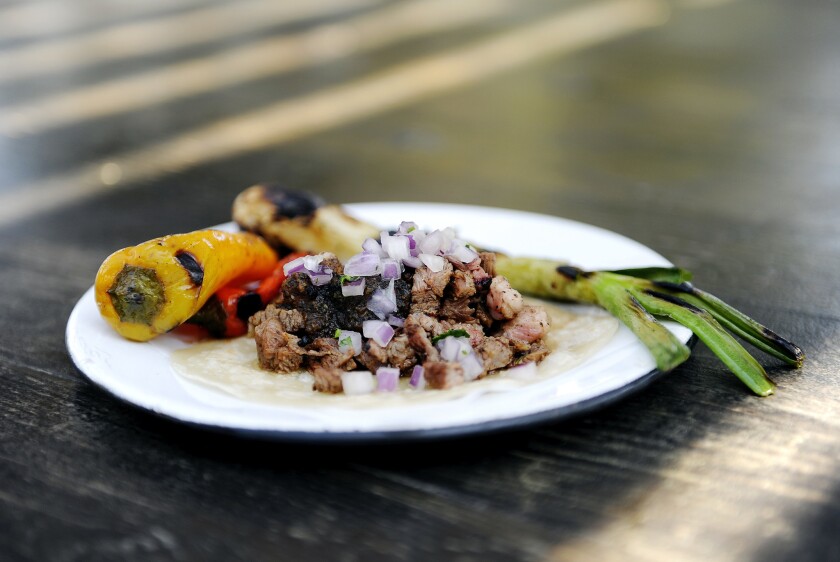 Salazar is the kind of restaurant you'd think there'd be millions of in Los Angeles, a laissez-faire outdoor dining room more Austin, Texas, than California, with a smoggy view out over the river, margaritas for days and a menu centered on grilled meats and beer. Everybody sooner or later gets around to inhaling a taco or two. Esdras Ochoa's carne asada is simple but perfect, grilled over blazing hot mesquite, chopped and stuffed into a flour tortilla. His marinated pork al pastor is sweet, slightly charred, with a bit of burnt pineapple. You can supplement the tacos with a cocktail of cold, wild-caught shrimp from the Gulf of Mexico, an anchovy-forward Caesar salad or a gooey potato purée.
La Casita Mexicana
There may be something essentially touristic about the La Casita Mexicana experience. The chefs, Jaime Martin del Campo and Ramiro Arvizu, are well-known from Spanish-language TV. The souvenir shop next door sells the restaurant's branded sauces. At some point during your meal, you start to realize that you may be eating enchiladas, but they are wonderful enchiladas, made with thick, freshly made tortillas, slicked with unusually delicious chile sauce, stuffed with cotija cheese better than you are likely to find in your local supermarket. If you manage to wake up early enough for breakfast, the chilaquiles, fried tortillas softened in salsa or mole, are among the best in town.
Grand Central Market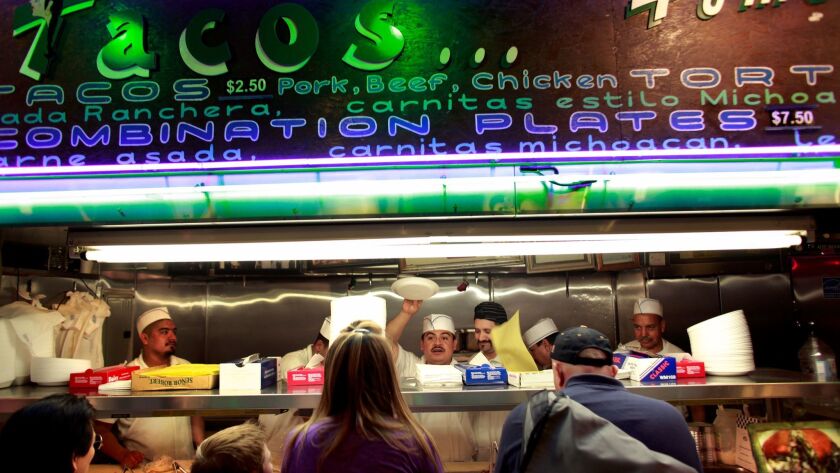 It is convenient sometimes to think of the century-old sprawl of Grand Central Market as a single entity, a living, breathing organism whose cells are constantly replenishing themselves although the outward appearance stays the same. Is it still Latin American? Not quite, although the best carnitas downtown are still at Villa Moreliana, Roast to Go and Ana Maria are still serving gorditas, the hand-ground moles from Chiles Secos are still lovely, and the lines at Tacos Tumbras a Tomas are still long. And it is still impossible to imagine downtown without it.
Coni'Seafood
Without anyone quite noticing it, Colima-style pescado zarandeado became one of the emblematic dishes of Los Angeles, a broad, thin fish, dabbed with some mixture of citrus, spices and mayonnaise, roasted slowly over a smoky fire. If you follow the confluence of food and social media, this fish may have been bubbling through your feeds for more than a decade by now. But Connie Cossio of Coni'Seafood may be the most gifted cook in the family, skilled not just with pescado zarandeado but with crisp smoked marlin tacos, shell-on shrimp fried until they become as bent and brown as insects, the ceviche marinero studded with crunchy green mango and impeccable shrimp aguachile in a sharply spicy citrus marinade.
Guelaguetza
Guelaguetza is home to L.A.'s best enmoladas, ace micheladas, an enormous selection of tequila and mezcal, and a theater-size projection screen. The tlayudas, imported table-size tortillas smeared with black beans and melted lard, are as good as any pizza you've ever eaten at 7 in the morning, and the tiny, ruddy globes of chorizo are much better. There are a lot of Oaxacan restaurants in Los Angeles now, and it is possible to debate the merits of the mole coloradito at one and the molotes at another, but Guelaguetza remains the most accomplished Oaxacan restaurant in the United States.
Colonia Publica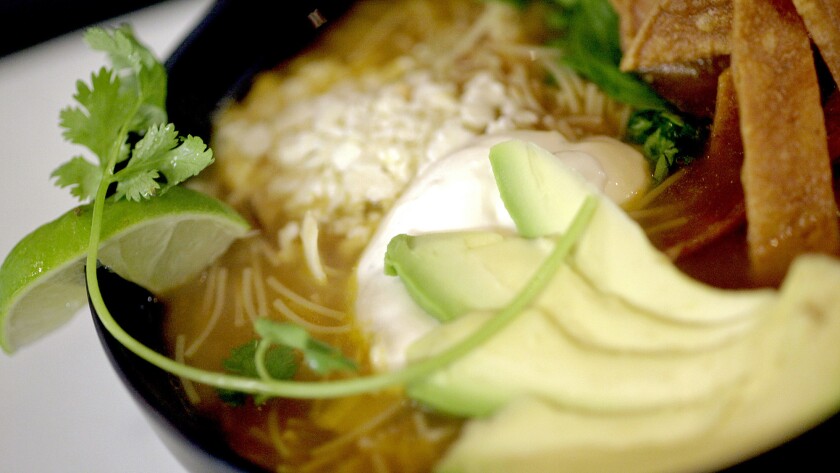 The noodle bar Colonia Publica is devoted to the spicy beer-plus cocktails called micheladas and to fideo, the ultimate dish of Mexican home cooking; a toasted-noodle soup strongly identified with Mom and Thursday nights in front of the TV. And when you settle into a booth, you are handed a checklist asking exactly what you would like to put into your soup. You can stage little competitions at your table, seeing who has managed to compose the tastiest bowl.
Mariscos Jalisco
When out-of-town friends come to Los Angeles, the sushi bars I recommend may vary, and the hot Italian restaurant changes every year, but I take them to the Mariscos Jalisco truck every time. Because there may not be an item of food more reliable than Raul Ortega's taco dorado de camarones, a fried taco stuffed with impeccably fresh shrimp among other things, slightly crisp around the edges, sluiced with a juicy, spicy tomato salsa and garnished with a bit of ripe avocado on the side. The tacos taste of clean oil and chile; toasted corn and the sea — a recipe imported from Ortega's hometown of San Juan de los Lagos that has become the culinary symbol of Boyle Heights.