Jonathan Gold's 101: Where to get sushi, ramen and more Japanese food
The fifth edition of Jonathan Gold's 101 Best Restaurants is now available online for subscribers — and the print edition will be out on Sunday. Of the many terrific places to eat on that list, where can you go for a locally-sourced kaiseki menu, repeating courses of sashimi or Edo-style sushi, little dishes of tsukune meatballs and cold udon with foie gras custard, or soothing bowls of Hakata-style ramen? Here are the seven Japanese restaurants on this year's 101:
Shibumi
This modest, season-dependent kappo-style restaurant feels like a Tokyo restaurant in important ways, a dim, hidden showcase for David Schlosser's precise Japanese cuisine. The bottles behind the bar, both Japanese whiskey and homemade infusions of things like loquat seeds, are as obscure as the softly disturbing music on the sound system. Schlosser, as obsessive a chef as has ever worked in Los Angeles, is fixated on fermentations, rare fish and grilled meat. The fatty grilled pork is half-drenched in koji rice, fermented with the same mold used to make miso and sake. And at the moment, Shibumi is the only place in town serving true Kobe beef, priced like caviar.
Q Sushi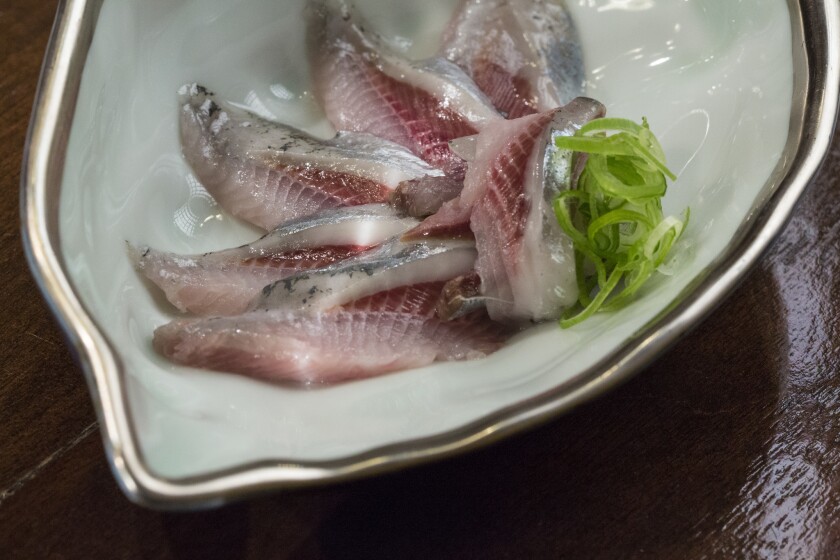 You really do have to adjust your aesthetics a little when you visit Q, which may be the least flashy sushi bar in town. You don't have to worry about saturating your sushi with soy sauce or wasabi, because you will not be given any. Nobody tells you to eat each piece in one bite because it is scarcely imaginable that you would eat it any other way. And you don't have to worry about ordering incorrectly, because you won't be given a choice — Q is omakase, chef's choice; about eight pieces at lunch after the first sashimi courses and 16 or so at dinner. This is connoisseur's sushi, dazzling in its simplicity.
>>PHOTOS from the Jonathan Gold 101 Best Restaurants list party
n/naka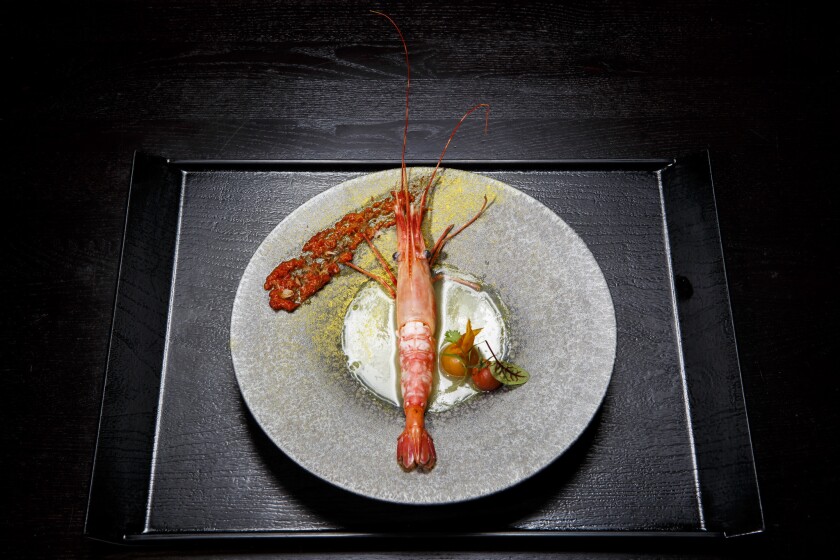 N/naka may be the first dedicated kaiseki restaurant in Los Angeles, at least the first outside the Japanese expatriate community, and the sheer level of cooking in this modest bungalow eclipses what you find in far grander dining rooms. You do find the occasional Western touch here — spaghettini in a course of Monterey Bay abalone with pickled cod roe where a chef in Osaki might use soba. But there is a stillness to her cooking; a sense that clams, baby fennel and asparagus are together not to make a statement but because the day that she serves them is the day that they go together best.
Shunji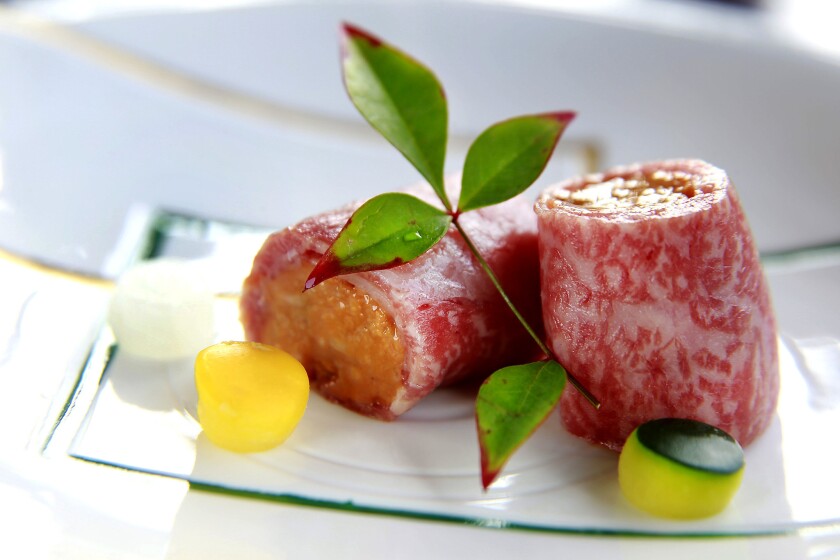 Shunji is the playground of Shunji Nakao, a slender, gray-haired chef with the bearing of a patriarch in an old Ozu movie. He was one of the three original chefs at Matsuhisa. He co-founded the sashimi-intensive Asanebo. He is serving some of the best sushi and sashimi in the country out of what was built as a giant chili bowl. If you are the kind of person who dreams about octopus suckers and grunt, Shunji may be your ideal restaurant, an omakase restaurant where the sushi is never less than perfect but sometimes seems almost beside the point, a place where satori may come as readily from a composed vegetable plate or sesame tofu with crumpled sheets of freshly made yuba as from kanimiso or a sliver of Japanese sea bream.
Asanebo
Asanebo started making sushi the moment the sushi bar next door closed 15 years ago. But while the sushi is kind of great at Asanebo — mullet with ponzu, king mackerel with yuzo koshu and elegant kohada, as well as the usual favorites — it is still almost beside the point here. Tetsuya Nakao, one of the first chefs at Matsuhisa, seems almost as obsessed with farmers market vegetables as he is with fish; the earthy, purple carrot shavings on a sashimi dish carry as much weight as the sweet Hokkaido scallop, and a tomato in vinaigrette holds as proud a place on the menu as the grilled king crab leg.
Aburiya Raku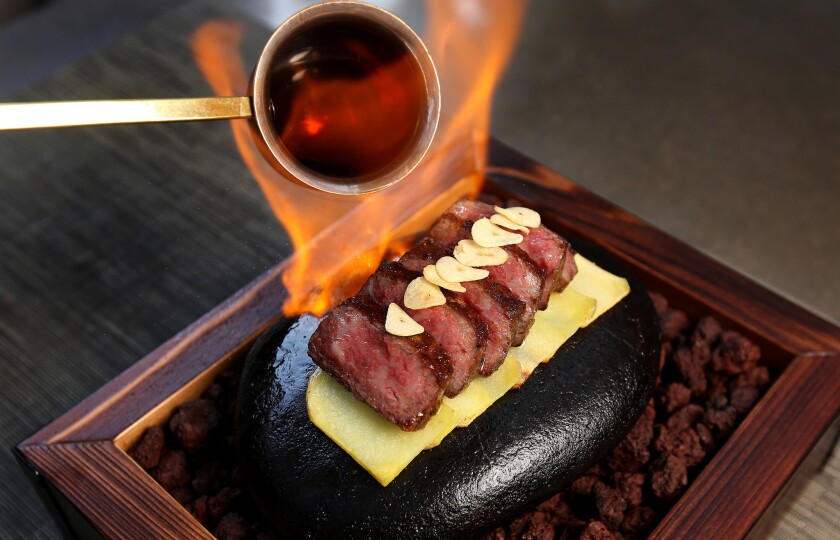 As at any decent izakaya, there is a bit of a learning curve here. There is a wood-framed menu, one side listing the cold and hot dishes that will probably make up most of your meal, the other, the roster of items from the grill. There is a long, illustrated list of cold sake, most of which will be new to you; once you pick one, you get to choose a cup to drink it from, which is nice. And you over-order — a tatami sardine salad, which is like a Caesar garnished with dried-fish mats; tempura ice fish; cold udon with foie gras custard; house-made tofu with the consistency of fresh cheese. You're going to want at least the salmon belly, the duck breast and the fluffy tsukune meatballs from the roster of grilled items. And you should probably ask for the kamameshi, a kind of wet Japanese pilaf, at the beginning of the meal, because it takes at least 40 minutes to cook in its iron pot.
Tsujita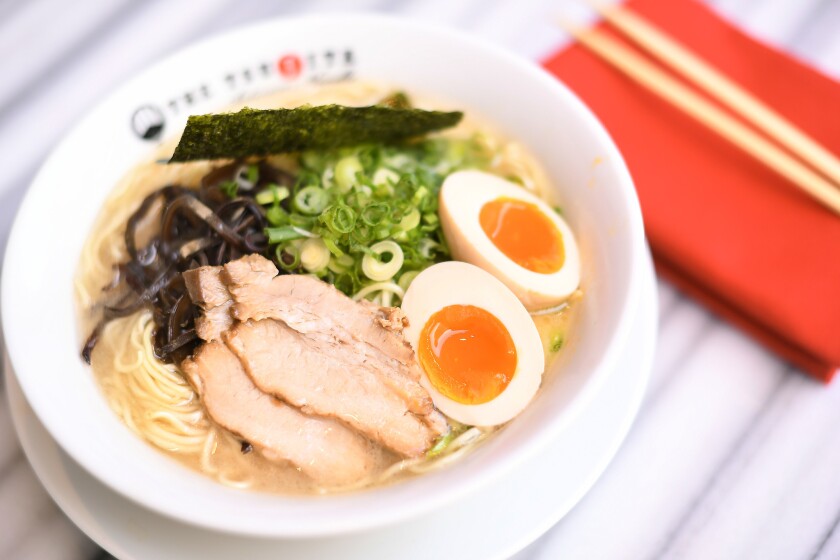 The king of tonkotsu ramen in Los Angeles is Tsujita, a branch of a well-regarded Tokyo noodle shop that has clotted traffic on Sawtelle Boulevard since it opened. Tsujita's broth is obscenely rich, made from pork bones boiled for a full 60 hours. Your lips stick together. The temperature of the soup is just below boiling. And if you crave intensity, the tsukemen is even more hardcore — the noodles have the tensile strength of hand-thrown Lanzhou mian, and the broth, enhanced with a bit of seafood, is served on the side as a dip, reduced to a consistency just this side of syrup. Good times!