Latin-themed dim sum as John Sedlar introduces new menu at Rivera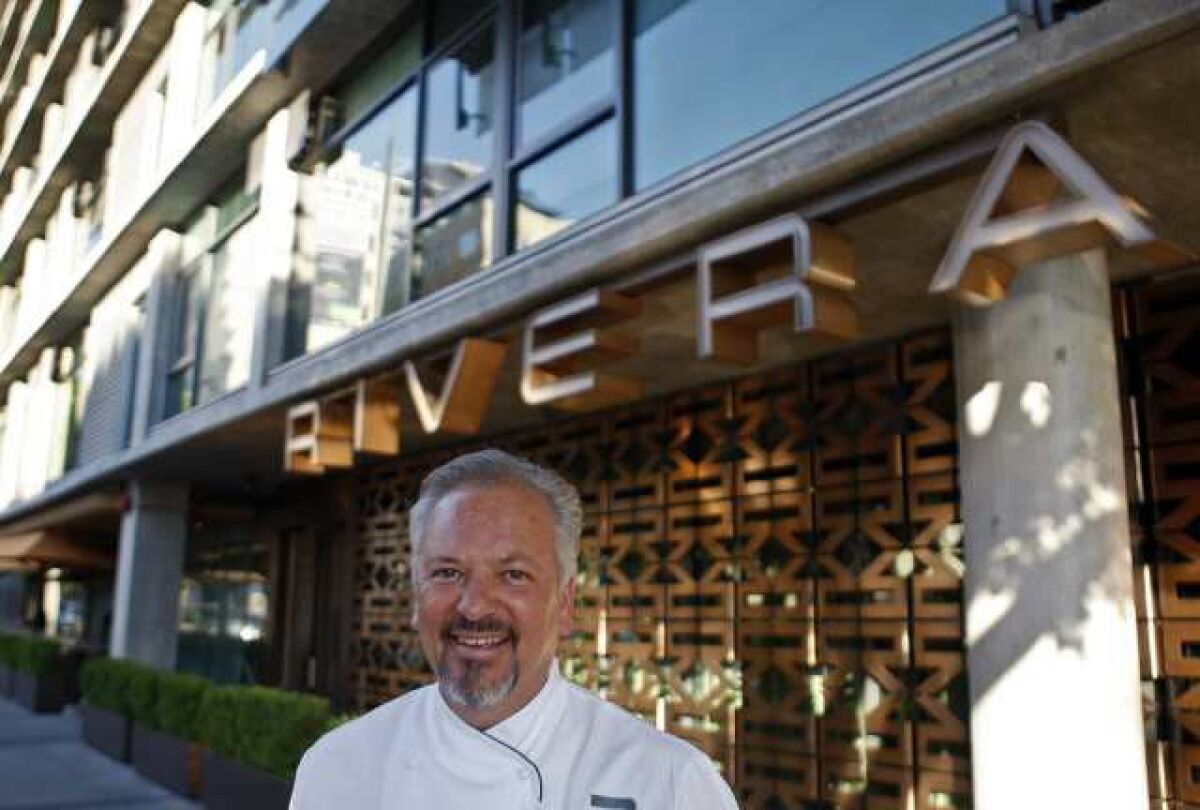 Rivera's John Sedlar has seen quite a few food revolutions in his time behind the stoves. "I'm the last of the chefs who want to present food in courses," he says, not quite laughing. Nevertheless, two weeks from today, Sedlar is introducing a new menu and concept at Rivera.
"Los Angeles is at the forefront of a thrilling shift in the way people want to eat, a switch to small plates and social dining," he says. Downtown is very fast-paced. "Guests come in and want to eat and then go to Disney Hall or Nokia, attend a sports event or head to the convention center."
And so, as of Feb. 6, Sedlar plans to bring on what he's calling lonchera-style dining. Spanish for the lunchbox you take with you to work, lonchera is also the name for the food trucks that work construction and other sites. But don't expect a food truck parked outside Rivera.
Sedlar has something else in mind and he's very excited about it. He's going to be serving small Latin dishes from carts and trays dim sum-style. "We just won't have the traditional dumplings in metal steamers or bamboo baskets."
He'll have three specially outfitted carts patrolling the dining room with cold and room-temperature dishes. Diners will order hot dishes from a core menu of new and classic Rivera dishes. Everything else will just come by and you'll point to it — and get it — on the spot.
As soon as you sit down, a server will offer nine flavors of fruit-infused tequilas. Then will come a parade of two or three carts outfitted with salads and French-Latin dishes — eggplant pinwheels with chiles Niçoise, Latin ratatouille, Mexican vichysoisse. Or maybe maize cake po' boy, a cornmeal tempura oyster with chile verde remoulade and greens from Sedlar's rooftop garden, Cielo Verde. In all the dishes, he'll use lots of Latin ingredients, such as chile and citrus and squash and beans.
In between the carts, Sedlar explains, someone will come by with a tray of warm dishes. And yes, in case you're wondering, he has eaten at State Bird Provisions in San Francisco and loved their dim sum style of service and clever heartfelt little dishes. Their cart service got him thinking about how he could create a more playful, faster-paced experience at Rivera.
Lonchera service will start officially on Feb. 6, at first just at dinner, to be followed by a lunch a few weeks later.
ALSO:
All-Star Chef Classic debuts in L.A. with 'restaurant stadium'
Chef Holly Jivin at the Bazaar takes truffles and 'cue in stride
New Muji in Hollywood has some great finds for the cook, kitchen
Twitter: @sirenevirbila
---
Get our L.A. Goes Out newsletter, with the week's best events, to help you explore and experience our city.
You may occasionally receive promotional content from the Los Angeles Times.