Ice, ice baby: Jonathan Gold's favorite frozen treats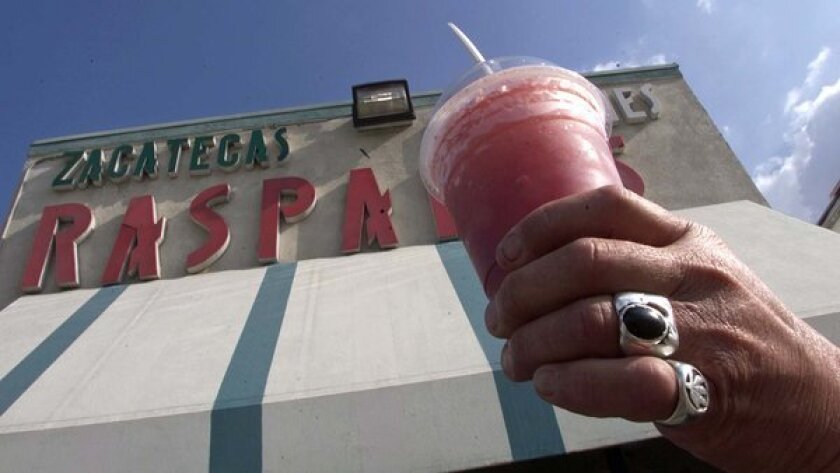 When the sun glowers, the Santa Ana winds rip through the canyons, and an invitation to have lunch on the patio feels like a death sentence, sometimes a quart of ice tea isn't nearly enough. At such times it is nice to slip into an air-conditioned car and head for icy, icy bliss.
Taiwanese slush. When I introduced Shau May years ago to Marion Cunningham, late author of the Fanny Farmer Cookbook, she fantasized about ditching the author biz and opening a chain of Taiwanese slush places across the United States. And once you try the stuff, you'll know why: almond tofu, oatmeal, grass jelly, taro, rice balls, longans, lychees, sweet red beans and whatever else you choose, buried under drifts of shaved ice and spritzed with sweetened condensed milk. Slush rivals boba as Taiwan's greatest contribution to the universe of cold and sweet. 104 N. Garfield Ave., Monterey Park, (626) 571-2727.
Pat bingsu. If you want the grown-up version of this Korean construction of shaved ice, beans, green tea ice cream and various squiggly things, you could go to Hwa Sun Ji in Koreatown, a traditional teahouse appropriate for discussing philosophy over small cups of sweet persimmon tea. But I am a peasant, and I most often find myself at Ice Kiss, whose maximalist conception of the dessert also involves canned fruit cocktail, whipped cream and Fruity Pebbles. Hwa Sun Ji, 3960 Wilshire Blvd., Los Angeles, (213) 382-5302. Ice Kiss, 3407 W. 6th St., Los Angeles; (213) 382-4776.
Es cendol. Any local Indonesian restaurant worth its gado gado will probably serve ice desserts, including elaborate concoctions made with jackfruit, rosewater and avocado. The best of these may be es cendol, often served as a beverage, which involves coconut milk, brown sugar and bright-green squiggles of translucent jelly that look like somebody took a great deal of trouble to squirt gel toothpaste into your drink. Simpang Asia in Palms is a good place to start. 10433 National Blvd., Los Angeles, (310) 815-9075, simpangasia.com.
Raspados, strictly speaking, are just Sno Cones, and you can find examples all over the Eastside drenched in the same commercial syrups you'll find at any carnival concession. But the raspados at the East L.A. institution Raspados Zacatecas approach the platonic ideal of the form: crunchy, loose crystals piled into a cup, sluiced with freshly made syrups whose flavors include tamarind, walnut and the milky caramel cajeta, then crowned with a dome of hard-packed ice and drenched with syrup again. Think of it as a Sno Cone with a graduate education. 422 N. Ford Blvd., East Los Angeles, (323) 264-7651.
Snoball. New Orleans transplants crave snoballs like the rest of us crave oxygen; ice of an almost supernatural lightness, and syrups that tend toward the tropical baroque. Which is why you find so many expats crowding New Orleans Sno Balls for proper snoballs flavored to resemble Hurricanes, Mardi Gras king cake, praline, Bahama mama and a sweet, almondy wedding cake, as well as all the fruits you might expect. The fluffy, evanescent snowiness is just what the people on Magazine Street line up for on a hot summer day. 4452 Slauson Ave., Los Angeles; (323) 292-3145.
ALSO:
7 great chili fries to get messy with
---
Get our weekly Tasting Notes newsletter for reviews, news and more.
You may occasionally receive promotional content from the Los Angeles Times.