Scouting Report: At Khao Soi by Inthanon, you can order (surprise!) many bowls of that northern Thai curry soup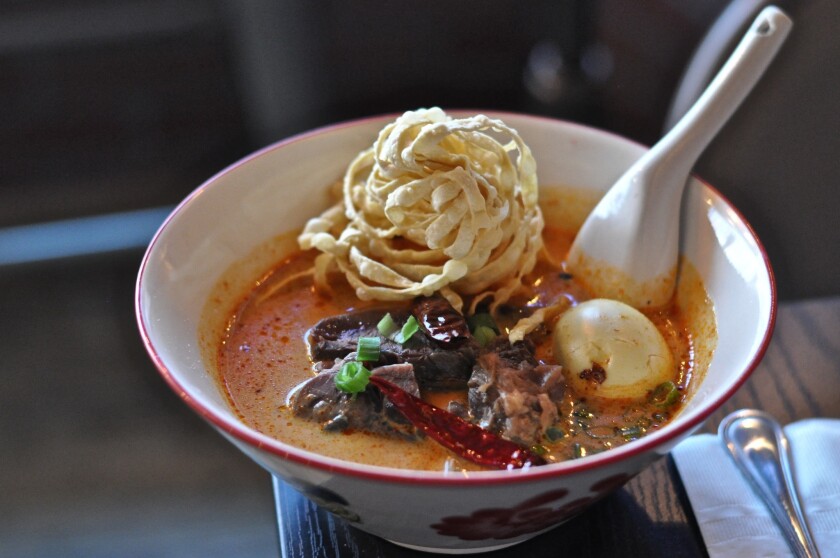 Name: Khao Soi by Inthanon Thai.
Concept: A restaurant built around that venerable northern Thai soup, khao soi. For the uninitiated: Khao soi is an egg noodle curry soup, infused with coconut and crowned with a tower of fried egg noodles. The restaurant is brought to you by the folks behind Inthanon Thai Cuisine in Valley Village.
Where you are: On Hollywood Boulevard just past Bronson Avenue, a few blocks west of Thai Town proper, in a small space next to Sparadise. (If you're heading west on Hollywood and happen upon the Museum of Death, you've gone too far; go back east for signs of life.) Inside, the aesthetic — wood tables, dangling light bulbs, drinks in handled Mason jars, cartons of Boxed Water, "khao soi" lettered out on the wall in various fonts and states of capitalization— approaches an Etsy level of cute that you won't find most anywhere else on this block. Probably more than what you'd see at the Museum of Death, anyway.
What you're eating: Khao soi, obviously. As there are a dozen on the menu, there is a khao soi here for everyone: The server probably will recommend the khao soi with chicken, and you'll do well to follow that advice. Other highlights are the khao soi with slow-cooked beef and the khao soi with crispy pork. And you'll find bowls with assorted vegetables and one with tofu as well. All come with a hard-boiled egg. Spice level can be specified; if you like things spicy, don't be shy to ask.
The bowls will arrive quickly, each accompanied by a small dish of neatly diced red onions, pickled mustard greens, a wedge of lime. Garnish generously.
What else you're eating: The nam prik noom, a green chili paste that's as fiery as the weather has been these days, which is served with pork cracklings and raw vegetables that you dip into the paste as you would tortilla chips and salsa. The crispy rice salad (nam khao tod) is punctuated with deeply funky bits of fermented sausage, and the papaya salads are nicely balanced.
What you're drinking: An-chan iced tea, which is hued a purple color that's a shade or two lighter than Barney. It's very tasty and very refreshing.
Who's at the next table: Someone wearing a "I heart heart heart Zelda" shirt (gamer humor) and a few other locals. Other than that, not very many people. Yet. The restaurant opened just about a month ago; come winter and the El Nino storms that can't arrive soon enough, it won't be surprising to find this small restaurant packed with half the neighborhood looking for a warm, comforting bowl of soup.
Service: Friendly and attentive.
Info: 5907 Hollywood Blvd., Hollywood, (323) 464-1790, facebook.com/Khaosoihollywood. Open 11 a.m. to 11 p.m. daily.
ALSO:
Make Paula Wolfert's sizzling shrimp dish for dinner tonight
Mr. Kebap (not a typo) is a new Turkish restaurant in Fountain Valley
Wrap your knife in a newspaper, and other tips from a master Japanese knife sharpener
---
Get our new Cooking newsletter.
You may occasionally receive promotional content from the Los Angeles Times.