La Monarca in Hollywood; Culver City's advanced classes; Malarkey's Herringbone in Mondrian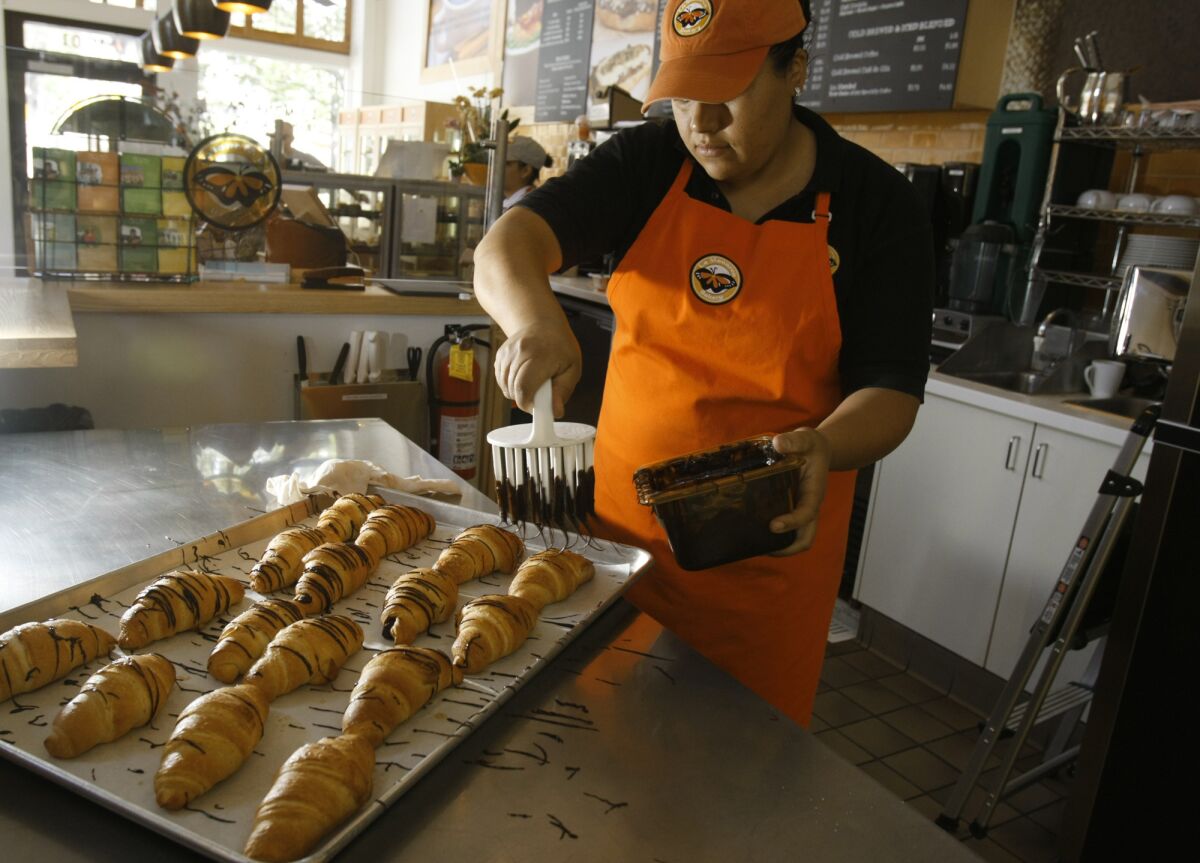 La Monarca Bakery just keeps growing. The local chain that started in 2006 with one store in Huntington Park, then brought pan dulce to Santa Monica in 2010, is opening its fifth store, this one in Hollywood with a projected opening date of mid-December.
The new store will be located near the corner of Sunset Boulevard and Gower Avenue. La Monarca also has bakeries in South Pasadena and East Los Angeles.
"We just fell in love with the area," said Ricardo Cervantes, who co-owns the chain with Alfred Livas. "Wherever we're thinking about opening, I do a lot of research – not just the demographics, but also the history of the place. "We're really excited about this area. There is so much history that has happened here, and we think it's really up and coming. Sunset-Gower Studios is right across the street and there's lots of other projects that are happening that make it a really cool spot."
Cervantes says the store will offer the usual range of La Monarca goods – conchas and cheese-and-guava croissants, tres leches cakes and Mexican chocolate cakes – though they are working up some new lunch items for the location.
The décor will be what Cervantes calls "Mexican modern": modern architecture with rustic elements. "We don't want it to be too serious. We like to keep the whole thing of Mexico, but in a more modern version."
Malarkey decides on Herringbone for Mondrian
Well, that didn't take long. Last week when Top Chef Brian Malarkey told us that he would be opening in the Mondrian Hotel on New Year's Eve, he said he hadn't decided which of his restaurant themes the place would use. Now he says it'll definitely be Herringbone that'll be going into the space formerly occupied by Asia de Cuba.
This will be the second Herringbone, which Malarkey described as "ocean-to-table, farm-fresh cuisine." The other is in La Jolla.
Malarkey was a near-finalist in the third season of the "Top Chef" television show, losing in the next-to-the-last round. He fared better in last year's "The Taste" series, mentoring the winning chef, Khristianne Uy.
New School of Cooking adds pastry pro
Culver City's New School of Cooking is adding a pastry program to be headed by local vet Andrea Shirey, and an advanced culinary program headed by Kristyne Starling. Starling has worked with Freddy Smalls, Paper or Plastik Cafe and Messhall Kitchen. Shirey helped open the SLS Hotel in Beverly Hills and has worked with Valerie Confections and the Huntley Hotel in Santa Monica. [UPDATED: This story originally said they'd added an advanced pastry program]
ALSO:
Finding authentic Chinese in Los Feliz
Rockenwagner's Cro-Dough worth a visit
Chefs of the moment -- "He said; She said"
---
Get our L.A. Goes Out newsletter, with the week's best events, to help you explore and experience our city.
You may occasionally receive promotional content from the Los Angeles Times.