Malaysian cuisine in El Monte, with or without bull's balls soup
The bull's balls curry, with the large bull statue in the background.
(Amy Scattergood / Los Angeles Times)
A bowl of penang curry laksa, a rich seafood and noodle dish.
(Amy Scattergood / Los Angeles Times)
A plate of hot roti canai, or Malaysian flatbread, with sauces.
(Amy Scattergood / Los Angeles Times)
An appetizer of stuffed tofu with bean sprouts, with sauce.
(Amy Scattergood / Los Angeles Times)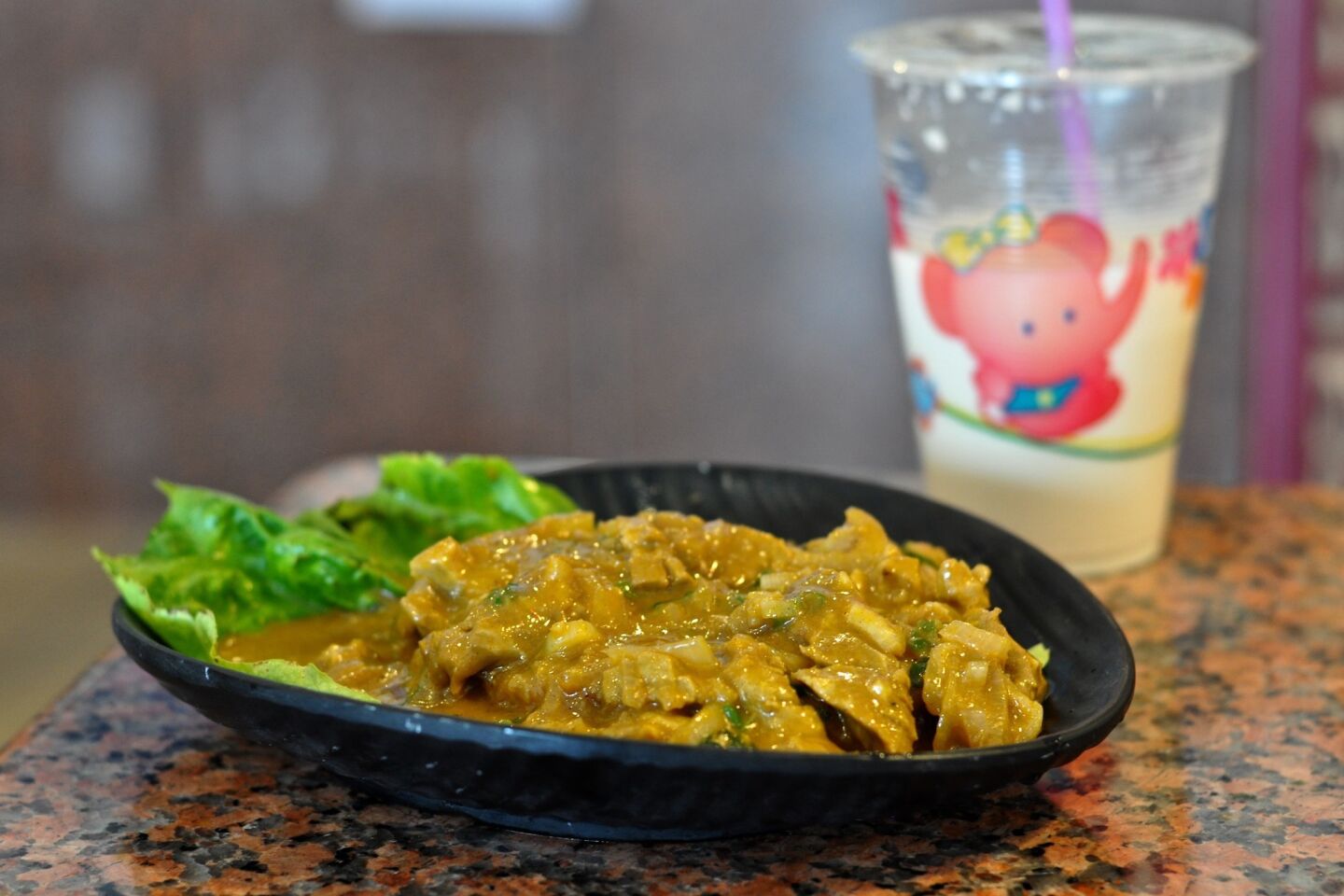 The "curry bull's ball" dish at El Monte's The Bull Restaurant. With a cup of jasmine milk tea.
(Amy Scattergood / Los Angeles Times)
The interior of The Bull Restaurant, which has pretty lamps, many photographs of the dishes, a giant bull and a few animal heads on the walls.
(Amy Scattergood / Los Angeles Times)
Name of restaurant: The Bull Restaurant, a Malaysian restaurant in El Monte that opened in late March. The name is a nod to the restaurant's selection of bull testicle soup, which is an extremely popular aphrodisiac in Southeast Asia. Walk in the doors and you'll be greeted by a hefty bull statue — a symbol of energy and potency.
Owner and chef: Tom Tan, a Chinese-Malaysian immigrant who opened his restaurant after deciding the state of Malaysian food in Los Angeles needed to be improved. Tan has been working in the restaurant industry since 1991. He also happens to own the grocery store, Tyler Market, right next door.
Concept: A casual Malaysian eatery good enough to remind Southeast Asian expats of home. "It's basically street food," Tan says. Rice and noodles are abundant, as well as grilled meats such as chicken, pork chop, and pomfret.
What dishes represents the restaurant, and why: For the adventurous, the bull's balls. "It's a natural Viagra," Tan says. "There's a belief that eating bull testicles will help boost energy." The balls can be grilled or cooked in a broth of ginseng or Chinese herbs. Customers must call in two hours in advance to reserve the dish.
They also have bird's nest soup on hand — which is made from the dried spit of swallows and is popular among women looking to enhance their complexions. For those who aren't inclined towards the bizarre, Bull does a lovely curry laksa, a spicy rice noodle soup drenched in coconut soup with a choice of chicken or seafood. And then there's the char kway teow, a stir-fry rice noodle dish with thick, flat noodles and a liberal dose of bean sprouts.
Who's at the next table: Malaysian immigrants who are big on curry, coconut-based noodle dishes, and seafood.
Appropriate for: It's ideal for lunch, as they have quite a variety of combination specials like grilled mackerel and rendang beef with coconut rice and lemon ice tea.
Problematic: Plan ahead, as both the bull's ball and the bird's nest soup have to be ordered in advance. Also, the menu is cluttered and may be confusing for those new to Malaysian food.
Service: Servers speak Chinese and English. Good news if you live within a 10-mile radius: They deliver with a minimum $20 order.
What are you drinking? Coconut milk from a can or one of the many milk teas in plastic cups (they have boba).
Info: 4022 #B Tyler Ave., El Monte, (626) 442-2536.
Get our L.A. Goes Out newsletter, with the week's best events, to help you explore and experience our city.
You may occasionally receive promotional content from the Los Angeles Times.