Navigating the wine list at Bestia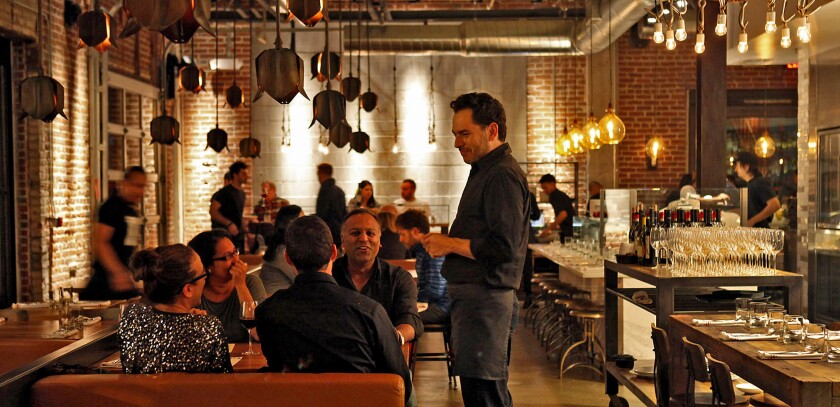 Taking a peek at Bestia restaurant's website can be very dangerous. You meant to just check the hours, but as photographs of dishes fly by, the effect is immediate. You're hungry for the house-made salumi, chicken liver crostini, steamed mussels and clams or roasted marrow bone strewn with crispy breadcrumbs.
Ori Menashe and his wife the pastry chef Genevieve Gergis are knocking it out of the park with their rustic, yet modern Italian cuisine. Open almost two years now, Bestia is still one of the toughest reservations in town. Can't snag a table? Go anyway and wait for a seat at the bar to open up, where you can indulge in pan-roasted chicken gizzards with roasted beets and aged Sardinian goat cheese or pizza smeared with house-made spicy 'nduja sausage.
And when you're ready to order some wine, here's how to navigate the list:
Focus of the list: Definitely Italian, but with detours into the rest of the Mediterranean and further into Hungary, Germany, Austria, California and Oregon.
Author: Wine director/sommelier Ryan Ibsen.
How many selections? About 100.
How is it organized? The irreverent list gets printed every day to reflect the changes—and to reflect its constant evolution, Ibsen puts a different image at the top, which could be a werewolf, a dark roiling ocean or a cat smoking a cigarette. The categories are Fizz, Rosé, White and Red wine, organized by the grape varietals that run down the left hand side of the page. Wines also available by the glass carry an asterisk.
How helpful is the list? Just the names and provenance of the wines without embellishment. Since so many of the names, grapes and regions are most likely unfamiliar, this is where a sommelier comes in handy. And wine director Ryan Ibsen says he's on the floor typically five nights a week. Seek out his advice. For example, if you don't already know that Glera is the primary grape in Prosecco, you won't know that the Glera from Sorelle Bronca listed under fizz is actually Prosecco, a bubbly that you love.
Keep in mind when reading the suggestions below, that Bestia's wine list is particularly dynamic. Wines on the list come and go at a fast pace. Many have limited production and once they're gone for the year, they're gone. But then there's always something new to replace them.
Wines by the glass program: No separate wine by the glass list, but 20 or so are threaded throughout the two-page list, marked by an asterisk. Prices range from $13 to $24 on a recent example.
Best wine by the glass: NV Sorelle Bronca Extra Dry Prosecco del Valdobiaddene, Veneto, Italy, $14.
Best white wine value: 2014 Hondarrabi Zuri Txakolina, Bizkaiko, Spain, $60.
Best red wine value: NV Grasparossa "La Collina" Lambrusco, Emilia-Romagna, Italy ($52, or $13 by the glass). This is the one to have with a salumi platter or the pan-roasted chicken gizzard antipasto. As an alternate, the 2012 Bernabeleva "Navaherreros," Madrid, $60, is a bright, spicy Garnacha that works well with pizza or pasta dishes.
White wine worth a splurge: A magnum of 2013 Foradori "Fontanasanta" Manzoni Bianco, Trentino, Italy, $160. Have it with the grilled octopus and calamari antipasto or with the spaghetti with sea urchin and squid ink bottarga.
Red wine worth a splurge: 2010 Tenuta delle Terre Nere "Feudo di Mezzo" Etna Rosso, Sicily, Italy, $125. This would be terrific with Menashe's massive pork tomahawk chop or his roast suckling pig.
Corkage policy: $30 per 750 ml bottle for the first two bottles and $50 for any 750 ml bottle thereafter.
Bestia, 2121 7th Place, Los Angeles (213) 514-5724; https://bestiala.com.
Follow @sirenevirbila for more on food and wine.
---
Get our weekly Tasting Notes newsletter for reviews, news and more from critics Bill Addison and Patricia Escárcega.
You may occasionally receive promotional content from the Los Angeles Times.