Neal Fraser opens Redbird in downtown's Vibiana, finally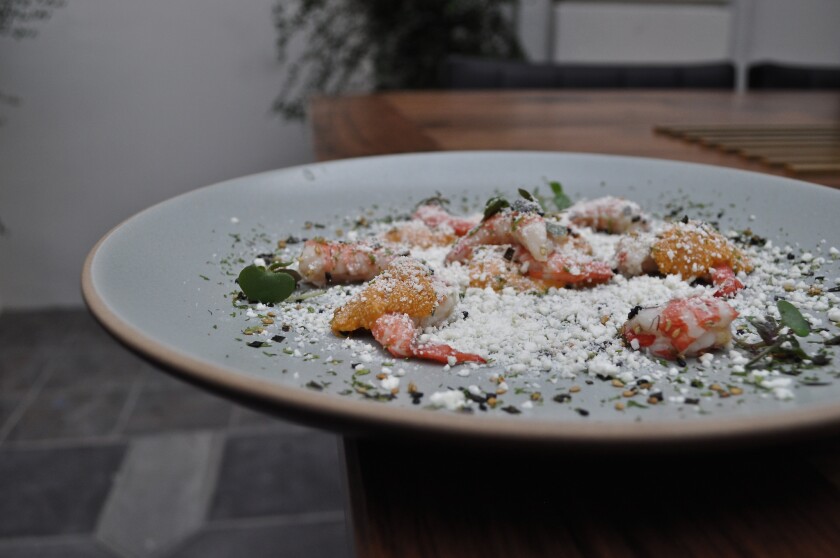 Fans of Neal Fraser's excellent cooking have long been waiting, literally or figuratively, outside the deconsecrated gates of downtown's Vibiana Cathedral for news of his restaurant, long-scheduled to open in the building's former rectory.
Well, the gates are finally opening, as Redbird is slated to open Wednesday evening for dinner service.
Fraser, as you may remember, closed Grace in 2010, hoping to relocate the much-loved restaurant downtown. In the meantime, the space that was Grace became Playa, which then became Petty Cash. Much time passed, Neal and Amy Knoll Fraser moved their catering kitchen downtown and took over the Vibiana events space; the Frasers teamed with Bill Chait; and the restaurant evolved to become Redbird.
It should be said that Redbird — a reference to the cardinal who once lived in Vibiana's rectory — is decidedly not Grace. But it will have some Grace-like dishes on the menu, as well as the kind of cooking that has made Fraser one of the town's foremost chefs. ("We didn't want it to be too religious," Knoll Fraser says. "No crosses.")
As you'd expect, both the restaurant, which the Frasers have been effectively working on since 2008, and the menu show signs of much thought and preparation. The dinner menu (Redbird will open for lunch and brunch early in 2015) is divided into four sections: appetizers, mains, desserts and a kind of small plates course that Knoll Fraser named "kickshaws."
"It's a play on 'something' in French," Knoll Fraser says, explaining that the word popped up on her phone one day as a Word of the Day. The little dishes include tempura-crusted smelt with grilled lemon and spiced aioli; shishito peppers with bottarga and togarashi; chicken pot pies; New Caledonian blue shrimp with grits and mole; and something called the Whole Hog, which has "flavors of posole."
Among the other dishes on the menu: a Delicata squash salad with hazelnuts and goat's milk feta; Thai-style Dungeness crab soup; Santa Barbara ridgeback prawns with uni, nori and a wasabi snow made with liquid nitrogen; Rabbichetta, which Neal Fraser says is similar to the rabbit dish he served at Grace, with Anson Mills polenta; a rack of Red Wattle pork with roasted apples and turnips; and, for dessert, black walnut cake with Humbolt Fog ice cream; and cashew meringue with milk chocolate, mango and passionfruit sherbet.
Fraser's Redbird crew includes a lot of old friends, including Jason Bowlin, the sous chef at Grace for its final two years, sous chef Austin Cobb, pastry chef Jazmine Corpuz (Ink, Patina, Bottega Louie) and general manager Christian Philippo (Republique, Patina). The cocktail program will be helmed by Julian Cox (unsurprisingly, as Chait is involved) and barman Tobin Shea. The designer is Robert Weimer, who helped design Grace, Fritzi Dog and BLD and had the enviable job of working with one of the prettiest buildings in Los Angeles.
"The architecture was already outstanding; all I could do was mess it up," Weimer points out. (He did not.) The other thing that Redbird has that most restaurants do not? Four kitchens, one of which is in Vibiana's former sacristy.
Redbird is divided into two parts: a lounge inside with a gorgeous marble bar and a collection of vintage and repurposed furniture, some of which came from Grace and Playa (the bar seats 24; the marble came from a marble yard in the San Fernando Valley); and a courtyard dining room with a retractable roof that has a full bar, citrus trees and space for a wood-burning oven (Fraser is moving it there as we speak) where the chef can grill your dinner.
As for what took so long, Knoll Fraser says that's complicated. There was a lot of negotiating with Vibiana's owners, plus the recession and the continuing evolution of downtown Los Angeles. The Frasers also became operators of Vibiana's events venue in December 2012 and merged their catering business with the event space.
"It's a landmark," Knoll Fraser says of the location. "It deserves something really special." How special the space — and the new restaurant inside it — is can be summed up by noting that there's an actual finger lime tree growing from a large box next to a corner table in the courtyard, and that you can see Vibiana's gorgeous bell tower through that retractable roof. Not a bad place for a glass of wine and a plate of Rabbitchetta.
114 E 2nd St., Los Angeles.
Pictures of finger limes and porchetta on Instagram @ascattergood.
---
Get our weekly Tasting Notes newsletter for reviews, news and more from critics Bill Addison and Patricia Escárcega.
You may occasionally receive promotional content from the Los Angeles Times.