Remembering my mentor Paul Prudhomme, with gumbo
Chef Paul Prudhomme prepares barbecue shrimp at the annual White House congressional picnic in 2007.
(Marvin Joseph / Washington Post)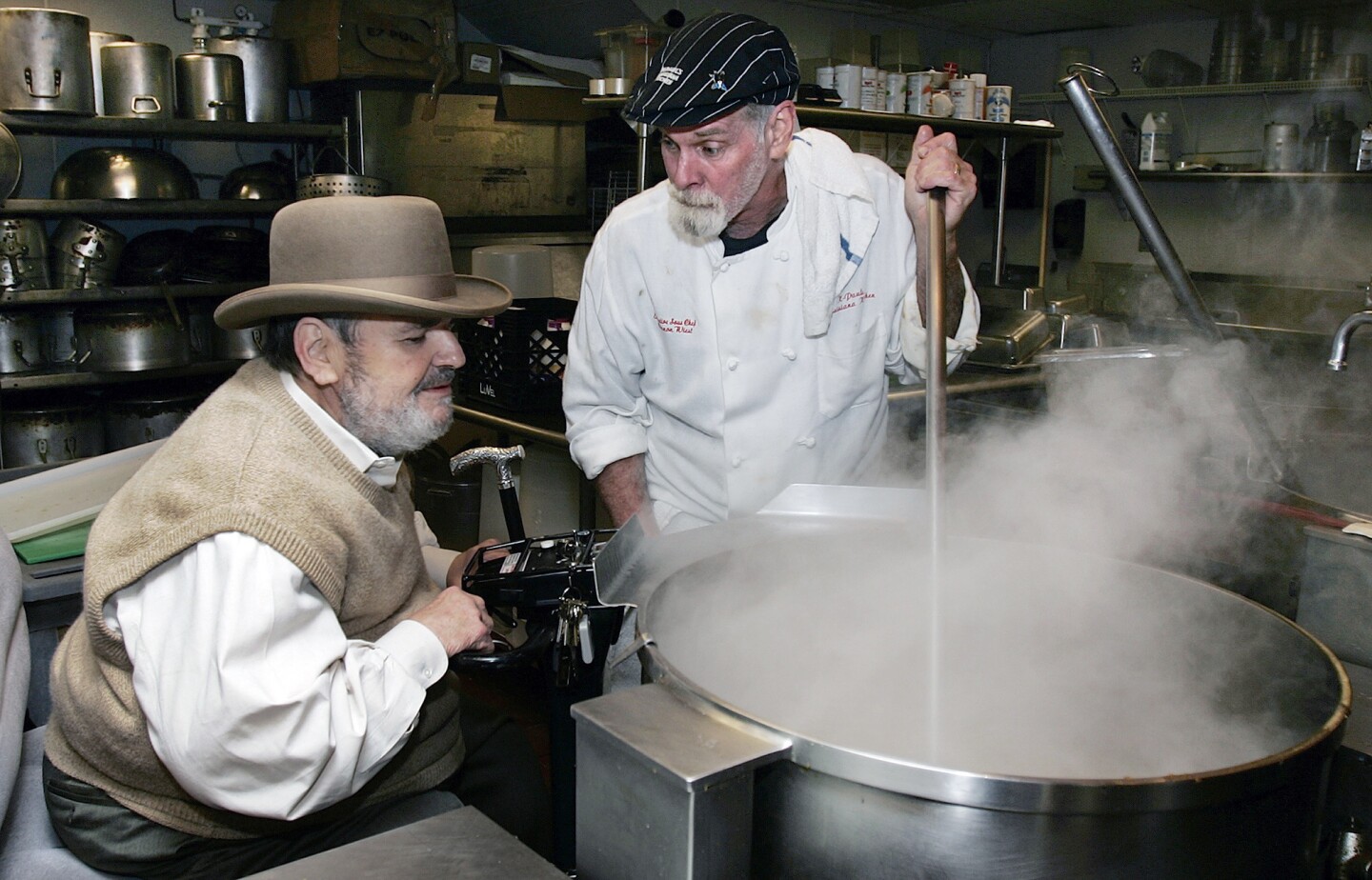 Chef Paul Prudhomme, left, talks with Cannon Wiest as he looks at the stock pot at his French Quarter restaurant, K-Paul's Louisiana Kitchen, in New Orleans, in 2007.
(Bill Haber / Associated Press)
Michael McCarty, left, puts Paul Prudhomme to work at a charity event at McCarty's Santa Monica restaurant in 1998.
(Alex Berliner)
American chefs Paul Prudhomme, left, Larry Forgione, Jonathan Waxman, Jimmy Schmidt, Alice Waters and Bradley Ogden gather in New York to pay tribute to the late food writer James Beard in 1985.
(Ed Bailey / Associated Press)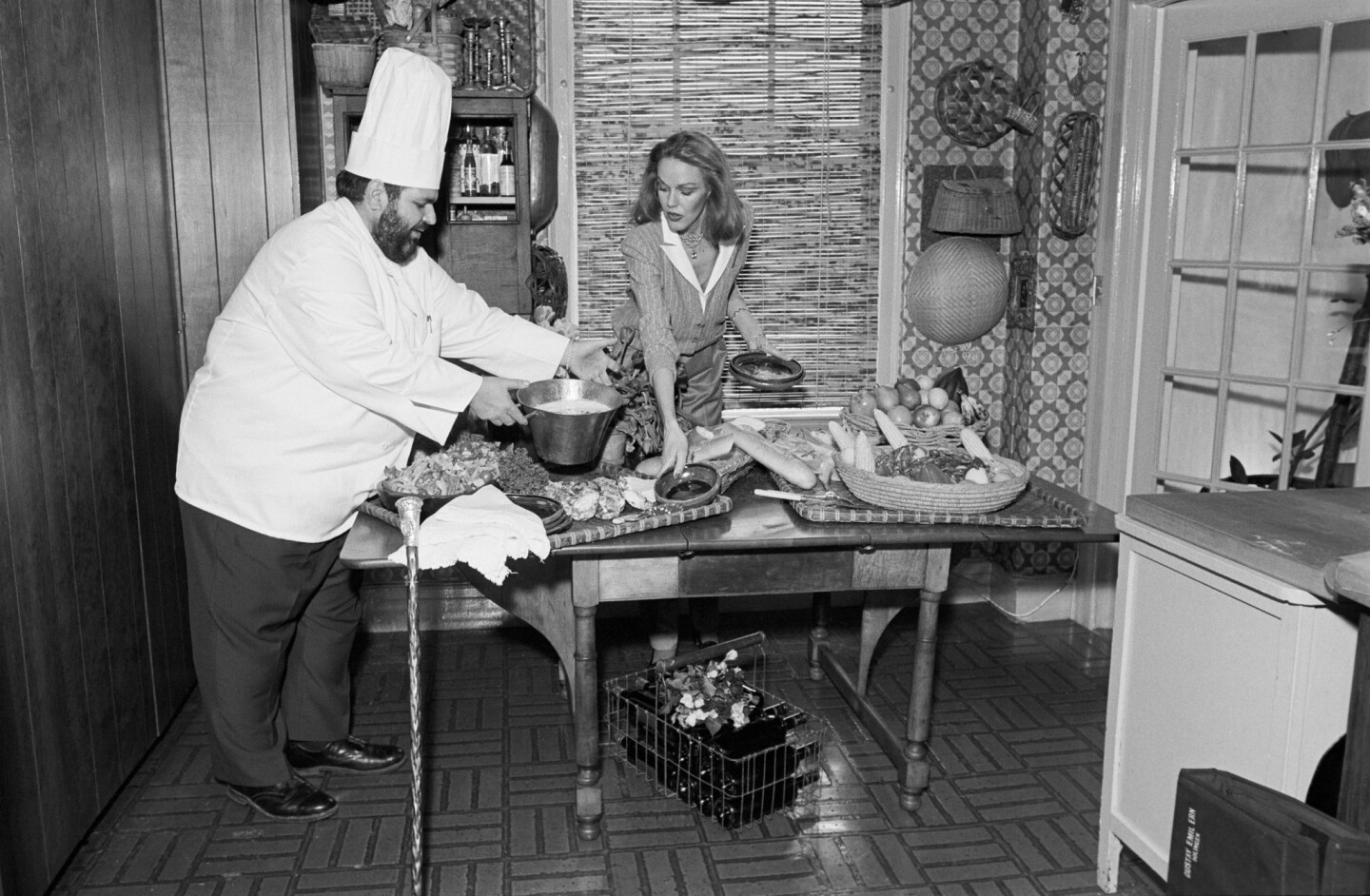 Chef Paul Prudhomme and fashion buyer CeCe Kieselstein-Cord prepare food together in 1981.
(Susan Wood / Getty Images)
Paul Prudhomme signs autographs in Denver during a cooking demonstration in 1988.
(Glen Martin / Denver Post)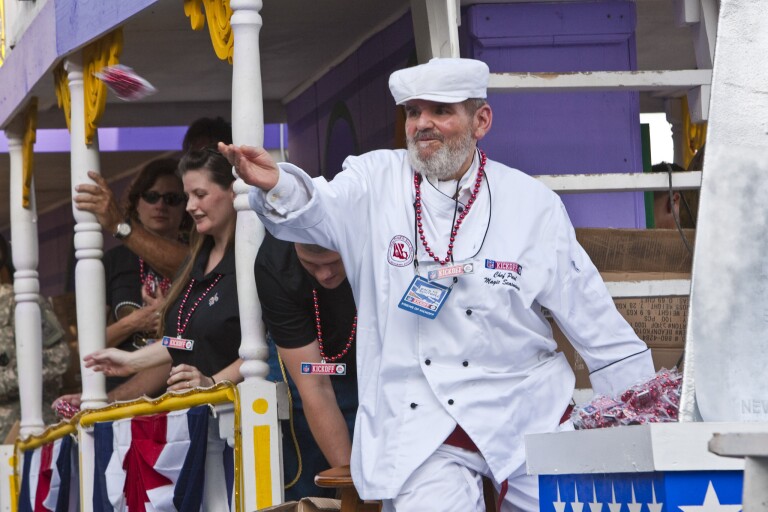 Paul Prudhomme tosses beads from a float during the 2010 NFL opening kickoff parade in New Orleans.
(Skip Bolen / WireImage)
Paul Prudhomme, left, and Emeril Lagasse at Commander's Palace in New Orleans in 2013. Prudhomme hired a young Lagasse to work in the Commander's kitchen and Lagasse later took over the reins of the restaurant.
(David Moir / Bravo/NBCU)
Paul Prudhomme speaks at the Culinary Institute of America at the New York Marriott Marquis in 2012.
(Simon Russell / Getty Images)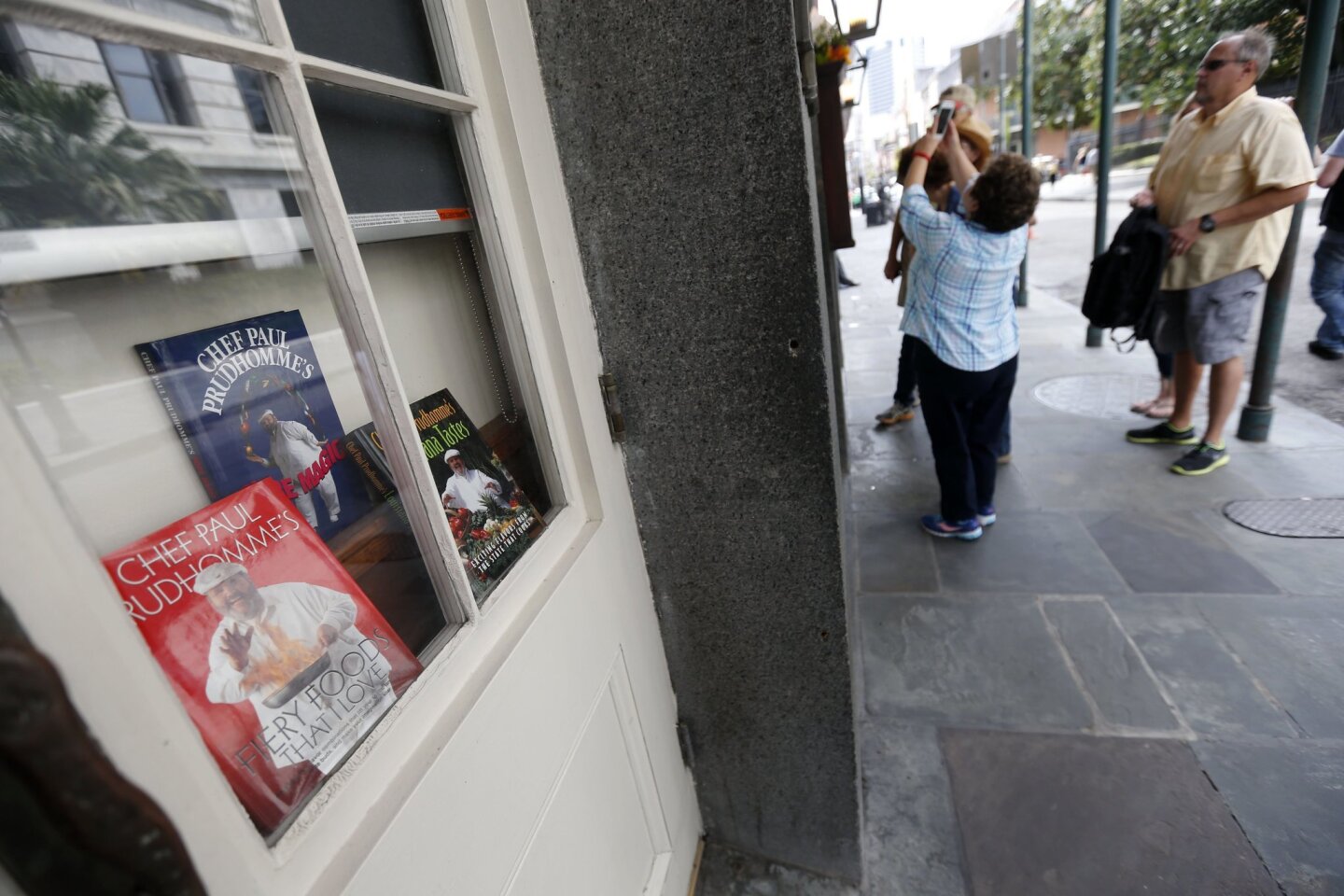 People take photos of flowers placed outside K-Paul's Louisiana Kitchen in the French Quarter of New Orleans after the death of Paul Prudhomme, the restaurant's founder, was announced on Oct. 8, 2015.
(Gerald Herbert / Associated Press)
Paul Prudhomme inscribed my copy of his first cookbook with the words, "Good cooking. Good eating. Good loving. Things to live by. Quality gets all."
I interned with the chef at the start of 2004, right after I completed culinary school. I've been a fan of his my whole life. Growing up, I remember my father and I would bond watching cooking specials, and we always gravitated to Prudhomme and Justin Wilson — which probably explains my love for Cajun and Creole cuisine.
While I always was fascinated by the sheer spectacle of Prudhomme's turducken, it was the way he would demonstrate simple recipes — like a pot of gumbo — that hooked me and ignited my love for the kitchen and for pleasing people through food.
Prudhomme was one of the first celebrity chefs. After Julia Child, it was Prudhomme who really glamorized the kitchen. And he did it celebrating a cuisine unique to America. These dishes — his blackened redfish became a national sensation — weren't fancy. They were rustic dishes similar to so many we grew up with, but he legitimized them. He made them special. He made them better.
The first time I met Prudhomme was at his test kitchen, just outside New Orleans' French Quarter in a converted shotgun house — a narrow rectangular house that first became popular in the South toward the end of the Civil War.
I showed up early and was helping his assistant prepare materials for a photo shoot the next day. Before too long, the chef arrived, entering through the back door on his motorized scooter. (I later learned he owned the shotgun house next door and used a walkway built between the two for easy access.)
I was very nervous about meeting him, and he recognized this, and in his own quiet way, he quickly put me at ease. After our introduction, he slowly made his way to the stove.
Prudhomme put an old, large cast iron skillet on the stove over high heat — he was going to make gumbo. (And for a cook like me, watching Paul Prudhomme make gumbo was like watching Michaelangelo paint the Sistine Chapel). He made space so I could watch him and gently explained everything he did as he cooked.
He added oil, and when it was smoking hot, he quickly whisked in flour to make a roux. He turned to me and quietly warned that, because it's so hot and sticky, a good hot roux is often called "Cajun napalm."
Once the roux was a rich dark brown, he began layering flavors. He added the "trinity," the foundation of so many classic Cajun and Creole dishes. (Where a classic French mirepoix consists of onion, carrot and celery, the trinity consists of onion, celery and bell pepper.) I watched as he built the dish, layering the flavors and ingredients, slowly coaxing everything out of every ingredient. It was magical. He would taste it every few minutes to make sure everything was perfect.
We made a few other dishes that day, including a chile-spiced apple pie. I learned that the dishes were for a "Today Show" taping that was going to be shot live early the next morning in Jackson Square in the French Quarter. The dishes were only for show, but it didn't matter to Prudhomme. He was always about perfection. After the taping, the chef made sure everyone was fed, from the news correspondents to the crew.
In a day and age in which most celebrity chefs have to shout and make a scene to be noticed, Prudhomme was quiet and soft-spoken but always keenly observant, making make sure everything was perfect and every customer was happy. I will never forget this good, kind and genuine man, who died Thursday at the age of 75 in New Orleans, which is only fitting.
Good cooking. Good eating. Good loving. Things to live by. Quality gets all.
Words to live by.
CHICKEN AND ANDOUILLE SMOKED SAUSAGE GUMBO
Total time: 1 hour, 40 minutes | Serves 6
Note: Adapted from "Chef Paul Prudhomme's Louisiana Kitchen," by Paul Prudhomme.
1 small (2- to 3-pound) chicken, or 1/2 of a large (5- to 6-pound) chicken, cut up
1 1/2 teaspoons salt, divided
1 teaspoon garlic powder, divided
1 teaspoon ground red pepper (preferably cayenne), divided
1 cup finely chopped onions
1 cup finely chopped green bell peppers
3/4 cup finely chopped celery
1 1/4 cups flour
Vegetable oil for deep frying
About 7 cups chicken broth
1/2 pound andouille sausage, or any good pork sausage (such as Polish kielbasa), cut into 1/4-inch cubes
1 teaspoon minced garlic
Cooked white rice, for serving
1. Remove excess fat from the chicken pieces. Sprinkle 1 teaspoon salt and one-half teaspoon each garlic powder and ground red pepper over the chicken, rubbing the seasoning over both sides of each piece. Set aside at room temperature for 30 minutes.
2. Meanwhile, combine the onions, bell peppers and celery in a bowl.
3. Combine the flour, remaining one-half teaspoon each salt, garlic powder and ground red pepper in a paper or plastic bag. Add the chicken pieces and shake until the chicken is well-coated. Reserve one-half cup of the flour mixture.
4. In a large, heavy skillet, heat 1 1/2 inches of oil until very hot (375 to 400 degrees). Fry the chicken until the crust is brown on both sides and the meat is cooked, about 5 to 8 minutes per side; drain on paper towels. Carefully pour the oil into a glass measuring cup, leaving as many of the browned particles in the pan as possible. Scrape the pan bottom with a metal whisk to loosen any stuck bits, then return one-half cup hot oil to the pan (discard the remaining, or strain and save for another use).
5. Place the pan over high heat. Using a long-handled metal whisk, gradually stir in the reserved flour. Cook, whisking constantly, until the roux is a dark red-brown to black, about 3 1/2 to 4 minutes, careful not to let it scorch or splash on your skin. Remove from heat and immediately add the vegetables, stirring constantly until the roux stops darkening. Return the pan to low heat and cook until the vegetables are soft, about 5 minutes, stirring constantly and scraping the pan bottom well.
6. Meanwhile, place the broth in a 5 1/2-quart saucepan or large Dutch oven, and bring to a boil. Add the roux by the spoonful to the boiling broth, stirring until dissolved between each addition. Return to a boil, stirring and scraping the pan bottom often. Reduce the heat to a simmer and stir in the andouille and minced garlic. Simmer, uncovered, for about 45 minutes, stirring often toward the end of the cooking time.
7. While the gumbo is simmering, bone the cooked chicken and cut the meat into one-half-inch dice. When the gumbo is cooked, stir in the chicken and adjust the seasoning as desired. Serve immediately. (To serve, mound one-third cup of cooked rice in the center of a soup bowl and ladle about 1 1/4 cups gumbo around the rice.)
Each serving: 540 calories; 32 grams protein; 41 grams carbohydrates; 2 grams fiber; 27 grams fat; 4 grams saturated fat; 86 mg cholesterol; 3 grams sugar; 1,605 mg sodium.
ALSO:
Stew: When time is on your side, taste will be too
Paul Prudhomme, Louisiana chef who popularized Cajun cooking, dies at 75
---
Get our weekly Tasting Notes newsletter for reviews, news and more.
You may occasionally receive promotional content from the Los Angeles Times.