Scouting Report: Dim sum, banh mi and ramen at Pingtung eat-in market on Melrose Avenue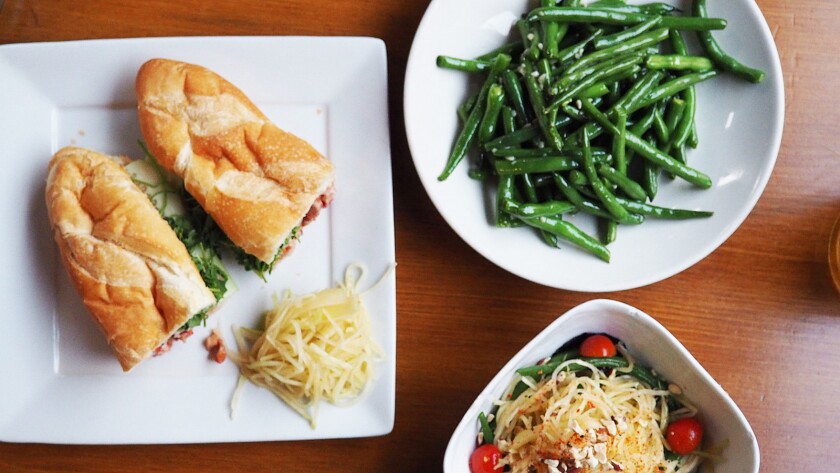 Name: Pingtung eat-in market, named after the city in Taiwan where chef and owner Li Ping is from. She also grew up in Tokyo — that city just didn't make it into the restaurant's name.
Concept: It's a restaurant and market by Ping, known for her New York restaurants Kelley & Ping, Khin Khao, Obeca Li and Lozoo. The menu is a mix of Asian comfort-food favorites, including rice bowls, banh mi sandwiches, soup dumplings, Korean barbecue, ramen and dim sum.
What's up with the shrimp chips in the front?: That's part of the market aspect of the restaurant. Above the dining room seats are shelves of items you'd find at your local 99 Ranch Asian market, including Calbee chips, Pocky, Dars, D'asses cookies, green tea Kit Kat bars, caramel corn and tea.
What to order: Order a little bit of everything — and here, you actually can. If you're a Westsider craving the soup dumplings and beef rolls from Mama's Lu in the San Gabriel Valley, get the beef Pingtung flatbread — which is basically a beef roll (a crispy pancake stuffed with beef, sweet hoisin sauce and green onion), disguised as a flatbread on the menu.
You can order a barbecue pork banh mi with a side of papaya salad. If you're in the mood for dim sum, there is shumai. And you can slurp a bowl of tonkotsu ramen on the patio, under the stars.
There's even a burger, for that one friend who was hesitant when you told him or her you'd be trying that new Asian restaurant on Melrose Avenue for dinner. The only catch — it comes on a fluffy bao bun.
And get the taro shaved ice for dessert.
Where to sit: On the back or front patio. If you're on a date and looking for a quiet table to share an order of dumplings, head to the back. Groups of girlfriends looking to be seen by passersby on Melrose Avenue, snag a seat in the front.
What you're drinking: Tea, and lots of it. There are more than 20 teas on the menu. Sake, wine, beer, shochu and Stumptown coffee are also available.
Info: 7455 Melrose Ave., Los Angeles, (323) 866-1866, www.pingtungla.com.
I probably crave onion pancakes more than most. I'm cool with that. Follow me on Twitter @Jenn_Harris_
ALSO:
Your Los Angeles area ice cream and gelato map
Turn cheap wine into 'restaurant quality vintage' with your very own wooden bottle
American Tea Room opens a swank shop downtown, with tea vats, booze and butter tea
---
Get our weekly Tasting Notes newsletter for reviews, news and more.
You may occasionally receive promotional content from the Los Angeles Times.