Head to Restaurant Marin in Costa Mesa for giant English muffins and chicken pot pie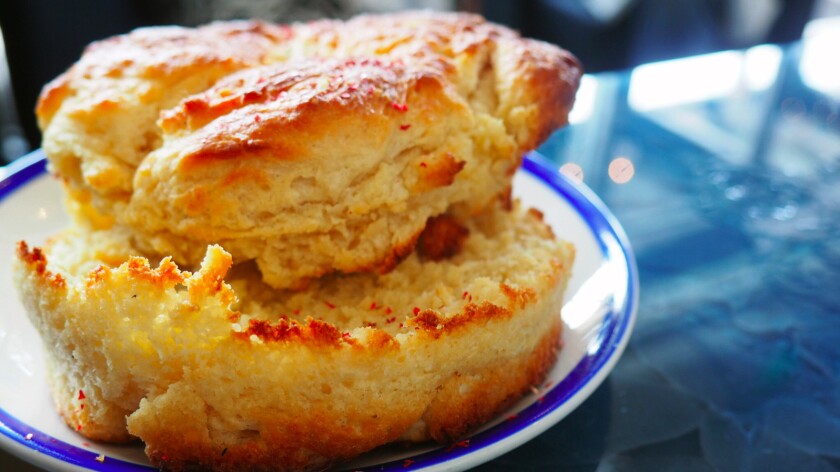 Name: Restaurant Marin, named after co-owner Marín Howarth. She and her husband, chef Noah Blom (he worked at Daniel in New York City), are also the duo behind Arc restaurant next door. Restaurant Marin opened in April.
Concept: The restaurant, located at the South Coast Collection shopping center in Costa Mesa, bills itself as a modern-day diner. So there's chicken pot pie, a fried chicken sandwich, pancakes, a patty melt and meatloaf on the menu — but it's all more elaborate than what you would expect. Almost everything is sprinkled with pink salt before it leaves the kitchen. And instead of laminated menus and greasy booths, your food is served in a beautiful, intimate space outfitted with tabletops made of sea glass, distressed mirrors, chandeliers and short plush blue booths that curve ever so slightly at the ends. Howarth also designed the space.
Like its sister restaurant Arc, most things are cooked over fire or in a wood-burning oven. That includes the pancakes, the cakes and pies, even the eggs. And you can order those pancakes and eggs for dinner, because breakfast is served all day.
Order this: Chicken pot pie. A buttery lattice crust sits on top of a rich filling of shredded chicken, mushrooms and carrots. And it's big enough for two people to share. Or try "the roll." It's Blom's version of a lobster roll, only his comes on a house brioche bun topped with pieces of lobster, grilled shrimp served with the heads and sweet oven-roasted tomatoes.
And this: Order the crumpet, even if there are three of you and you each got an entree — even if you plan on ordering a slice of cake for dessert. Just think of it as a necessary side dish that is actually a hybrid of a giant English muffin, crumpet and biscuit. The top is golden brown, crisp and jagged like a biscuit; the bottom is flat and toasty like an English muffin; and the middle is doughy and tender like a crumpet. It's served with butter and a house-made jam (right now it's berry). This will also serve as the bread for the restaurant's fried chicken sandwich and breakfast sandwich, called "the muffin."
What you're drinking: Four bottled cocktails by Koire Rogers, also known as the restaurant's "bar chef." He's also the bar chef at Arc next door. Try the Duke, a bottled cocktail made with vodka, Herbsaint anise-flavored liqueur, orange and anise; a glass of wine; or a Cream Fizz mocktail made with cream, juniper and orange flower. And even the table water is fancy — it's infused with mint and strawberries.
If you've got a sweet tooth: As soon as you walk through the doors, you'll be drawn to two glass cake stands to the left of the entrance. One holds a German chocolate cake, the coconut pecan frosting peeking out between the layers. And the other holds a chocolate cake the restaurant calls Death by Chocolate. If you order the Death by Chocolate (and why wouldn't you with a name like that?), you'll be served a wedge of rich, dark chocolate cake layered with chocolate frosting (it's big enough for three people), topped with a dollop of fresh whipped cream.
No tips please: Restaurant Marin, like Arc, does not accept tips. It's a move many restaurants around the country have already made, and one many will have to consider when the new California minimum wage increase goes into effect (restaurants will have to increase employee pay to $15 an hour by 2022). So what does this mean for your dinner bill? Dishes are pricier than you may expect. At Restaurant Marin, "the roll" is $40, the chicken pot pie is $26 and a slice of cake is $15.
That space in the back: Howarth and Blom plan on opening the Guild later this year. It's a private, members-only dining space at the back of the restaurant, accessible through a private door. If you want in, you'll have to fork over a $15,000 membership, and $1,000 annual fee.
Info: 3321 Hyland Ave., Suite G, Costa Mesa, (949) 402-3974, www.restaurantmarin.com.
I always have room for dessert. Follow me on Twitter & Instagram @Jenn_Harris_
ALSO:
The only guacamole recipe you'll ever need
Dine L.A. Restaurant Week returns. What you need to know.
Talking about fire and seasonal feasting with the chefs from Portland's Ox restaurant
---
Get our weekly Tasting Notes newsletter for reviews, news and more.
You may occasionally receive promotional content from the Los Angeles Times.