The new downtown restaurant Rossoblu will have a basement butcher box (charcuterie!)
Los Angeles is poised for some major restaurant openings in 2017. Perhaps one of the most anticipated is chef Steve Samson's Rossoblu, set to open in downtown's gorgeous new City Market South development on May 17. While Samson has earned a following for his perfectly blister-flecked, wood-fired pizzas at Sotto, his Southern Italian restaurant in Pico-Robertson, you will not find a single pie on the menu at Rossoblu. Instead, Samson's newest project will allow him to flex other muscles, crafting a menu that reads as an ode to the Italian cuisine of the Emilia-Romagna region in Northern Italy.
Why Rossoblu
Samson's connection to Emilia-Romagna runs deep. The region is home to his favorite soccer team, F.C. Bologna, referred to by fans as rossoblu (after the team's red and blue colors). It's also the place he spent his childhood summers with his mother's family. Each summer he grew more enamored with the food and culture that would one day drive him to abandon a prospective career as a doctor to become a chef.
There will be pasta
Dishes at Rossoblu will be modeled after the cooking of Samson's grandparents. Samson will focus equally on handmade pastas and an extensive in-house charcuterie and butchery program.
"My grandmother was always the one who would make the pasta growing up," Samson said. "But whenever we would go to the mountains, my grandfather would build a fire in the fireplace and cook all the meat. Things like fresh sausages and pork chops, cooking over this little grill in the fire. Just very simple. So that's what we modeled the restaurant after."
The beautifully designed space is large enough to easily seat 100 people in its sprawling outdoor patio and private dining room, but it's in the basement that you'll find the beating heart of Rossoblu in the form of a pasta workshop and butcher box. Both rooms are walled in glass so you can watch as paper-thin sheets of pasta are rolled out to join ragu bolognese or a rope of salumi or a freshly butchered rib-eye is hung to age.
Charcuterie made in-house
"We're going to make our own sausage and salumi and bring in whole animals," said Samson. "We'll also try and use every piece, one way or another." To do so, Samson tapped famed butcher and charcuterie expert Michael Sullivan, alum of the esteemed Blackberry Farms, to get the heritage meat heavy charcuterie program up and running. Expect to find a Los Angeles salumi board with felino, sotto cenere, coppa and testa as well as an Emilia-Romagna board with mortadella, prosciutto crudo and stracchino.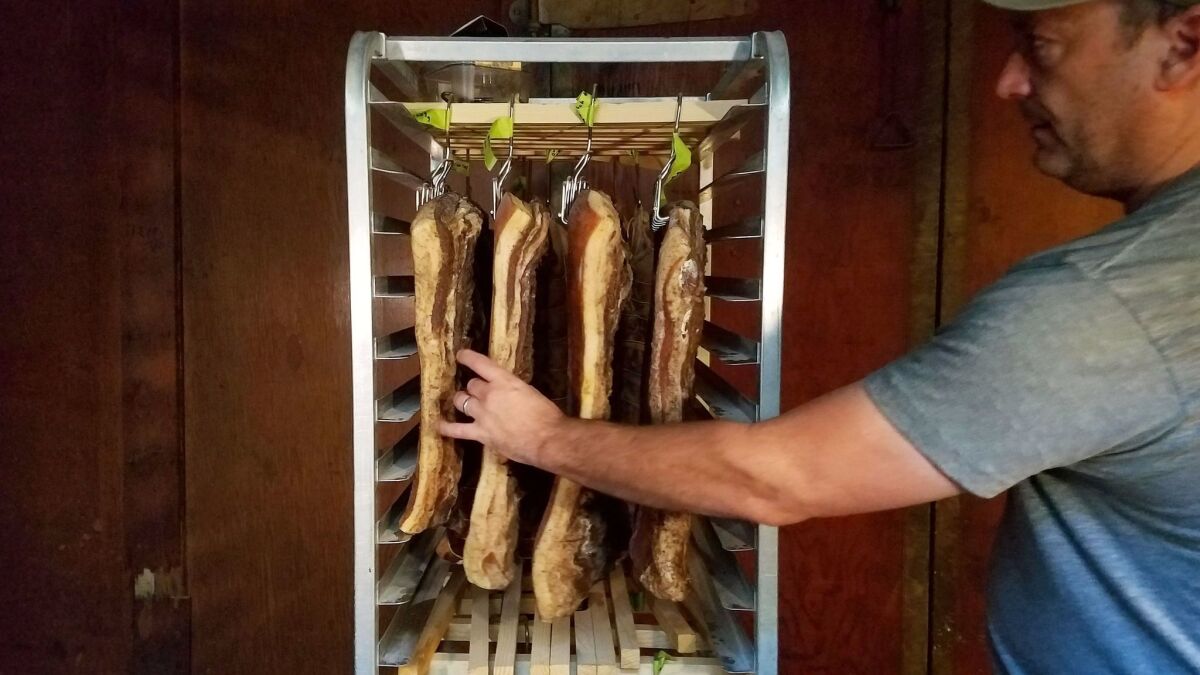 But just because they have the space and resources to make everything in-house doesn't mean they will. "My philosophy is always, don't make anything unless you can't buy it better," said Samson. "You shouldn't make something just for the sake of making it."
Beyond the charcuterie program, you can expect simply grilled, whole local seafood such as Santa Barbara spot prawns with roe, herbs and lemon bread crumbs, as well as a 40-day dry-aged rib-eye cooked over the coals.
Rossoblu will also house a wood-burning hearth complete with a cross for roasting whole aged ducks, chickens and, fingers crossed, suckling pigs — a type of pig that, while common in Europe, can be challenging to find in the states. Luckily, Samson's got a guy.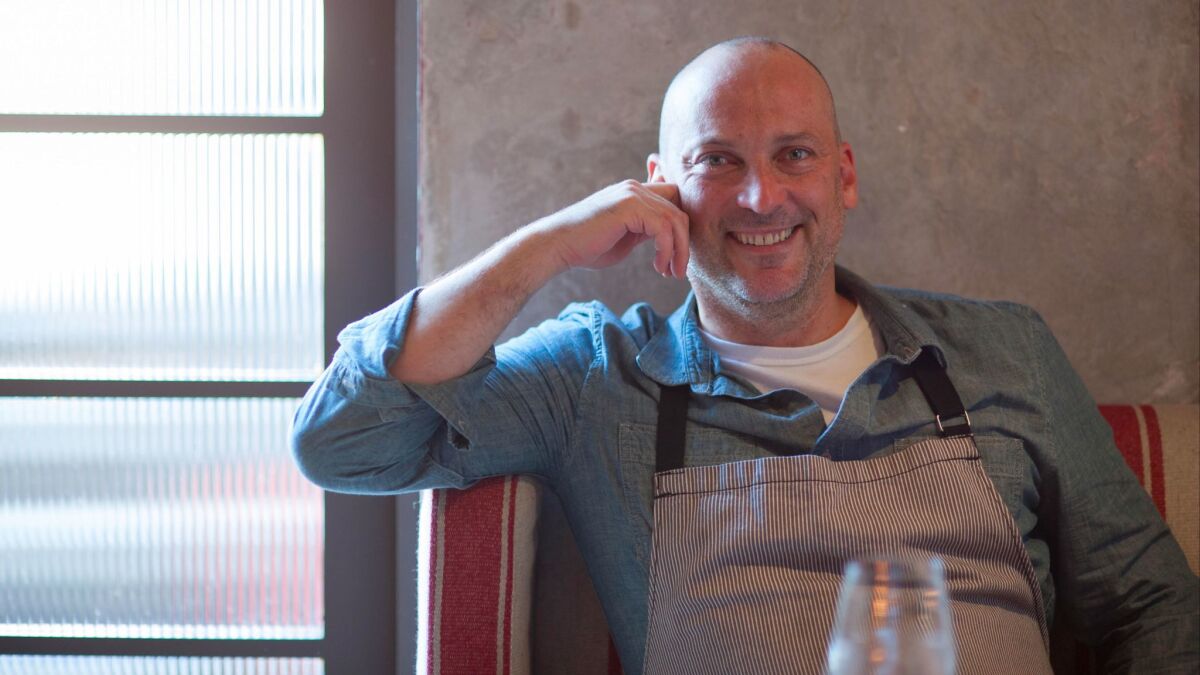 While Rossoblu does have a menu inspired by the Emilia-Romagna region, Samson hopes people will see it as an L.A. restaurant as much as it is Italian.
"I don't want it to be just another Italian restaurant, not that that's a bad thing," said Samson. "I want Rossoblu to tell my story, and my story is just as much about Los Angeles because I grew up in L.A.
"This is my once in a lifetime restaurant," Samson continued. "If it doesn't work out, I'll be OK. I'll go back and make pizza or something. But we decided to go big."
ALSO:
Your 2017 Mother's Day brunch guide
In Providence's kitchen: Using the whole fish and talking about preventing food waste
Chef Dominique Crenn talks planting trees in Haiti, microwave popcorn and returning to L.A.
Get our L.A. Goes Out newsletter, with the week's best events, to help you explore and experience our city.
You may occasionally receive promotional content from the Los Angeles Times.