Q&A: Chef Dominique Crenn talks planting trees in Haiti, microwave popcorn and returning to L.A.
Chef Dominique Crenn is a woman. Now get over it. No, really. She may have won the title of World's Best Female Chef from the London-based World's 50 Best last year, but she's doing much more than simply being a female in the kitchen. In 2013, her modernist French San Francisco restaurant, Atelier Crenn, was awarded two Michelin stars. She opened a second San Francisco restaurant, a French bistro called Petit Crenn, in 2015.
She's also one of the leading forces behind the Root Project, a joint effort with Michelle Jean and other chefs to rebuild the infrastructure for farmers in Haiti following the devastation of Hurricane Matthew last year. Part of that effort includes traveling to Haiti to help plant trees for coffee and cacao farmers.
You may have seen Crenn, who is from the Brittany region of France, featured on Season 2 of the Netflix documentary series "Chefs Table." Or maybe you caught her TED talk. She's also the author of the cookbook "Atelier Crenn: Metamorphosis of Taste."
It seems her career is teetering on the edge of critical mass, without any sign of slowing. And Friday, she'll be in Los Angeles to speak on a panel about food waste with chefs Massimo Bottura, Mario Batali, Mary Sue Milliken and Roy Choi. Recently I talked to Crenn by phone from San Francisco. This interview has been edited for length and clarity.
---
Tell me about the Root Project and how it started.
Michelle Jean, we connected because we have this love for fashion and food. She's from Haiti. And for a long time, me being French and the French history in Haiti — it's not that beautiful of a story. I just never understood why this beautiful country was not taken care of after the earthquake. They have an amazing culture and coffee and chocolate but it's one of those countries that has been forgotten. I wanted to get involved in something and what I've noticed is when there is a disaster that happens, often in a country, the organizations go and donate but you don't know where the money goes. So I think the idea was to partner with PADF [Pan American Development Foundation] and for me, to go back to the farmer. What do they need? What is this money going to do for them?
For me, I don't need much. What I want is to make sure this world is a better world and if I can help I just want to be a part of it.

— Dominique Crenn
So why trees?
When we went, we found out they don't want us to give them like millions of dollars. They want us to give them trees that they can plant. The people know how to make coffee — they want us to rebuild their infrastructure and to give them trees. And that's all. They can do the work; they want to do the work. And this is beautiful. We can't forget this country. And it's 50 cents a tree — that's all I'm asking. It's like you don't need to give me $100,000, just 50 cents. We need to get into the community and understand who they are and their needs instead of just giving them something without understanding what they want.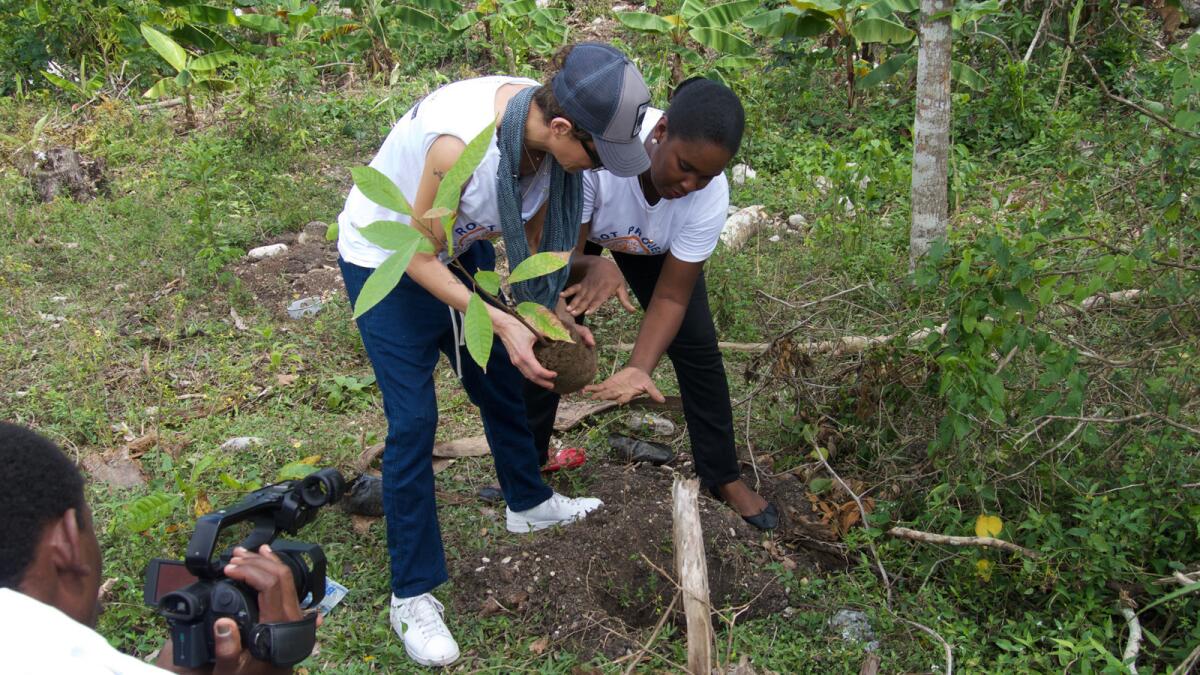 If you weren't a chef, what would you do? Take on more projects like the Root Project?
I think I'm going to be a cook for the rest of my life, but I would definitely want to be out there and in the world and really doing projects like this. For me, I don't need much. What I want is to make sure this world is a better world and if I can help I just want to be a part of it. It's much more richer for me than just, I don't know, driving a BMW — which I don't have. It's pretty amazing getting to know people and understanding that we are all one world.
You've often discussed your love of art and poetry. And your plates often resemble works of art. How does that inform your cooking?
I've loved poetry since a very young age and my parents, especially my dad, he really introduced us to art when we were quite young. So I think everything is connected. And maybe the fact that I didn't go to school and learn how to cook in school, that gives me the opportunity to look at things different and connect food and poetry together. I just came back from Tokyo, and I was really taken by everything; I saw that everything has a purpose. I feel that when you connect something that you do, especially serving food, and connect that together with words — I think it's very important.
Any thoughts on opening in L.A. any time soon?
I think Los Angeles is an incredible city. It's also very diverse, which I love about it. I mean, I never say no. But right now, I'm really focusing on my community here in San Francisco and what I can do around it. If something came around, the right thing for L.A., then yes of course. I'm in L.A. all the time. We went to this restaurant in Koreatown, Here's Looking at You, and it's a great place. It's nice to go to a place in this community where, years ago, there's no way a chef would open a restaurant there. I just love it and the creativity. People now cook with a personal touch.
It's 2 a.m. and you're up. What are you eating?
I was up at 3 a.m. last night. I was watching a movie. I think I was eating popcorn.
Microwave popcorn?
No. I cook my own popcorn. I've been taking some sorghum and cooking it and it's delicious. But I was eating popcorn last night.
Maximus makes frequent appearances on your Instagram account. Who is he?
Ha, you're talking about my dog. He's an incredible little human being. I rescued him about 9 years ago. He was abused by his past owner. I don't think he's a dog — he's like this really cool little man and he just hangs out with everyone and chills out. He's very sensitive, loving. He travels with me everywhere. He loves organic food. He doesn't like processed food. I think animals are very precious and I think as humans, when you have pets, you can't treat them like a commodity. He's a little Chihuahua.
Why the name Maximus?
I think good things come in small packages. I don't run big restaurants; I run small restaurants. I think you can do so much more. It's not about how big you are. Maximus is a very strong name. it comes from the Roman Empire and when I look at him I think he went through a lot of different stuff in his life before he got to me. And he's like a little bit of an emperor when he sits and looks at me with his big brown eyes.
As part of the Los Angeles Times Food Bowl, Dominique Crenn will be on a panel discussion about food waste called Food for Soul, at the theater at the Ace Hotel in downtown Los Angeles, at 8 p.m. on May 5. 929 S. Broadway, Los Angeles.
ALSO:
What does it mean to be a chef in Los Angeles in 2017? We asked a few of them
Can urban farming combat food waste? Chatting with the founders of Alma Backyard Farms
Q&A: In Union Station, don't miss a photographic display by Fäviken chef Magnus Nillson
Get our weekly Tasting Notes newsletter for reviews, news and more.
You may occasionally receive promotional content from the Los Angeles Times.