The Real 3rd Street Chicken House for Korean dishes devoted to chicken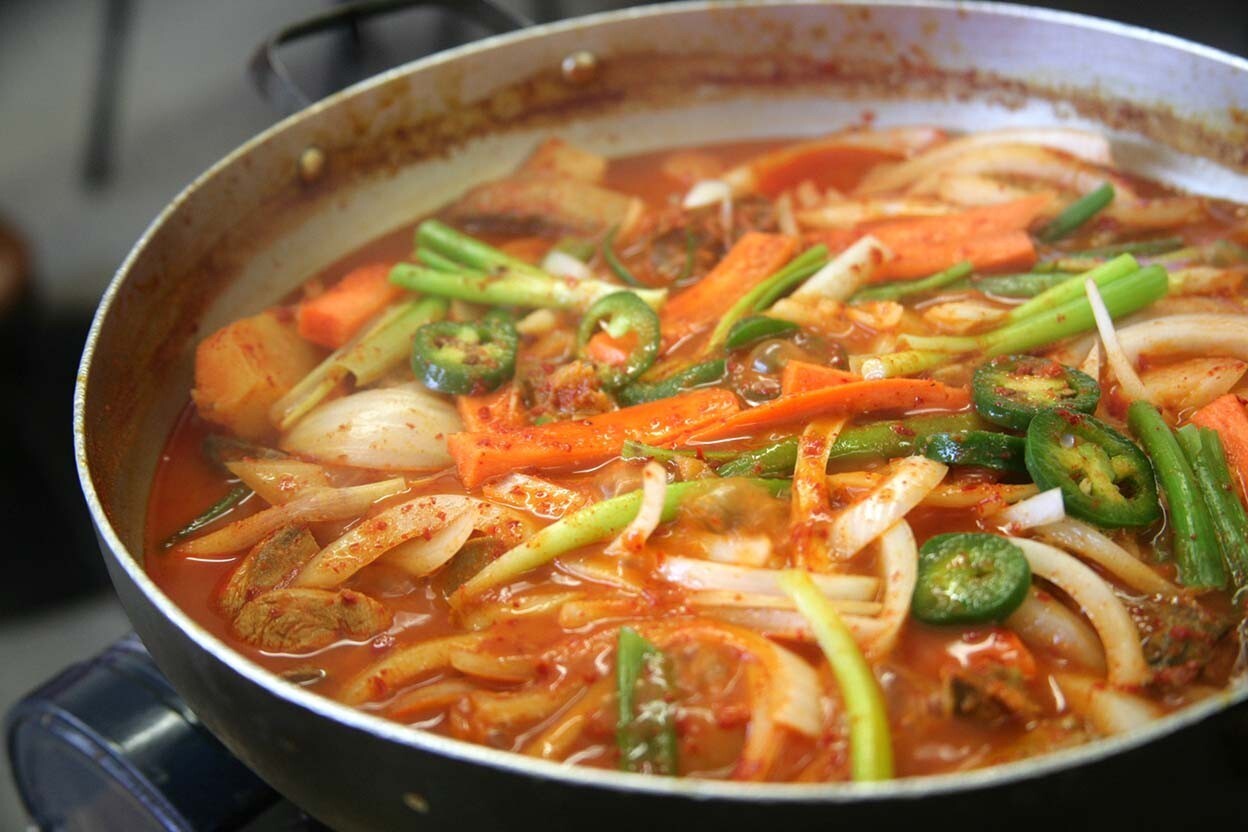 The specialty of the house is chicken, specifically the dak dolitang, a hot pot of chicken, chunks of potatoes and a medley of vegetables all bubbling on your table.
(Cecilia Hae-Jin Lee / For The Times)
Name of restaurant: The Real 3rd Street Chicken House, but who knows? The sign outside reads "3rd Street Restaurant" in English and "3rd Street Dak Gomtang House" in Korean.
What dish represents the restaurant, and why? Dak dolitang -- a hot pot of chicken with giant chunks of potatoes, carrots, onions, scallions and chile pepper tossed in a spicy broth. Its menu is basically variations of chicken dishes -- dak kalgooksu (chicken hand-cut noodles), dak gomtang (mild chicken soup) or dak jook (chicken porridge). The restaurant also has dak baeksuk, a mild soup made from cooking chicken a long time. It's similar to samgyetang (another mild chicken soup), but baeksuk doesn't have the ginseng, chestnuts, jujubes and glutinous rice. A banner outside advertises live chicken and duck, indicating fresh poultry.
Concept: Fresh chicken many ways, with one or two duck dishes thrown in for good measure.
Who's at the next table? Korean ahjussi (middle-aged men) having subdued conversations while sharing a bubbling cauldron of chicken goodness.
Appropriate for: A shared meal with a handful of friends.
Uh-oh: The menu is only in Korean. And if you want baeksuk, the long-cooked chicken soup, you have to call ahead.
Service: Fine, but the owner might be checking in on you only at commercial breaks during the Korean drama on TV.
What are you drinking? Canned soda or water.
Info: 4254 1/2 W. 3rd St., Los Angeles, (213) 386-1135.
ALSO:
Scratch Bar for inventive, casual dining
For hard-core uni lovers, it's Maruhide Uni Club
At Cho Mak, it's the whole fish wiith a sprinkle of salt
The Scouting Form is a quick look at restaurants worth a visit. Scouts were selected by restaurant critic Jonathan Gold, who may or may not agree with a single word.
---
Get our weekly Tasting Notes newsletter for reviews, news and more.
You may occasionally receive promotional content from the Los Angeles Times.