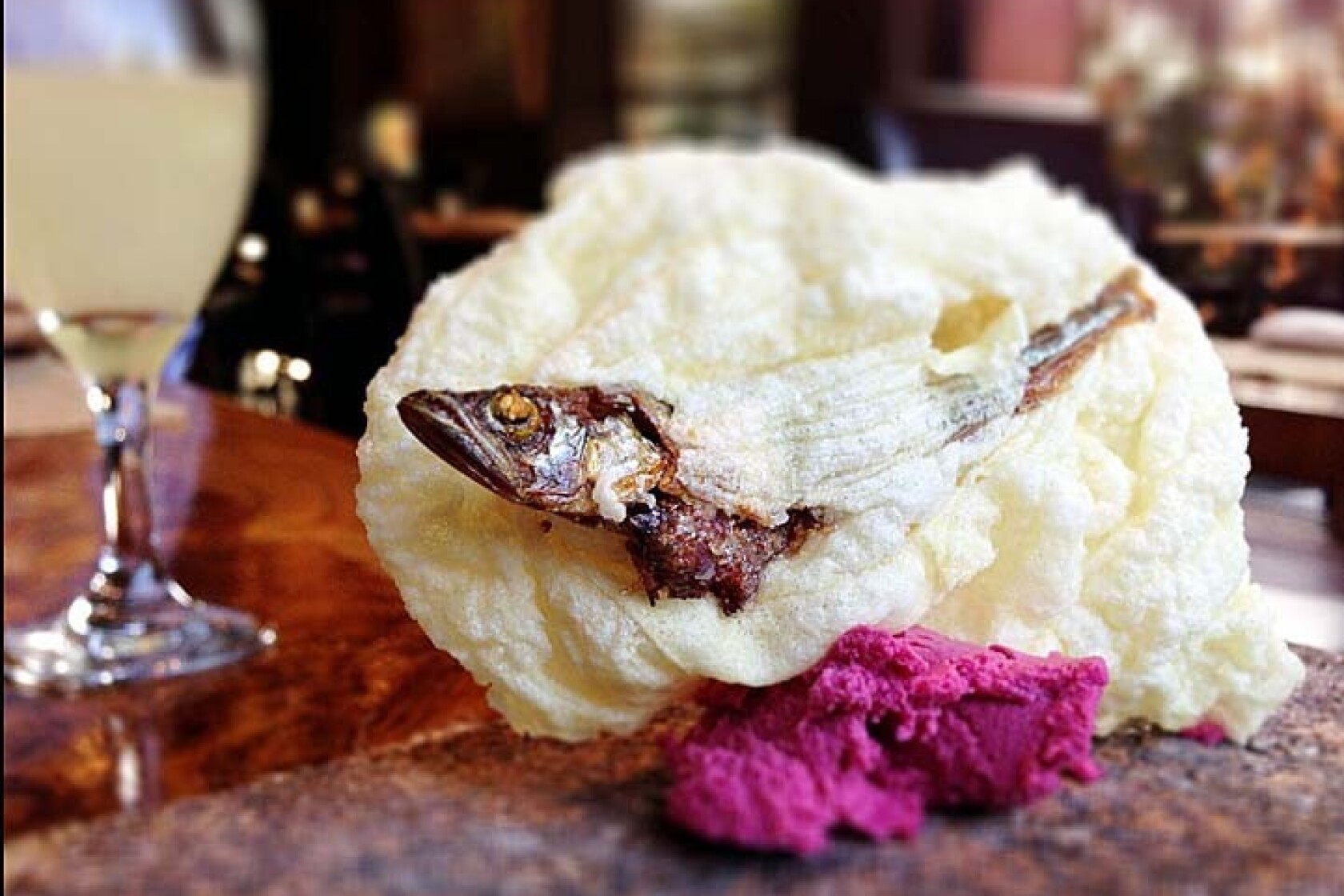 Puffed smelt and bone marrow is a striking dish.
(Jo Maxwell Stougaard / For The Times)
Four different types of cauliflower come blackened.
(Jo Maxwell Stougaard / For The Times)
Scratch Bar offers inventive dishes amid a casual setting.
(Jo Maxwell Stougaard / For The Times)
Sea urchin and crispy pork belly cob.
(Jo Maxwell Stougaard / For The Times)
Inside the glass is smoking goat's milk cheese.
(Jo Maxwell Stougaard / For The Times)
As compact as a can of sardines, local squid and mushrooms are encased in potato.
(Jo Maxwell Stougaard / For The Times)
Name of restaurant: Scratch Bar on La Cienega's restaurant row.
Chef: Phillip Frankland Lee spent years in various Los Angeles restaurant kitchens, most notably as sous chef at Hatfield's. He also worked at Providence, named the best restaurant in L.A. by critic Jonathan Gold.
What dish represents the restaurant, and why? Puffed smelt and bone marrow. Strikingly beautiful and just plain tasty, the fish is dried and fried into a puffed rice cracker. It sits on a fuschia-colored beet mustard that's been whipped with buttery bone marrow, and served on a brick.
Concept: It's a neighborhood bistro and bar. Highly inventive dishes, like the smoking (literally) goat's milk cheese or the "trio of raw(ish) salmon and river rocks," are a surprising contrast to the informal surroundings.
The local squid and mushrooms arrive in a crispy, sardine-can-size Yukon potato basket with sugar-blistered tomatoes over charred eggplant. Vegetarians can opt for the blackened cauliflower. It's a beauty and includes four different types of roasted cauliflower, chips made from the stems, red onions and pistachios on a silky cauliflower purée. What's next for Scratch Bar? An intimate, five-seat tasting bar with a view of the chefs should be completed next month.
Who's at the next table? An appropriately tattooed couple, iPhone-ready food-lovers, young executive types.
Appropriate for...: Anyone looking for a fun dinner experience. Chef Lee's motto for the restaurant is, "A new approach to an old sport."
Uh-oh...: Parking can be a bit challenging. Head to Matsuhisa's valet parking next door.
Service: Informative and friendly.
What are you drinking? A refreshing wine cocktail called In Memoriam made with red wine, citrus, spiced apple, fresh fruit and Coca-Cola.
Info: 111 N La Cienega Blvd., Beverly Hills, (310) 289-8010, www.scratchbarla.com.
ALSO:
Henry's Tacos for the taste of nostalgia
For hard-core uni lovers, it's Maruhide Uni Club
Where can you find 80 beers, and mac 'n' cheese with potato chips?
The Scouting Form is a quick look at restaurants worth a visit. Scouts were selected by restaurant critic Jonathan Gold, who may or may not agree with a single word.
---