Aleppo's Kitchen: For rarely found Syrian specialties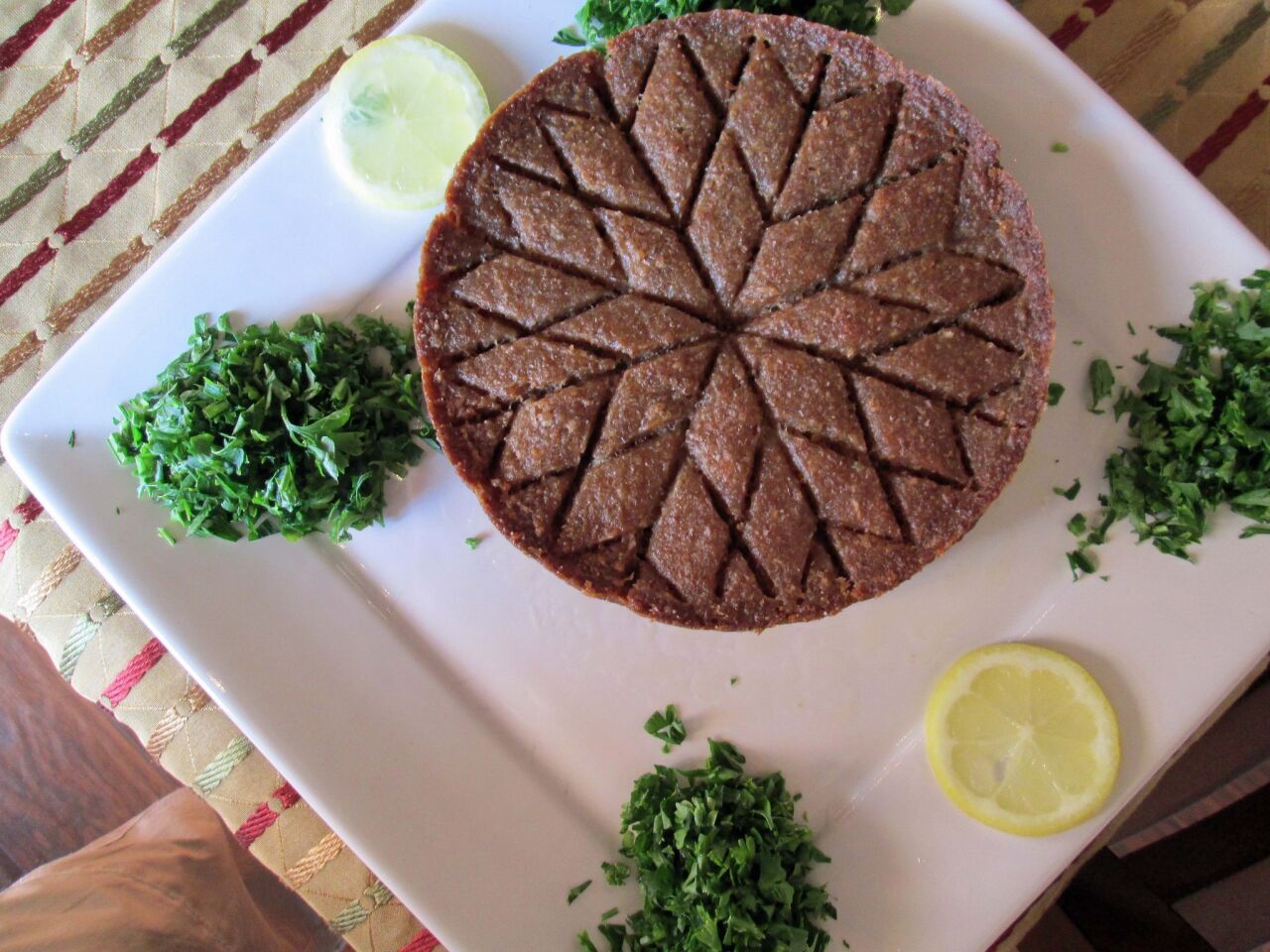 Kibbeh bil seniyeh is baked in a pan.
(Linda Burum / For The Times)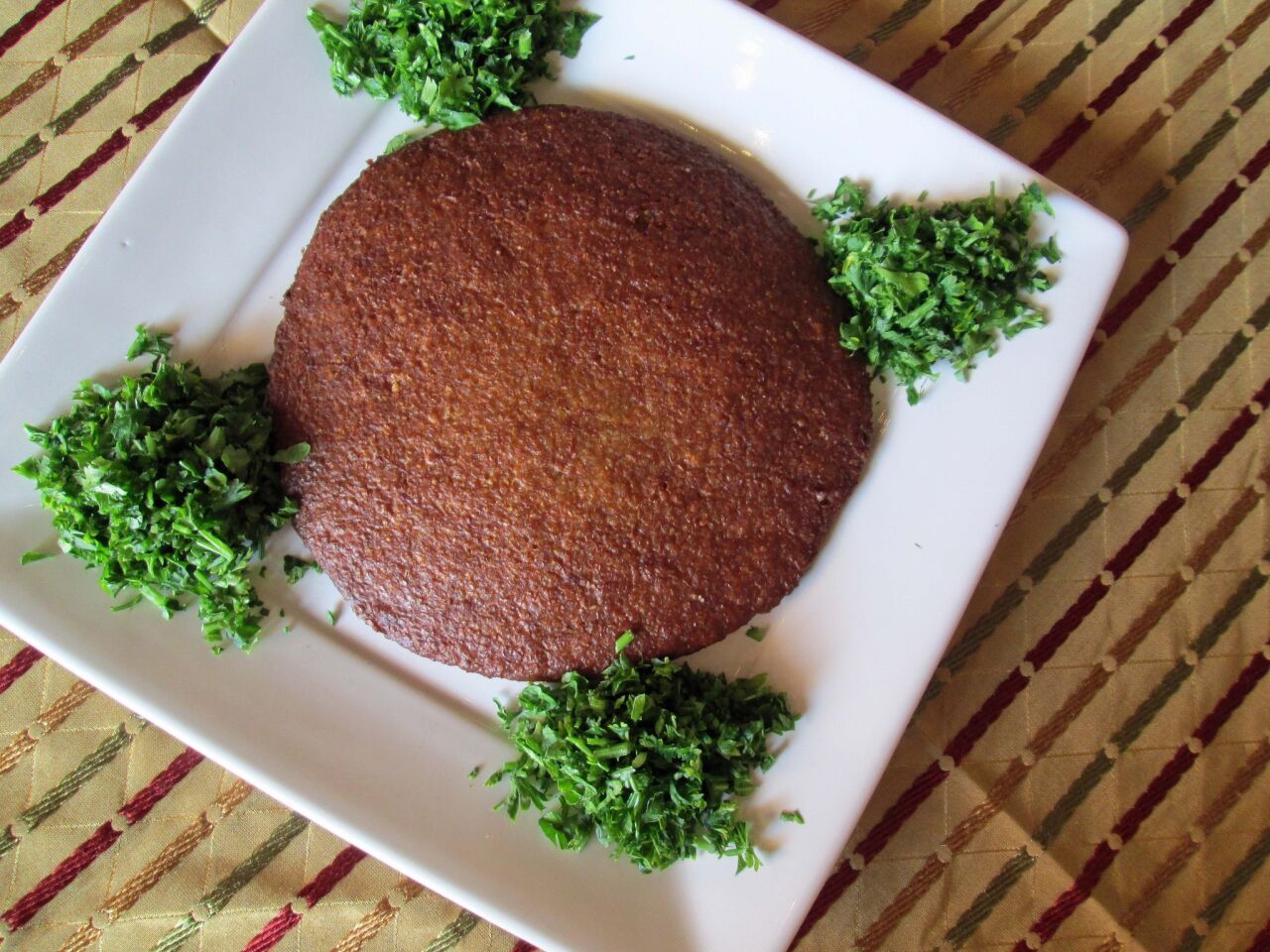 Kibbeh mishwiyeh is a flat disc that's cripsy on the outside and filled with tender ground beef on the inside.
(Linda Burum / For The Times)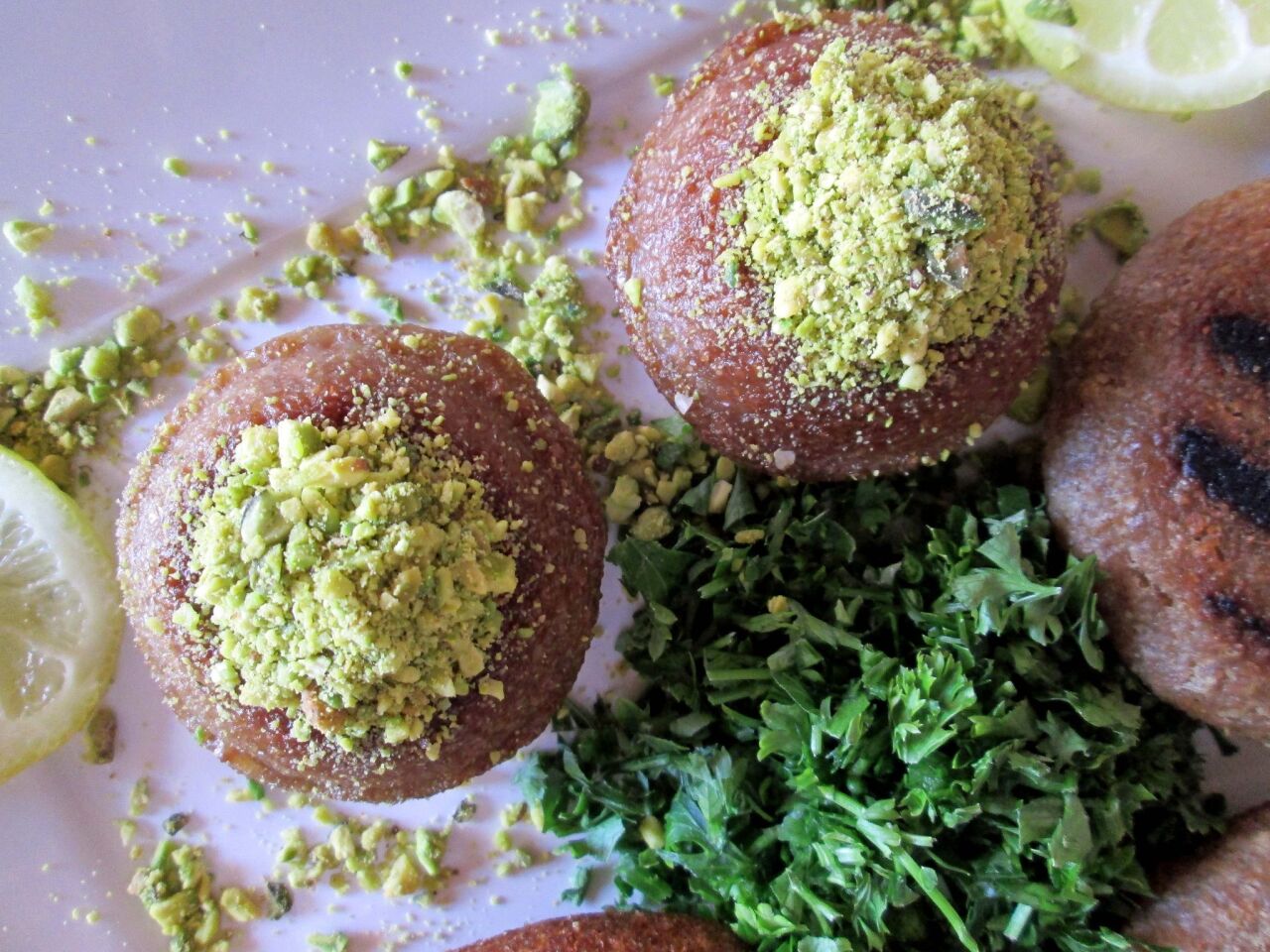 Kibbeh is topped with pistachios.
(Linda Burum / For The Times)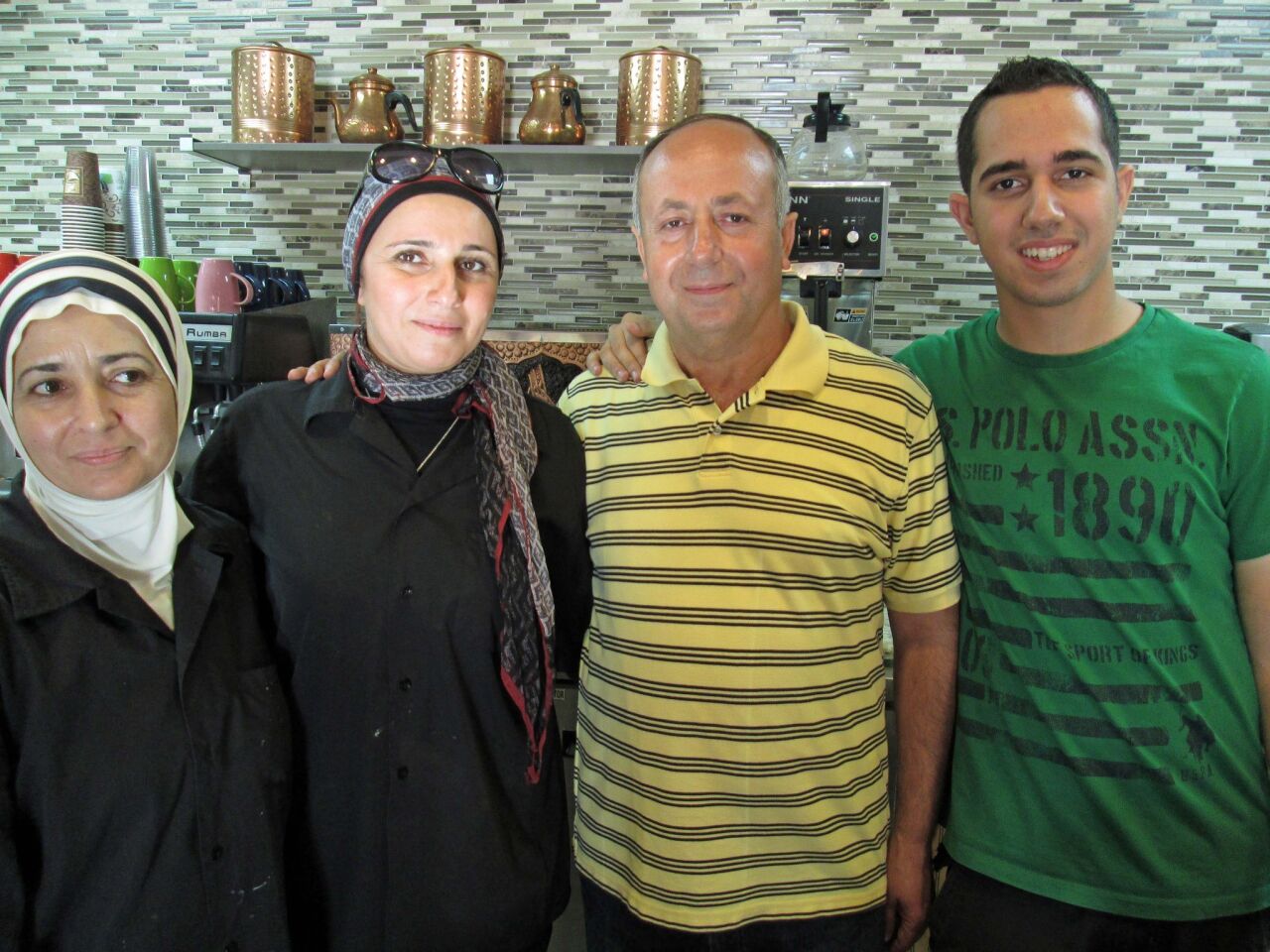 Chef Suher Masri, Nidal Omar and helpers.
(Linda Burum / For The Times)
Aleppo's Kitchen serves several kibbe varieties.
(Linda Burum / For The Times)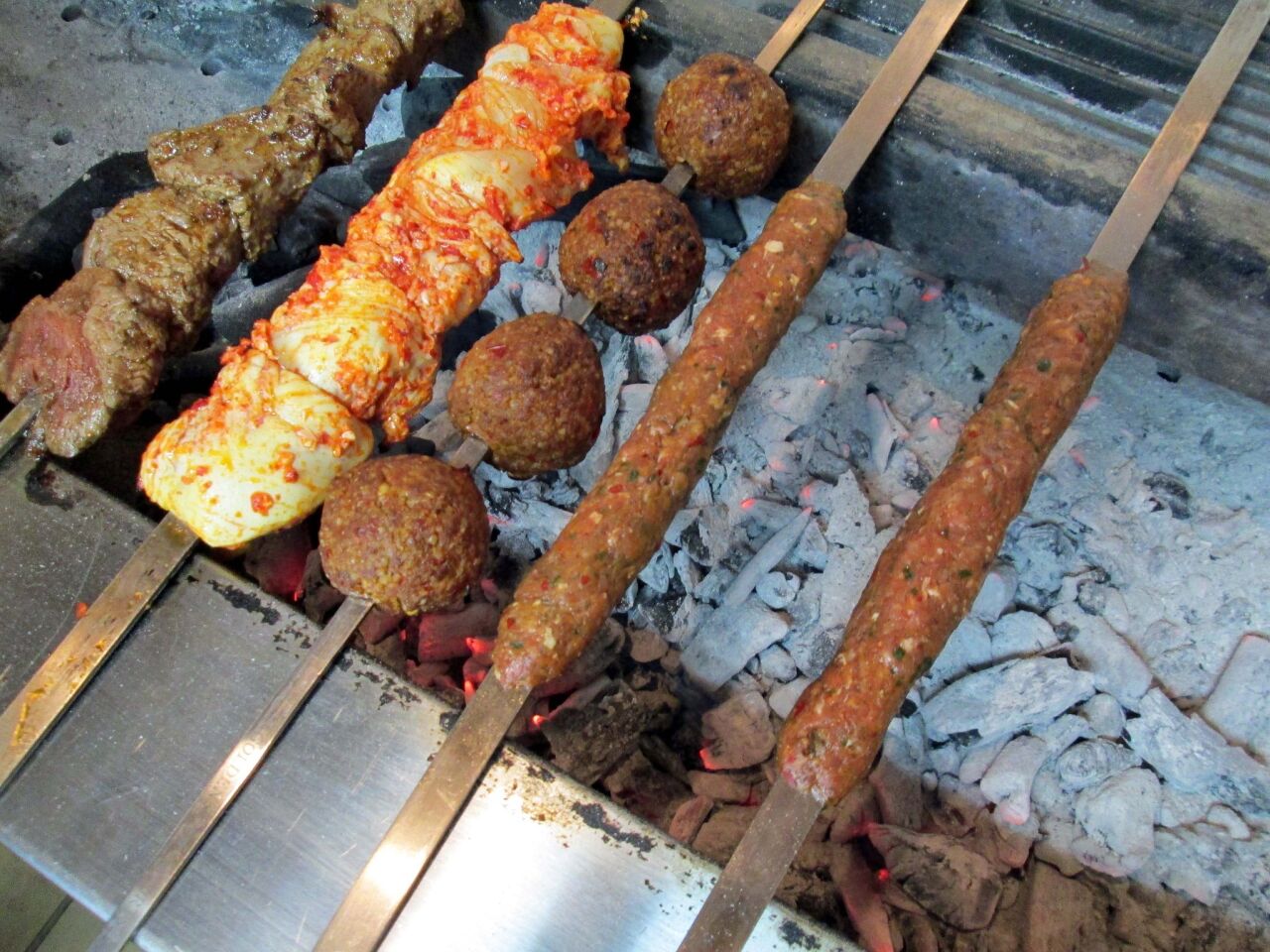 Mesquite grilled kebabs at Aleppo's Kitchen.
(Linda Burum / For The Times)
Name of restaurant: Aleppo's Kitchen, after Syria's largest and most ethnically diverse city and reputed to be the country's gourmet capital.
What dish represents the restaurant and why? For some, the answer might be kebabs because here they're grilled over live mesquite coals on a stove resembling an enlarged yakitori hibachi. But it's the kibbeh -- eight rarely-seen varieties -- that sets Aleppo's Kitchen apart in Little Arabia's crowded restaurant scene. You've probably seen deep-fried kibbeh -- ovals of cracked wheat and pounded meat with delicately-spiced ground beef inside. But the restaurant also turns out an array of uniquely-shaped kibbehs: baked, charcoal-grilled and the traditional beef tartare-like raw kibbeh.
Kibbeh swar resembles a decorated cupcake. Bite in and you find a layer of whole pistachios topped with a crumbly beef filling and generous sprinklings of ground pistachio. Crispy mesquite-grilled kibbeh balls come smothered in onion and sautéed peppers. Kibbeh sajiyeh, a wafer-thin double crusted kibbeh disk, holds a layer of seasoned minced meat studded with pine nuts. Syrians traditionally dip wedges of this "pie" -- and in fact every other kibbeh -- into an accompanying yogurt-cucumber sauce.
"Kibbeh isn't like pizza — one crust, many toppings," says Nidal Omar, co-owner and husband of the chef, Suher Masri. "Each 'dough' and filling has a distinct recipe."
Concept: The business cards describe Aleppo's as "restaurant, deli and market." Although the cold cases and shelving installed in a discrete alcove off the main dining area are empty, Omar says they'll soon hold prepared foods and imported Syrian goods. In the dining room, newly laid tile and a hand painted mural of Aleppo's citadel elevate the space well beyond hole-in-the wall status. It's just formal enough for the parties Syrians love and casual enough to suit the small plates crowd.
Who's at the next table? Guests hail from everywhere in the Levant (we overheard Turkish and Farsi among other languages being spoken). During the month of Ramadan, when the restaurant put on an enormous buffet every evening, droves of extended families with toddlers, grandparents and assorted relations filled the tables.
Appropriate for: Hard core kibbeh aficionados, of course, but vegetarians will find culinary gold among the mezzes: green olives marinated in Syrian chile paste and tart pomegranate molasses or shingleesh, herb-speckled goat cheese drizzled with extra virgin olive oil.
What are you drinking? Arabic coffee made on an imported machine, many flavors and styles of tea, lemonade, soft drinks, but no alcohol.
Uh-oh: You can't see Aleppo's Kitchen from the street because it's hidden behind a row of businesses in a strip mall. Once you spot its sign, look for the driveway that takes you behind the building to the restaurant.
Info: 513 S. Brookhurst St., Anaheim, (714) 991-5000, www.facebook.com/AlepposKitchen.
ALSO:
12 delicious recipes for eggplant
The great Turkish restaurants of L.A.
The Scouting Form is a quick look at restaurants worth a visit. Scouts were selected by restaurant critic Jonathan Gold, who may or may not agree with a single word.
---
Get our weekly Tasting Notes newsletter for reviews, news and more.
You may occasionally receive promotional content from the Los Angeles Times.