Korean barbecue great Park's fast food Oleego in downtown L.A.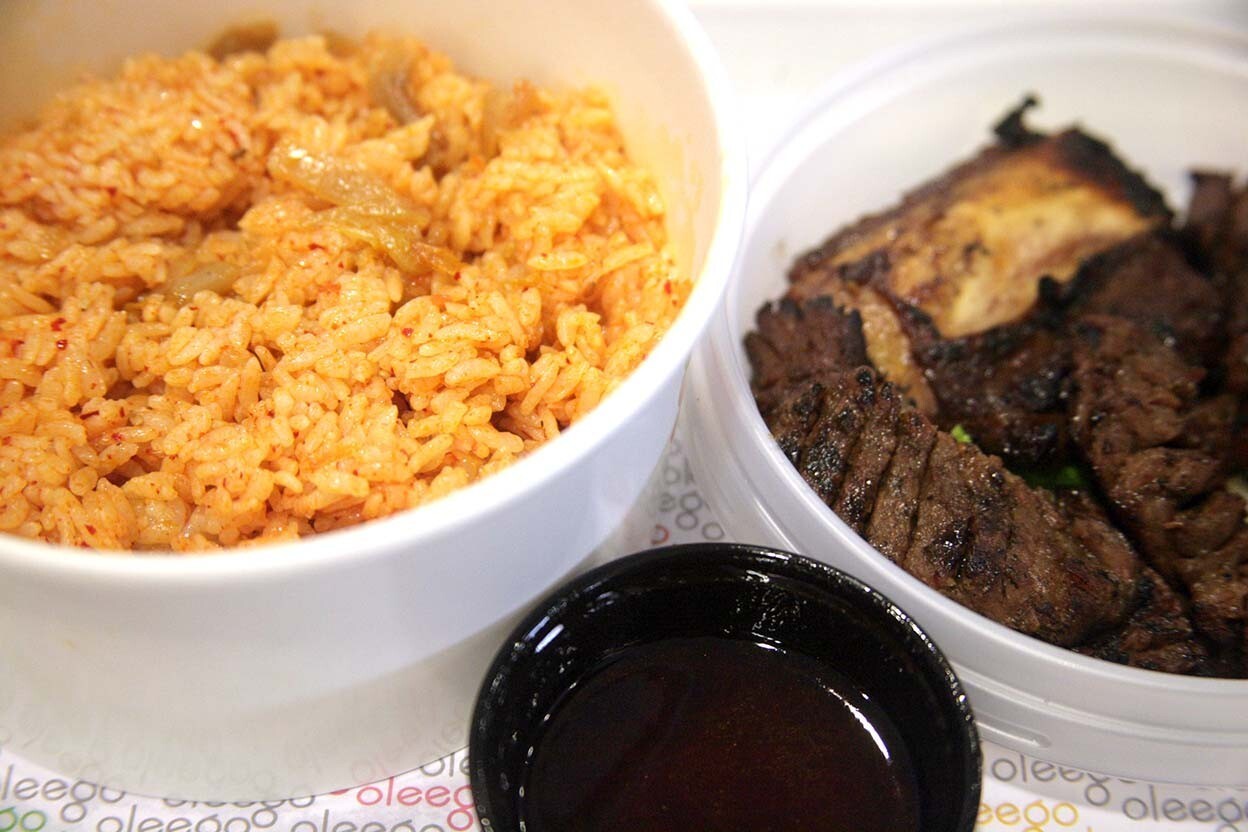 Galbi with kimchi fried rice and a little bit of the spicy soy sauce.
(Cecilia Hae-Jin Lee / For The Times)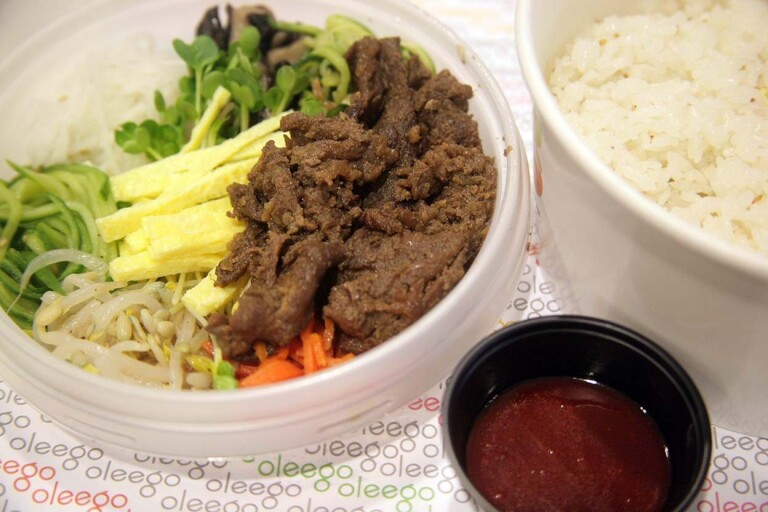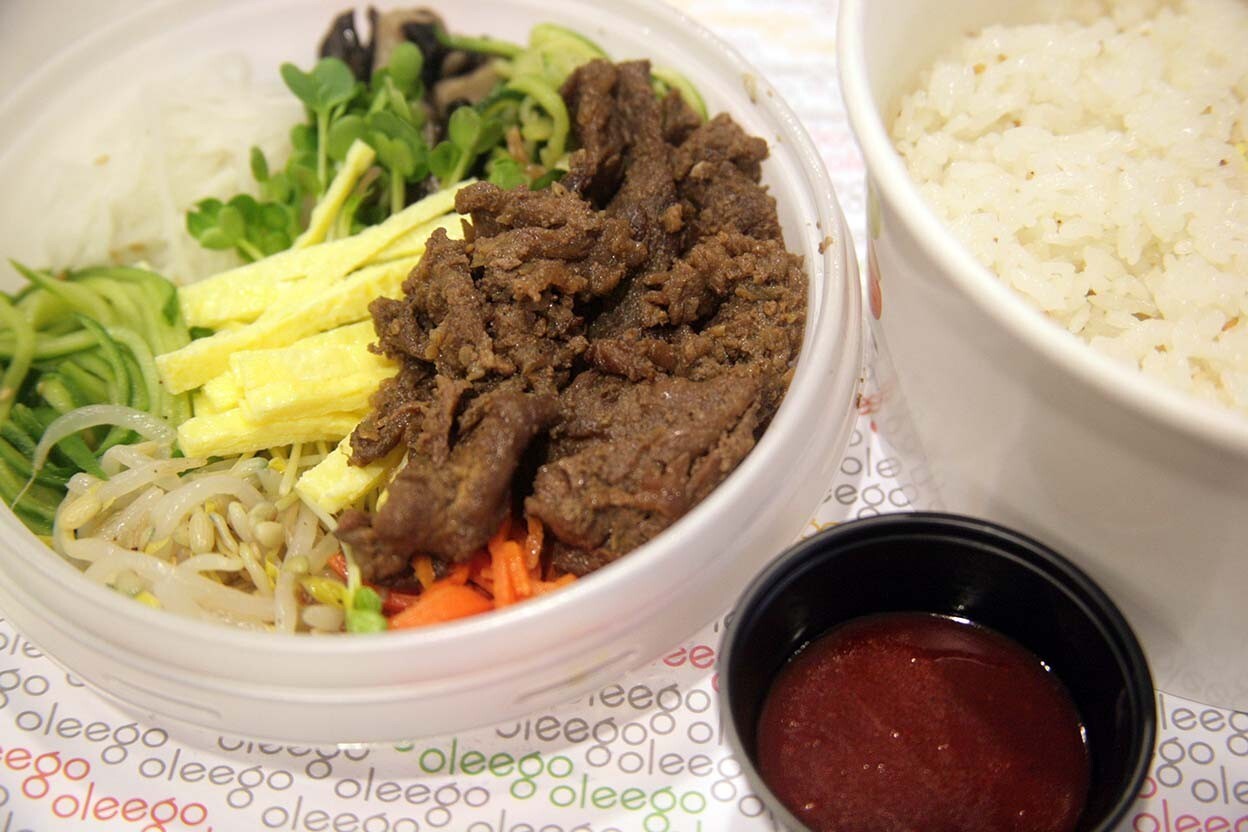 The bibimbap is probably the healthiest options. It comes with bibimbap sauce, unless you choose otherwise.
(Cecilia Hae-Jin Lee / For The Times)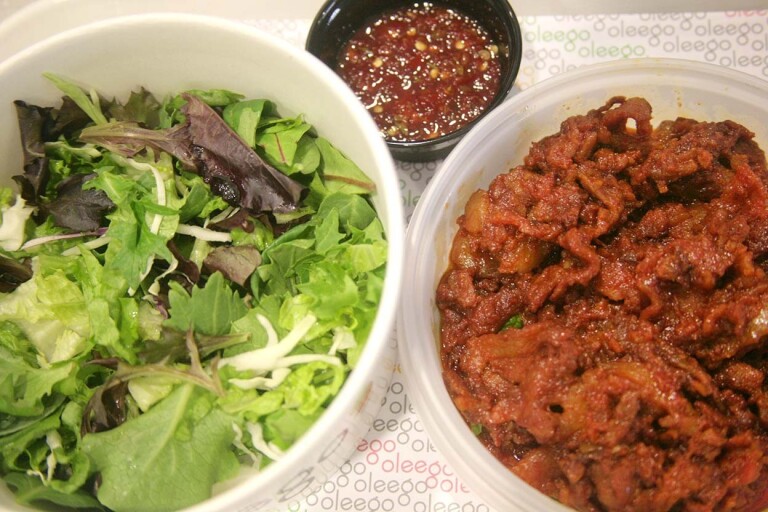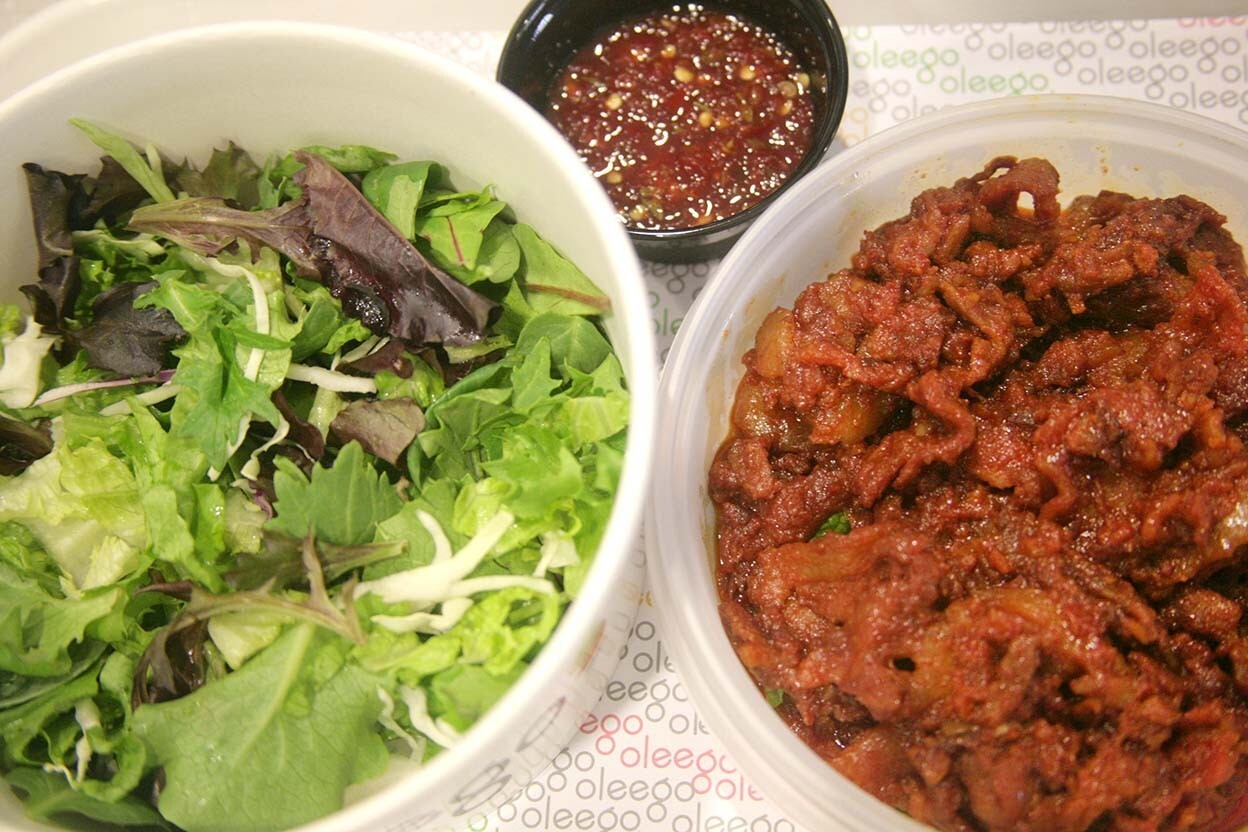 The spicy pork is a little greasy, so it goes best with the mixed greens and a little bit of the spicy sauce.
(Cecilia Hae-Jin Lee / For The Times)
Name of restaurant: Oleego (which means "to place or lay on top" in Korean)
Concept: Fast food Korean in an upscale downtown food court
Chef: Jenee Kim, the owner of Park's Barbeque, is trying her fast-casual Korean food concept at the TASTE inside the Fig at 7th complex
What dish represents the restaurant, and why? The galbi is the most expensive item on the menu (at $12), but worth it for the tasty tenderness. The beef strips come with a giant bone you can gnaw on. Although you can choose your favorite starch, the kimchi fried rice or the egg fried rice go best with the beef. The seasoning is a bit sweet, but Koreans usually swing a little sweet when trying to please American palates.
Runner-ups: The menu at Oleego works like this. You choose a meat, a base and a sauce. For $1.50 more, you can pick a couple of banchan from their cold tray. The base could be a fried rice, regular white or brown rice, noodles or greens. The four sauce choices are: the Oleego soy sauce, the spicy soy sauce, bean paste and the Oleego hot sauce, which is different from the spicy gochujang (chile paste) sauce that comes with the bibimbap. The bibimbap over brown rice is probably the healthiest option. One of the tastiest would be the duck galbi (a marinated minced beef shaped into a patty) over mixed greens.
Who's at the next table? Office workers from nearby high-rises are there for one of the only Korean lunch options in the area.
Appropriate for: Casual lunch with co-workers, especially if you work downtown.
Uh-oh... Because they're inside the 7th and Figueroa complex, parking is a pain. Also, be prepared for long lines at lunch, but the line moves relatively quickly.
Service: Efficient and friendly in a youthful way.
What are you drinking? Normally, I wouldn't recommend a fountain soda with Korean food, but it's a little odd to be downing a bottle of soju or beer during lunch on a weekday.
Info: 735 S. Figueroa St., Los Angeles, (213) 614-9090, www.oleegousa.com
ALSO:
Four great vegetarian Chinese restaurants
Best gyoza? The King of Gyoza at Nikuman-ya
---
Get our weekly Tasting Notes newsletter for reviews, news and more.
You may occasionally receive promotional content from the Los Angeles Times.