Warren's Blackboard, a pop-up starring salmon burgers and 'white boy fried rice'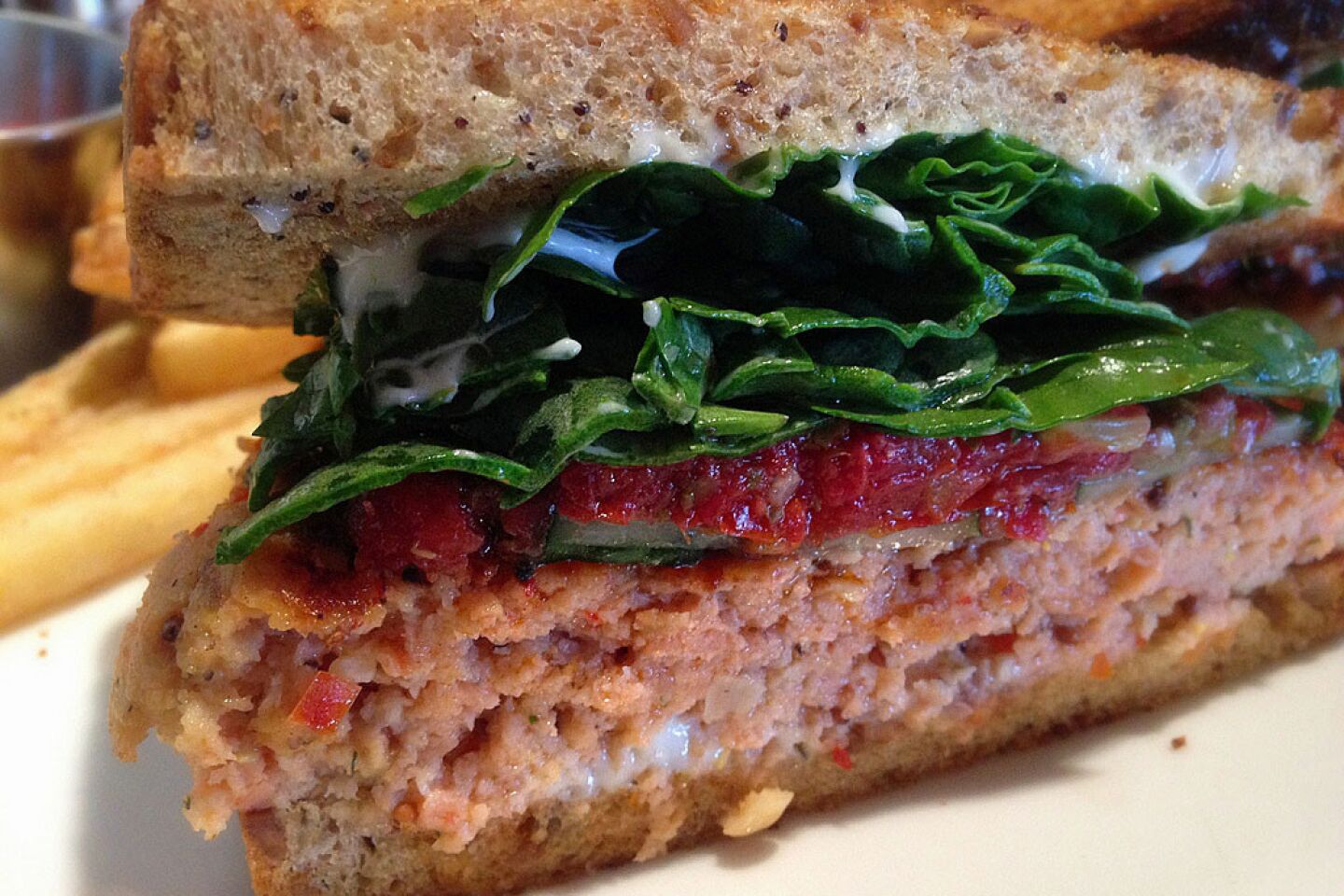 It's juicy and full of flavor.
(Jo Maxwell Stougaard / For The Times)
Tender, roast chicken at Warren's.
(Jo Maxwell Stougaard / For The Times)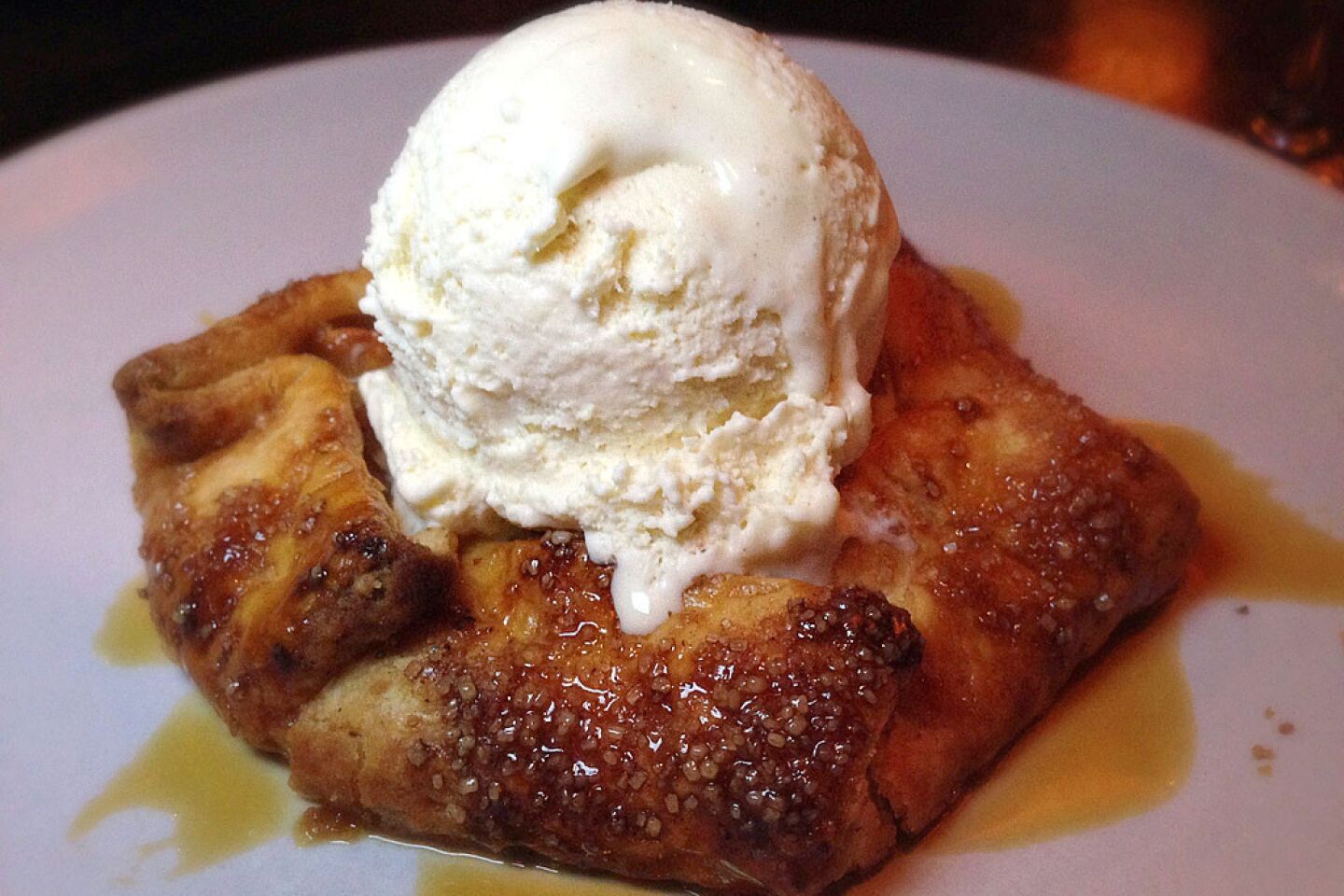 Apples in a buttery pastry.
(Jo Maxwell Stougaard / For The Times)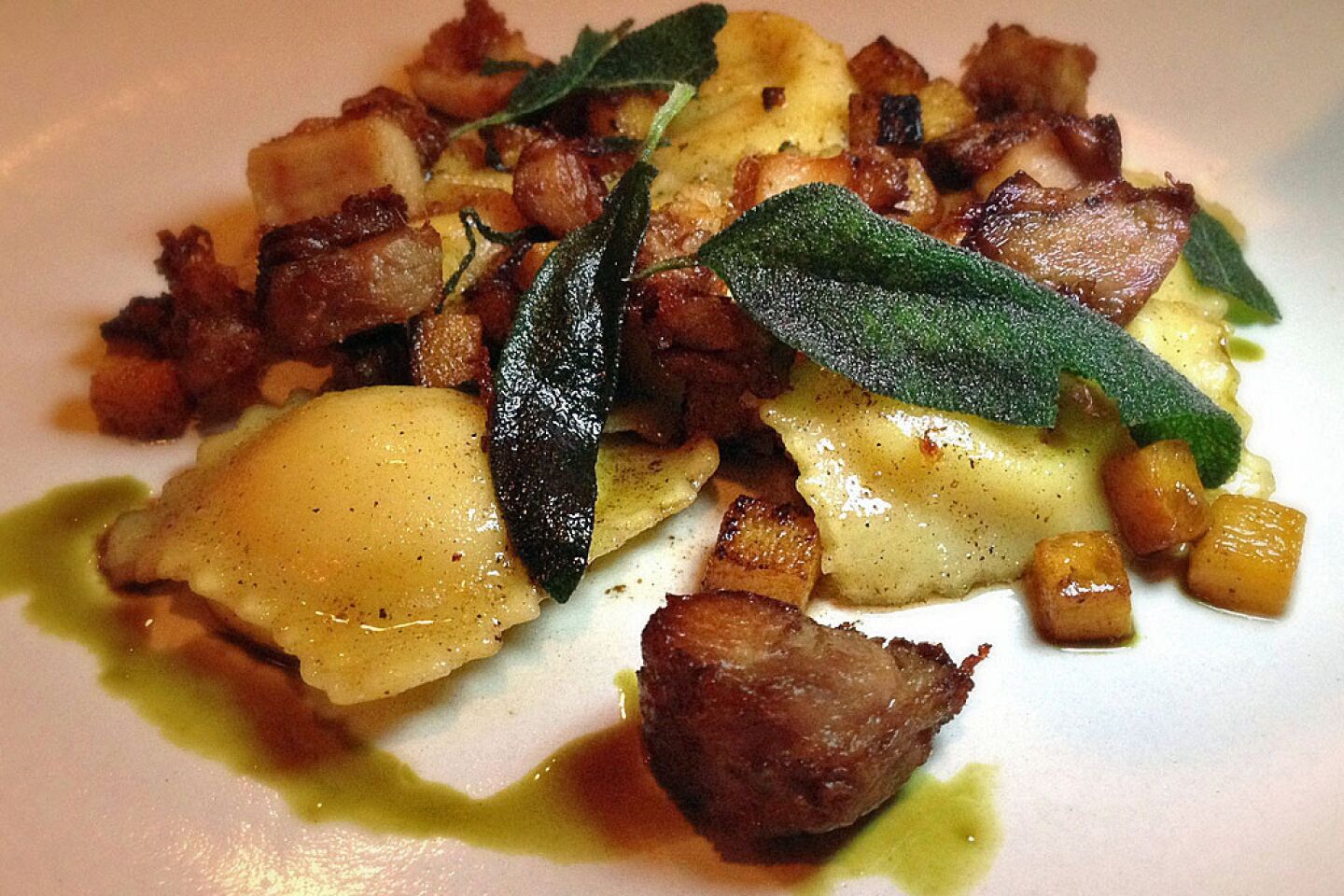 Ravioli is accented with fried sage leaves.
(Jo Maxwell Stougaard / For The Times)
White boy fried rice with Spam.
(Jo Maxwell Stougaard / For The Times)
It's served with sour pepperoncini, giving the traditional appetizer a different vibe.
(Jo Maxwell Stougaard / For The Times)
It's warm and cozy.
(Jo Maxwell Stougaard / For The Times)
Name of restaurant: Warren's Blackboard Food & Drink Workshop.
Chef/ Owner: Chef Warren Schwartz has more than 20 years of cooking experience, including working in the kitchens of Patina, Saddle Peak Lodge and most recently as executive chef at Westside Tavern.
Concept: Experimental comfort food. Warren's Blackboard is a temporary pop-up at the Beverly Garland Hotel (former Holiday Inn) in North Hollywood. The permanent restaurant, the Front Yard, is slated to open this summer. The pop-up is being used to work through menu ideas and recipes for the new restaurant. Chef Schwartz notes, "We are connecting with guests, getting their feedback and ultimately using that to develop the final menu for the Front Yard."
What dish represents the restaurant, and why? The salmon burger (on the lunch menu) with sweet pickled cucumbers, capers, roasted tomatoes and arugula on honey wheat bread. The salmon is incredibly moist, absorbing the juices from the tomatoes and pickles. Well-seasoned fries are made from Kennebec potatoes, and twice fried for a creamy interior.
Buttermilk fried calamari arrives hot and crispy served with sliced pepperoncini (instead of the usual lemon slices) and roasted tomato aioli on the side. The mix of tangy peppers and fried squid work so well that you may just skip the aioli altogether.
"White boy fried rice" with Spam and broccoli (on the dinner menu) is Schwartz's nod to his family. He grew up enjoying Spam with his grandparents and now cooks it for his Korean wife, Rosa (a pastry chef), and her family.
Not a Spam lover? The butternut squash ravioli comes topped with pork belly, sage, brown butter and pumpkin seed oil. It's a small serving but very, very rich. For something more substantial, try the orange and sage chicken. The accompanying mushroom bread pudding is made with sautéed mushrooms, garlic, onions, eggs and cream.
Don't forget dessert. Get your sweet (and salty) fix with the apple crostata. It's topped with the chef's wife's own salted caramel spiced honey ice cream.
Who's at the next table? Tourists (Universal Studios is nearby), families and a few couples.
Appropriate for: Everyone.
Uh-oh...: The décor is rather plain and restrooms are in another building (nearby). It is, after all, a temporary pop-up.
Service: Friendly.
What are you drinking? A Paloma (grapefruit and tequila) cocktail at dinner. Iced tea at lunch.
Info: Warren's Blackboard, 4222 Vineland Ave., North Hollywood, (818) 255-7290, www.warrensblackboard.com.
ALSO:
Great ramen in central Hollywood? Try Chibiscus Asian Cafe
Twisted Sage Cafe is for lovers of bacon and fat breakfast burritos
Copper Still: The bar inside Jaragua restaurant, with Salvadoran snacks
The Scouting Report is a quick look at restaurants worth a visit. Scouts were selected by restaurant critic Jonathan Gold, who may or may not agree with a single word.
Get our L.A. Goes Out newsletter, with the week's best events, to help you explore and experience our city.
You may occasionally receive promotional content from the Los Angeles Times.