Hong Kong cafes: Six ways to stay up late in San Gabriel Valley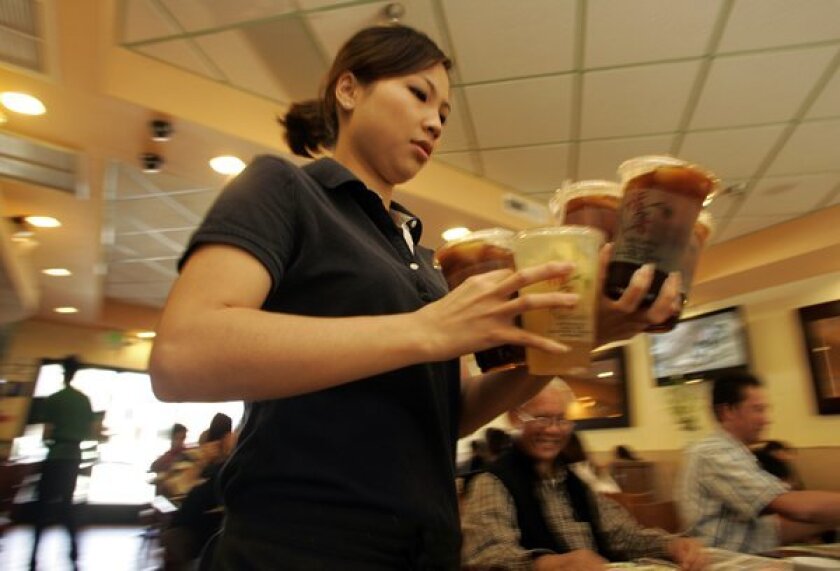 While the San Gabriel Valley isn't exactly the most ideal place for partying in Los Angeles, you can count on it for some cheap late-night grub when the post-clubbing crowd files in after a long night.
Billed as Hong Kong cafes, these late-night diners offer an eclectic mix of Cantonese and westernized food. They're called cha chaan teng (or tea restaurant) and date back to the 1950s in Hong Kong, when British influence was at its peak and the middle class sought out more westernized cuisines and other lifestyle choices. Late hours, cheap prices and expansive menu options have been consistent features.
All the comforts of a traditional diner are there: coffee, large portions and grease. Steak and chicken cutlets are served with a complimentary side of soup and there's a great selection of Hong Kong comfort food options such as wonton noodles and congee if you have a hankering for something Chinese.
There's something for everyone at these diners. The menus, thick and bound like books, list hundreds of dishes. The food isn't innovative and service can be awfully frustrating, but like all late-night dining options, it hits the spot when you need it the most.
Tasty Garden: With four (going on five) locations in Southern California, Tasty Garden is the cream of the crop when it comes to Hong Kong fare. Many dishes are served family style. Must-order dishes: filet mignon cubes sautéed with onions; honey walnut shrimp and the elusive Hong Kong waffle. According to owner George Yu, the menu gets an upgrade every six months based on customer feedback.
500 N. Atlantic Blvd., Suite 100, Monterey Park, (626) 872-0900, tastygardenusa.com. Open until 4 a.m.
Baccali Café and Rotisserie: With more than 200 items on its menu, Baccali has one of the most diverse café selections in the greater Los Angeles area. The interior (lots of light, open kitchen) is welcoming by San Gabriel Valley standards and the menu options have more of a Western flair. The rotisserie Baccali chicken is a must, the curry chicken is a great alternative and for those with more decadent cravings, it offers weekly lobster specials.
245 W. Valley Blvd., Alhambra, (626) 293-3300. Open until 2 a.m. Fri.-Sat., 1 a.m. Sun.-Thu.
JJ Hong Kong Café: If you're a regular of the 626, chances are you'll bump into someone you know at JJ. It's the ideal place to continue socializing after the 2 a.m. bar curfew sets in. Popular, if greasy, options are its Indonesian fried rice with a sunny-side-up egg, turnip cakes and baked Bolognese pasta.
447 W Garvey Ave. No. 1020, Monterey Park, (626) 280-3833. Open until 4 a.m.
Ledo Café: Ledo has gone through a series of remodelings throughout the years and it is at its sharpest yet. Americanized items are the focal points. The grilled chicken steak — skin slightly crisp and meat sufficiently juicy — is accompanied by corn and rice. But if you're craving something heavier to soak up the alcohol, try the baked spaghetti with garlic bread. Supplement it with a Thai iced tea. Lunch specials come with a $1 drink and there's a spectacular weekend-only prime rib special for $14.95.
8168 Garvey Ave., Rosemead, (626) 573-8998. Open until 2 a.m. Fri.-Sat., 1 a.m. Mon.-Thur.
Green Island: Green Island is best known for its prime rib fried rice. The beef is swirled in a sizzling clay pot with hot rice at your table. Most of the booths are equipped with a mini television set so you can keep your eye on the game, and for those too lazy to deal with the potential language barrier, the restaurant has come up with a genius ordering system: via a checklist. The honey walnut shrimp, eel sizzling rice and eggplant are consistent menu options and if you order more than $30, you get a free prime rib fried rice.
9556 Las Tunas Drive, Temple City, (626) 286-6788. Open until 1 a.m.
Sunday Bistro: If you want to take a drag or two, Sunday Bistro has an outdoor patio for you to indulge your vices. Its star dish is an Indonesian take on fried rice, loaded with soy sauce and shrimp and topped with a fried egg. If you happen to be there for a game, there are TV screens a-plenty. There are free refills on the tea, the calamari is fantastic and for added eccentricity, crocodile meat in herbal soup.
1032 E. Valley Blvd., Alhambra, (626) 282-0238. Open until 4 a.m.
ALSO:
This squid is dancing, but is it alive?
Celebrate farmers at FIG with Ray Garcia
---
Get our weekly Tasting Notes newsletter for reviews, news and more.
You may occasionally receive promotional content from the Los Angeles Times.