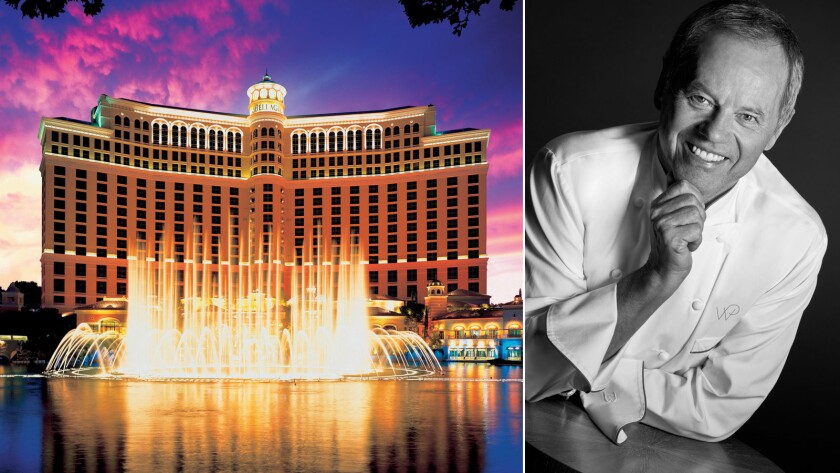 Chef, author and T.V. personality Wolfgang Puck is expanding his restaurant empire with a new location of Spago, his Beverly Hills restaurant, at the Bellagio hotel on the Las Vegas Strip. The restaurant has taken over the space formerly occupied by Todd English's Olives, which means it comes with a view of the hotel's famous fountains.
Puck has multiple restaurants in Las Vegas, including Cut at the Palazzo, and the Spago he opened 25 years ago at the Forum Shops at Caesar's. The lease is up for the Caesar's restaurant in January, and Puck says it's time for a change.
"The reason why we want to open Spago at the Bellagio is really because the Bellagio has our customer,' said Puck. "25 years ago when we opened in the forum, that was the place to be. A lot has changed since then."
If Puck can reach an agreement with the landlord at Caesar's, he says he might turn the space into a more casual cafe with pizza, salads and steak frites.
"The synergy of having the right customer in the right place is better at Bellagio," said Puck. "We might keep the [Caesar's] Spago until the new one opens, or turn it into a smaller, less expensive version."
Fans of the smoked salmon pizzas and tuna cones Puck is known for at his Beverly Hills Spago will be happy to learn he plans to serve those items at the Bellagio restaurant. But he does intend to introduce a menu full of new dishes.
"We always move ahead like when we remodeled and changed the menu at Spago [in 2012]" said Puck. We can create and invent everything, but it has to be interesting and something that fits into the hotel. Maybe because the hotel has such an Italian influence, we might go a little more Italian. I haven't made up my mind yet."
And while his access to produce in Los Angeles translates to a hyper seasonal use of ingredients at Spago in Beverly Hills, Puck says to expect the same seasonality at the new location in Las Vegas.
David Robins, managing partner of operations and corporate chef for Puck's Las Vegas restaurants, will make weekly trips to the Wednesday Santa Monica farmers market.
"I told him [David] he has to come every Wednesday and look for fresh stuff and get inspired there," said Puck. "I want a deeper connection with Los Angeles so the Las Vegas [restaurant] doesn't seem separate."
The new space is being designed by architects Massimiliano Locatelli and Annamaria Scevola of CLS Architetti and features brass fixtures, smoked-oak wood floors and leather seating. The restaurant will have a main dining room, bar and lounge, private dining spaces and an open-air patio with a view of the fountains.
"I think it's the best space anywhere in Vegas," said Puck.
The restaurant is scheduled to open next summer. 3600 S. Las Vegas Blvd., Las Vegas, wolfgangpuck.com.