Make this spicy jalapeno burger on a cheese bagel for dinner tonight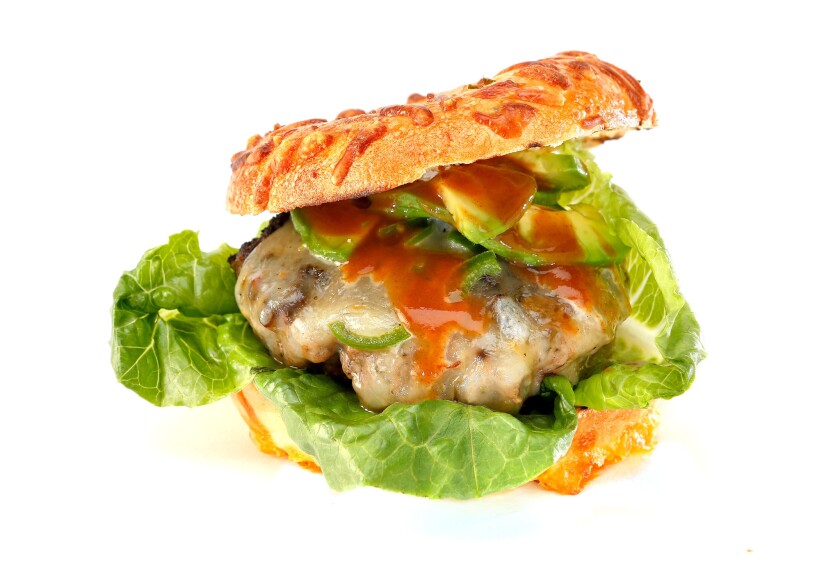 Forget the McWhopper. And be honest with yourself. The thought of the McDonald's Big Mac and Burger King Whopper hybrid scares you, even if it's just a little.
If you're craving a burger hybrid, try this hot jalapeno burger on a jalapeno cheese bagel. Yes, a spicy cheese bagel.
The burger was one of the finalists in our 2013 summer reader burger contest, and for good reason.
It's a ground beef burger made with green onions, garlic, mustard and taco seasoning. For some real kick, the patty gets a sprinkle of habanero powder before hitting the grill. Then the burgers are topped with pepper jack cheese, slices of jalapeno, avocado, lettuce and hot sauce. And they are served on a jalapeno cheese bagel.
If you want to feel your lips start to melt, add some extra hot sauce.
HOT JALAPENO BURGERS
Total time: 40 minutes, plus chilling time | Serves 4
1 1/2 pounds of ground beef
1 cup chopped green onions
2 cloves garlic, minced
3/4 teaspoon dry mustard
1 1/2 teaspoons Tajin clasico seasoning or taco seasoning
Habanero or other hot chile powder
2 to 3 fresh jalapeno peppers, sliced, or sliced canned jalapenos
4 slices pepper jack cheese
4 jalapeno cheese bagels, toasted
Fresh avocado slices, for garnish
Hot sauce, preferably homemade or Frank's
In a large bowl, mix together the ground beef, green onions, garlic, mustard and taco seasoning. Divide the mixture and form into 4 patties. Cover and refrigerate the patties at least 1 hour to give the flavors time to marry.
Heat the grill and season both sides of each patty with habanero powder. Grill the patties on both sides to desired doneness, topping the burgers just before they are done with sliced jalapenos and cheese.
Serve the burgers in the toasted buns, garnish as desired with lettuce, avocado slices and hot sauce.
I like things spicy. Follow me on Twitter @Jenn_Harris_
ALSO:

14 reasons to eat breakfast for dinner
Stop everything, Seattle: Amazon will bring liquor to you in an hour
A McWhopper? McDonald's says no thanks to hybrid peace offering from Burger King
---
Get our weekly Tasting Notes newsletter for reviews, news and more.
You may occasionally receive promotional content from the Los Angeles Times.