Stocking stuffer: barrel-aged cocktails for two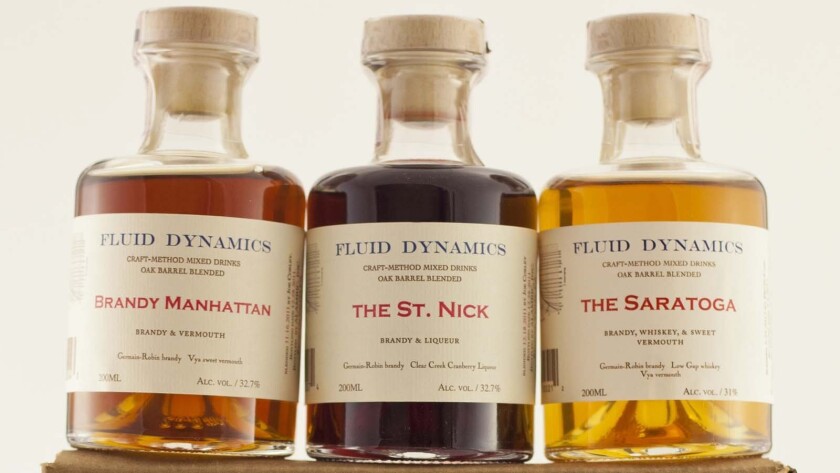 Stocking stuffers are meant to be enjoyed Christmas morning, after you've had a nice breakfast, and plenty of coffee. If someone left one of Fluid Dynamics' barrel-aged cocktails in your stocking, this is going to be a good morning.
For those not in the know, the cocktails are blended and made by longtime Mendocino County distiller Germain-Robin, who have taken classic cocktail brandy or whiskey-based cocktails and aged them for six weeks in small oak barrels. It's something a number of top bars are doing, too. But in this case, the folks at Germain-Robin know their own spirits through and through. They've blended, tested, and adjusted the recipe to come up with the ideal balance. And then put the final blend into nifty 200-milliliter bottles — just enough for generous 3-ounce cocktails for two, or more modest 2-ounce cocktails for the happy couple and one for Santa.
During their six weeks aging, the various elements in the cocktail have had the chance to interact and develop complexities from playing off each other. All the ingredients are top notch, too, starting with the brandy or whisky.
Fluid Dynamics' Brandy Manhattan is a mix of Germain-Robin brandy and Quady Vya sweet vermouth. The St. Nick blends Germain-Robin brandy with Clear Creek's Cranberry liqueur and the Saratoga contains Germain-Robin brandy, Low Gap clear wheat whiskey and Quady Vya sweet vermouth. The 1850 is their version of a Sazerac, made with Germain-Robin brandy, Low Gap whiskey and a touch of Germain-Robin absinthe.
These pre-made cocktails are perfect for stocking stuffers or for a thoughtful host or hostess gift. You might want to include a small bottle of bitters, too. It turns out when you age a cocktail, after a few weeks, the bitters in it tend to dominate the blend. So for the Brandy Manhattan, for example, or the 1850 cocktail, which are mixed without bitters, they suggest adding your own just before serving.
Available at Egg Market & Liquor in Vista, Hi-Time Wine Cellars in Costa Mesa, Silver Lake Wine in Los Angeles and Wally's Wine & Spirits in Los Angeles and Beverly Hills. Also available online at www.caddellwilliams.com, 750-ml bottles for $64, 200-ml bottles for 20.
Follow @sirenevirbila for more on food and wine.
ALSO:
13 wines for the holiday table at $25 or under
New vermouths crafted to go solo or mix in cocktails
Everything you need to know about Armagnac, France's oldest brandy
---
Get our weekly Tasting Notes newsletter for reviews, news and more.
You may occasionally receive promotional content from the Los Angeles Times.