How to buy fish from the market, plus a recipe for swordfish steaks with tomatoes and fennel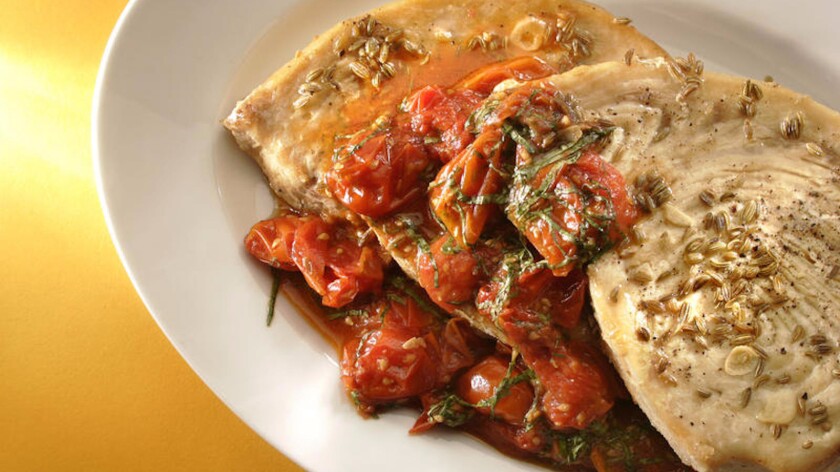 When you're looking for a deceptively simple dinner option, consider swordfish steaks. Saute a couple of steaks in garlic and fennel for a few minutes on each side. Then add a little white wine and whole cherry tomatoes and gently simmer away until the steaks are done. Remove the steaks and cook down the liquid with slivered fresh basil until it's nicely thickened (the aroma is amazing!). Pour the sauce over the swordfish and you're good to go. Ready in just 40 minutes, it makes a great weeknight dinner option.
KITCHEN PRO TIP: If you don't cook fish that often, the thought of hitting a fish market (or even cruising your local seafood aisle) when shopping for a recipe can be a bit intimidating. What do you look for? How do you know the fish is fresh? And what should you avoid? Check out this quick video for simple tips for buying whole fish, fillets and steaks:
Los Angeles Times Test Kitchen director Noelle Carter gives tips on how to pick fresh fish.
SWORDFISH STEAKS WITH TOMATOES AND FENNEL
Total time: 40 minutes | Serves 4 to 6
2 (3/4 - to 1-pound) swordfish steaks
Salt
Freshly ground black pepper
3 tablespoons olive oil
1 clove garlic, thinly sliced
1 1/2 teaspoons fennel seeds
1/2 cup white wine
1/2 pound whole cherry tomatoes
2 tablespoons slivered basil leaves
1. Pat the swordfish steaks dry with a paper towel on both sides. Season each side with a pinch each of salt and pepper and set aside.
2. Heat the olive oil, garlic and fennel seeds in a skillet over medium heat until the garlic softens and becomes fragrant, about 3 minutes.
3. Lay the swordfish steaks on top of the garlic and fennel seeds and cook until they turn white on the cooked side, 5 minutes. Turn the steaks over, laying them on top of any excess garlic and fennel seeds and cook another 5 minutes.
4. Add the white wine and tomatoes, cover the pan tightly and reduce the heat to a gentle simmer. Cook until the meat is easily penetrated with a skewer or paring knife (the swordfish must be well-done or it will be fibrous). Timing will vary depending on the thickness of the steaks -- thin steaks may take less than 5 minutes while very thick steaks may take as long as 15 minutes.
5. Remove the lid and transfer the swordfish to a heated platter. Increase the heat under the skillet to high and cook until the liquid in the pan reduces to a syrupy sauce, about 5 minutes. Pour any liquid that has collected in the platter into the sauce and stir in the basil.
6. Pour the sauce over the swordfish steaks and serve immediately.
Each of 6 servings: 235 calories; 25 grams protein; 2 grams carbohydrates; 1 gram fiber; 12 grams fat; 2 grams saturated fat; 48 mg. cholesterol; 115 mg. sodium
Love cooking as much as I do? Follow me @noellecarter
ALSO
Check out photos from our annual food festival, The Taste
Farmers market report: Tomatillos are in season. We have recipes
Try this slow-braised rib recipe, and learn how to trim ribs like a pro
---
Get our weekly Tasting Notes newsletter for reviews, news and more from critics Bill Addison and Patricia Escárcega.
You may occasionally receive promotional content from the Los Angeles Times.