No more long waits: Pay for someone to get in line for you at Chengdu Taste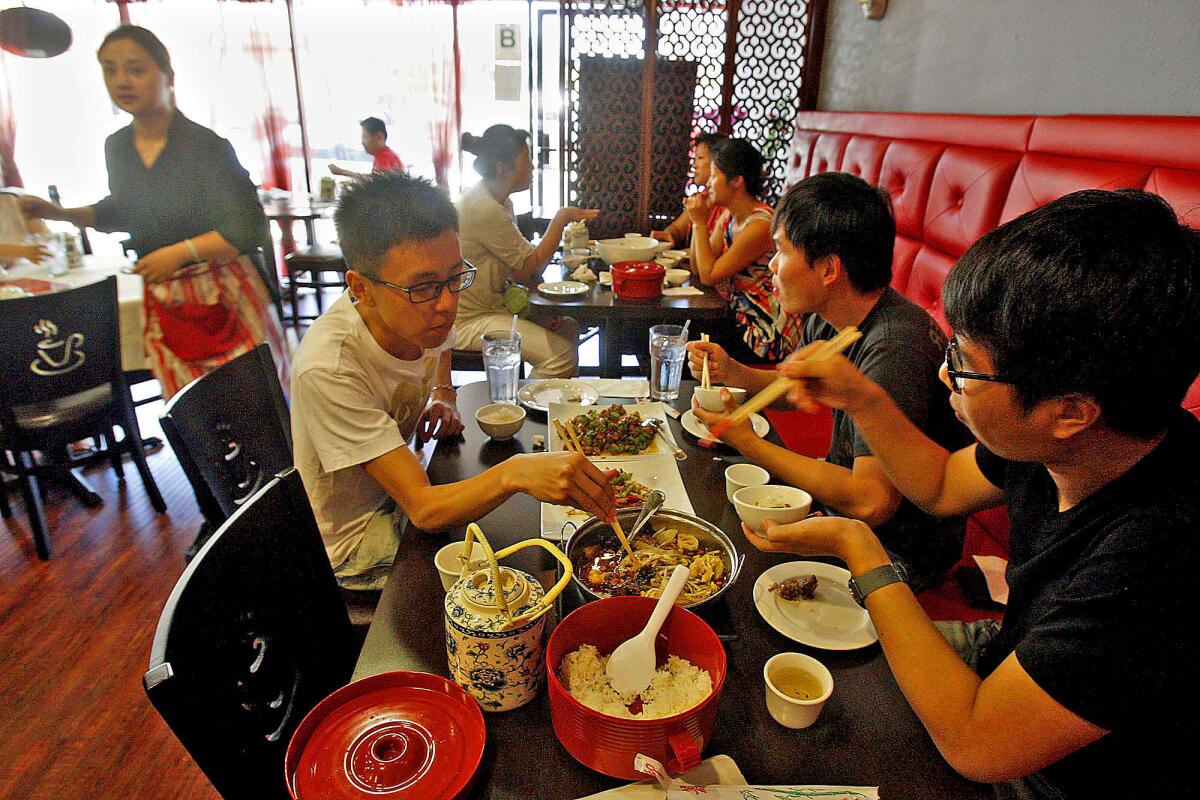 You can't consider Chengdu Taste, Boiling Crab or Din Tai Fung for dinner without hesitating over the certainty of the long wait. But what if, through a little planning and some extra cash, you could be seated within minutes of arriving?
Enter TaskRabbit, a website that allows you to hire a willing hand to paint your house, deliver bad news, run errands or almost anything else -- within reason -- that you can think of.
See where this is going?
PHOTOS: Jonathan Gold's 10 best dishes of 2013
I first witnessed this in San Francisco at the popular State Bird Provisions, a dim-sum-style restaurant where half of its nightly seating is available for walk-ins and the other half for those with reservations (and good luck with that). Walk-ins are seated on a first-come, first-served basis, making for a line that starts at least an hour before opening.
On a chilly Sunday afternoon, I showed up at the restaurant a full 90 minutes before it opened. It was 4 p.m. and I was shocked that a woman with two young daughters was already waiting. When I asked if she had eaten at State Bird Provisions before, she said no -- but that she had waited in line many times.
It was her specialty on TaskRabbit. For $28, she held a party's place in line. She arrived prepared, with snacks for herself and the kids, games, knitting needles and books. By 5:30 p.m. the foursome who had hired her arrived and they walked right in, laughing and happy. Me? Once I had a drink and my body began to thaw and my nerves untangle, I was able to concentrate on what would become a very memorable meal.
Back home, I decided to try TaskRabbit to avoid another grueling two-hour wait at Chengdu Taste, an enormously popular Sichuan restaurant in Alhambra.
I placed my request on TaskRabbit, offered to pay $35, of which $28 would go to the person carrying out my task. (The rest goes to TaskRabbit.) Here was my request:
"We would like someone to put in our name and wait for an available table at Chengdu Taste, which is a very busy restaurant in the San Gabriel Valley (828 W. Valley Blvd., Alhambra) that does not take reservations. The waiting can be outdoors, where there are about 6 chairs, or possibly inside, where space is much more limited. The wait will probably be 90 minutes-2 hours. The area is very safe and the lighting is bright for anyone who wants to bring a book or knit."
Within 30 minutes I received a text message saying my request had been assigned. I coordinated more specifically through email with the woman who would be carrying out the wait at Chengdu Taste. She is a graphic artist with her own business who was carrying out TaskRabbit errands for extra money. She averaged a 4.53 rating out of 5. (She asked me not to use her name for this story because she didn't want potential clients of her business to know about her second job.)
On that Friday, she sent me a text when she arrived and then two more texts updating our status. During that time, I ran errands, had a drink and generally relaxed. At 7:30 p.m. came this: "Some big parties just left – r u nearby? Entire party has to be present to be seated." I alerted my friends and we headed over.
PHOTOS: Jonathan Gold's 10 best dishes of 2013
On my way I received another text: "They asked if you want to share a table since u have a smaller party." I replied, "Sure." Then came this: "They just gave it away. But they said u would be next."
My group arrived a few minutes later. We found our TaskRabbit (she was alone, on a chair, with a book). We exchanged warm greetings, then she left. Within five minutes we were seated and negotiating the menu.
Our dinner bill with tip came to $90 (whole jasmine fish, toothpick lamb, beef in hot sauce and Taiwanese lettuce), or $30 each. Add $35 for TaskRabbit and the evening's bill came to $125, or $42 each. That extra $12 for waiting only five minutes and getting a start on Saturday errands, not to mention the weekend's drinking, was worth it.
ALSO:
Roy Choi's Pot Bar opens in K-Town
Where to find great pizza in Los Angeles
Get our L.A. Goes Out newsletter, with the week's best events, to help you explore and experience our city.
You may occasionally receive promotional content from the Los Angeles Times.