Thank Charlie Trotter for, among other things, micro-greens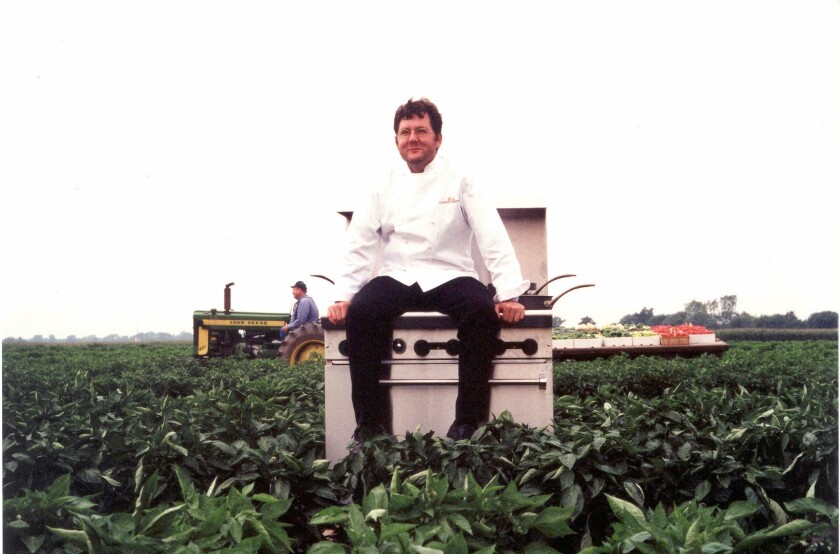 In the late '80s, when Lee Jones and his family were in the throes of reinventing their Ohio farm after losing everything to a hailstorm and high interest rates, they fortuitously made the acquaintance of Charlie Trotter, who had just opened his restaurant in Chicago five hours away.
Trotter, who passed away on Tuesday, "had a huge impact not just on our family farm but on small family farms in America, more than anyone would recognize," said Jones of Chef's Garden, with whom the late chef had a decades-long relationship. "We look at plants in an entirely different way -- what's available, the way we eat them that had never been considered before."
We have Trotter, considered the first to serve all-vegetable tasting menus, to thank for the popularity of micro-greens. Before a request from Trotter, "we had tried an idea that eventually was called micro-green," Jones said, "but chefs asked, 'Why didn't you let it grow up? What are you doing picking it so young?' So when Charlie came to us and said he would like to have something young and tender but hardy and flavorful that's different than what anybody else is doing, it made us go back to the idea we had 86'd."
PHOTOS: Charlie Trotter, famed chef died at 54
Jones said Trotter was tired of mesclun, the salad mix of lettuces, arugula, chervil and endive that was ubiquitous in the '80s, and wanted vegetables "that would blow customers away."
"I'd stop short of saying he was the first to use micro-greens," said Jones, "but I don't ever remember them before Charlie. He really pioneered it." Jones recalls growing for the chef not just micro-lettuces but baby Ruby Queen beets, baby Red Ace cabbage, tiny heirloom tomatoes, baby squash, baby carrots, golden pea tendrils grown in the dark. And when Trotter traveled to cook at events, more chefs' requests for diminutive vegetables came in.
On 300 acres outside of Huron, Ohio, Chef's Garden now grows 350 to 400 different combinations of micro-greens and micro-herbs, as well as heirloom vegetables, specialty lettuces and edible flowers. "Charlie was the first to ask us to grow purple Brussels sprouts."
Trotter "challenged us to grow things. I can remember him asking for a melon that he had seen grown in Japan, where they harvested all the melons off of one plant — and then let all the energy go to just one remaining melon.
"I think that a lot of farms have kind of watched what he's been doing over the years," Jones said. "He's done more to influence agriculture than any other chef.
"He always had this philosophy of the constant pursuit of excellence, he was constantly searching and pushing for what had never been considered before: the flowers of vegetables (carrots make a beautiful flower), the root of a plant when traditionally we only thought of what was grown above ground."
Trotter worked closely with the farm, inviting all of the farm employees to dinners at the restaurant, where they'd show up in a Greyhound bus. "And he would be ready for us," Jones said. "The whole kitchen in their whites and all of the servers would be lined up waiting out in front of the restaurant, with Charlie there waiting to shake our hands. We were so proud that he recognized what we were doing."
ALSO:
Jonathan Gold's six favorite dumplings
Charlie Trotter dies: 'His words to me will ring forever'
---
Get our weekly Tasting Notes newsletter for reviews, news and more.
You may occasionally receive promotional content from the Los Angeles Times.