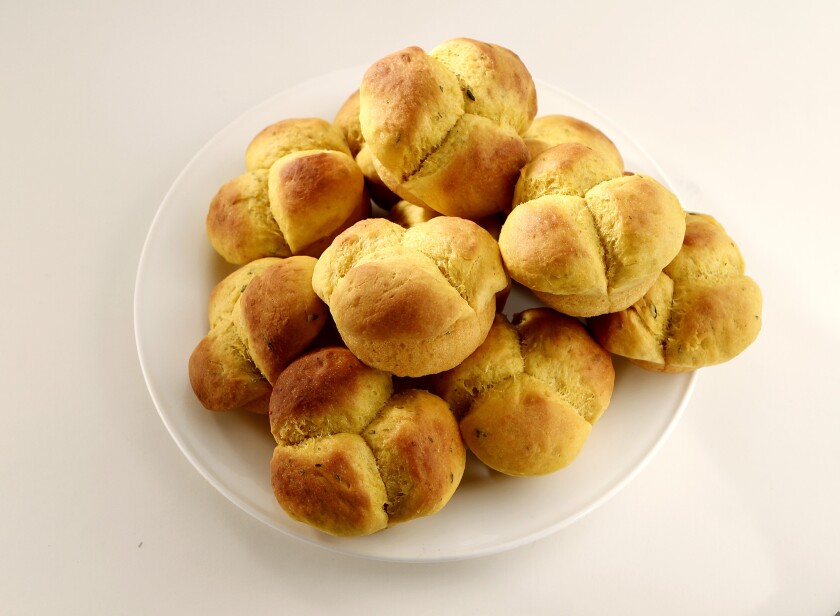 This recipe is a reminder that a well-made roll is something special. Crisp on the outside but tender at the center, and terrific enough to have been named one of our best recipes of the year in 2002. They adapt easily to even the most crowded holiday schedule. Make the dough the day before and give it a long, slow rise in the refrigerator, then bake when the oven is free before dinner.
New to using yeast? Never worked with a yeast-risen dough before? Yeast-risen breads typically call for setting the dough aside for a little while to give the dough time to rise, or proof, until doubled in size.
Next time you're making bread, try this simple trick for keeping track of the proof: After covering the dough with plastic wrap, mark an outline of the unproofed dough with a marker. That way you can easily gauge how -- and how much -- the dough is proofing. Check out this video for a quick demonstration.
Craving more? Check out our handy holiday recipes and cooking tips page to help you with your Thanksgiving planning. Not only do we cover familiar holiday dishes, we also share tips and tricks to save you time and energy during this busy time of year. And you can find all your Thanksgiving recipe needs in our California Cookbook. If you have any tips or questions you'd like me to explore, leave a comment or shoot me an email at noelle.carter@latimes.
SLOW-RISING PUMPKIN-THYME DINNER ROLLS
Total time: 30 minutes, plus 2 hours standing and 8 hours chilling | Makes 12 cloverleaf or 18 dinner rolls
2 (1/4-ounce) envelopes active dry yeast
1/4 cup warm water (110 to 115 degrees)
2 eggs, at room temperature
1 cup canned pumpkin puree

1/2 cup (1 stick) unsalted butter, at room temperature
1/2 cup sugar
2 teaspoons coarse salt
1 tablespoon minced fresh thyme (or 1 teaspoon dried)
1/4 teaspoon cayenne pepper
3 cups flour, plus up to 1 cup more
Olive oil, for greasing bowl
2 tablespoons melted butter
1. Sprinkle the yeast over the water in a large mixing bowl and stir to dissolve. Using a wooden spoon, beat in the eggs, pumpkin, soft butter, sugar, salt, thyme and cayenne. Add 3 cups of flour and beat until smooth, gradually adding more flour as needed to make a soft, sticky but still manageable dough. Make sure the dough is well mixed. Oil a larger bowl and scrape the dough into it, turning to oil all sides. Cover with a dish towel and let rise in a warm, draft-free spot until doubled in bulk, about 1 1/2 hours. Punch the dough down, cover tightly with plastic wrap and refrigerate overnight.
2. For round dinner rolls, grease 2 (8-inch) cake pans with melted butter. Punch the dough down again and shape into round rolls, arranging them in pans with about one-half inch between each. For cloverleaf rolls, butter a 12-cup muffin tin, tear off tablespoon-sized balls and place 3 in each muffin cup. (If the dough is too sticky to handle easily, lightly butter or oil your hands.) Cover the rolls with a dish towel, and let rise in a warm spot until doubled in bulk, about 30 minutes.
3. Heat the oven to 375 degrees. Bake the rolls until browned, 20 to 25 minutes. Serve hot or warm.
Each roll: 188 calories; 317 mg sodium; 40 mg cholesterol; 7 grams fat; 4 grams saturated fat; 26 grams carbohydrates; 5 grams protein; 1.59 grams fiber.
Love cooking as much as I do? Follow me @noellecarter
---