Chicken karaage list: 6 great places to get your fried fix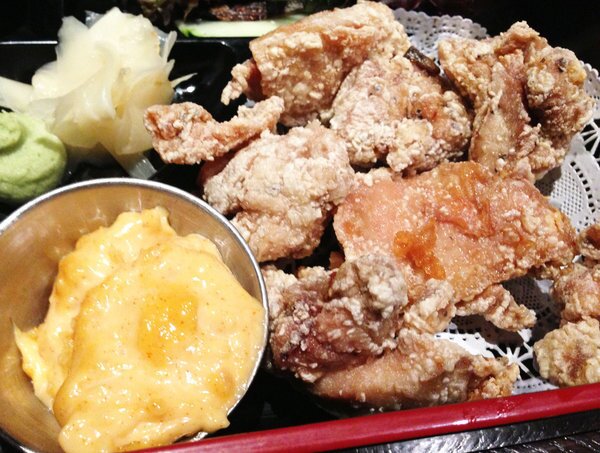 Chicken from Izakayafu-ga.
(Jenn Harris / Los Angeles Times)
Chicken from Shin Sen Gumi.
(Jenn Harris / Los Angeles Times)
Akiko I. / Yelp" data-image-bsp-id="00000169-0cce-dbbe-a16f-4eeeca540000">
Hazel C. / Yelp" data-image-bsp-id="00000169-0cce-dbbe-a16f-4eeeca520000">
Masa Casa chicken burrito.
(Masa Casa chicken burrito / Hazel C. / Yelp)
Surge C. / Yelp" data-image-bsp-id="00000169-0cce-dbbe-a16f-4eeeca510000">
Chicken from Jinya Ramen Bar.
(Surge C. / Yelp)
Chicken from Ramen Yamadaya.
(Jenn Harris / Los Angeles Times)
Chicken karaage, the Japanese version of fried chicken, is addictive. Unlike its American cousin, karaage are boneless, cut small and mostly dark meat. It's easy to pop five into your mouth in quick succession. The coating, made of potato starch, is light, almost paper thin and delicate. And the chicken, instead of spending time in buttermilk or salt water brine, is often marinated in soy sauce, sake, ginger and garlic.
The dish is often served with a wedge of lemon and a spicy mayo dipping sauce.
Chicken karaage is a regular on Japanese restaurant menus, but not all karaage are created equal. Here's a list of six places, in no particular order, to get your fried-chicken fix.
1. Izakayafu-ga
You have to walk down a dark, narrow flight of stairs before emerging in this restaurant/bar in the heart of Little Tokyo. The chicken karaage here is listed under the deep-fried portion of the menu as Sesame Jidori Chicken Karaage ($6). This version is extra crisp, some pieces worthy of chicharon status, consisting of nothing more than a fried piece of skin. The slightly salty marinade permeates the chicken flesh and is noticeable in every bite. It's served with a small sliver container of spicy mayo. 111 S San Pedro Street
Los Angeles, (213) 625-1722, www.izakayafu-ga.com.
If you can get past the staff yelling Japanese pleasantries when you walk in, a seat at the bar is the perfect spot to enjoy a plate of the chicken karaage at the Shin Sen Gumi location in Monterey Park. The chicken karaage ($6.25) is traditionally made with a light coating. There are no outside flavors at play and the moist, dark meat emerges as the star. The server suggests a squeeze of lemon before a dunk in the restaurant's sunset-colored spicy mayo. 111 N Atlantic Blvd, Monterey Park, (626) 943-795, more locations at www.shinsengumigroup.com/.

3. Musha
The 'Musha's fried chicken' at Musha in Pasadena is more of a chicken katsu on steroids, but it more than deserves to be on this list. A thin slab of dark-meat chicken with a crisp, almost bubbly deep-fried coating is cut into slices. It's served with a lemon wedge and a small container of a tangy sauce you'd expect to find with an order of tempura ($7). 58 E Colorado Blvd, Pasadena, (626) 405-1518, more locations at https://musha.us.
4. Masa Casa
This place may sound like a Mexican restaurant, but it's a local artist-heavy spot in Eagle Rock with what's called home-style Japanese food. The chicken karaage is lightly battered in flour instead of the traditional potato starch, and the coating is still light but crisp. It's served in a basket with lemon and topped with sesame seeds for $4.75, or for $6.50, you can get your chicken wrapped in a burrito with rice, pico de gallo and house salad. 1757 Colorado Blvd, Eagle Rock, (323) 254-2000, masacasaer.com.

This place is known for its black tonkotsu ramen, but before giving yourself a broth facial, you'll want to wet your appetite with the chicken karaage. It's listed on the menu per piece, like an order of hot wings. You can get five for $4.95, 10 pieces for $8.95 or 15 pieces for $12.95, and they all come with lemon. If you're at the Studio City location, it doesn't come with a dipping sauce. If you ask for one, the server will give you a puzzled look and bring you some tempura sauce worth a dip. 11239 Ventura Blvd. Studio City, (818) 980-3977, more locations at https://www.jinya-ramenbar.com.
The chicken karaage at the location in Westwood is more of a meal than a starter or side to your ramen. The chicken comes eight to 10 pieces to an order ($5.95) on a plate with a side of lemon and a dark, sticky dip similar to eel sauce. There is also a hefty helping of cabbage salad piled high on the plate. Each piece of chicken is crisp, and the nuggets with extra pieces of skin attached will force a hand swat to any friends who attempt to steal a bite. 1248 Westwood Blvd. Los Angeles, (310) 474-1600, more locations at www.ramen-yamadaya.com.
Got a favorite chicken karaage spot? Let us know in the comments below.
ALSO:
The 11 most useless kitchen gadgets in the entire world
Eat for free at BierBeisl in June if you're taller than the chef
Hands-free Whopper holder: The fast-food equivalent of a feed bag
---
Get our weekly Tasting Notes newsletter for reviews, news and more.
You may occasionally receive promotional content from the Los Angeles Times.