Get your Korean <i>banchan</i> fix at the Foodshop, a new restaurant in Koreatown
Name of restaurant: The Foodshop
Concept: Korean banchan (the side dishes commonly found with various other Korean specialties, including hot pot and barbecue) and kimchi in a deli-like setting. The specials change daily.
What dish represents the restaurant, and why? The banchan, of course. And they taste like someone's Korean aunties made them for you. The options change with the seasons, but you can't go wrong with the banchan sampler box. It's served as six different sides, all arranged in silver cupcake liners. You're also free to pick your own six banchan from the deli case. The assortment might include some slightly sweet and spicy meolchi (seasoned anchovies), shredded kelp sauteed in sesame oil, a few slices of soy-steamed lotus roots, or some kind of kimchi.
Runner Up: Come early for the galbi jjim -- beef ribs stewed in a soy-based sauce with generous pieces of sweet potatoes and some carrots.
Shown is the galbi jjim from the Foodshop in Koreatown.
(Cecilia Hae-Jin Lee / For the Los Angeles Times)
Steamed najkji from the Foodshop in Koreatown is shown with a vinegar chile sauce for dipping.
(Cecilia Hae-Jin Lee / For the Los Angeles Times)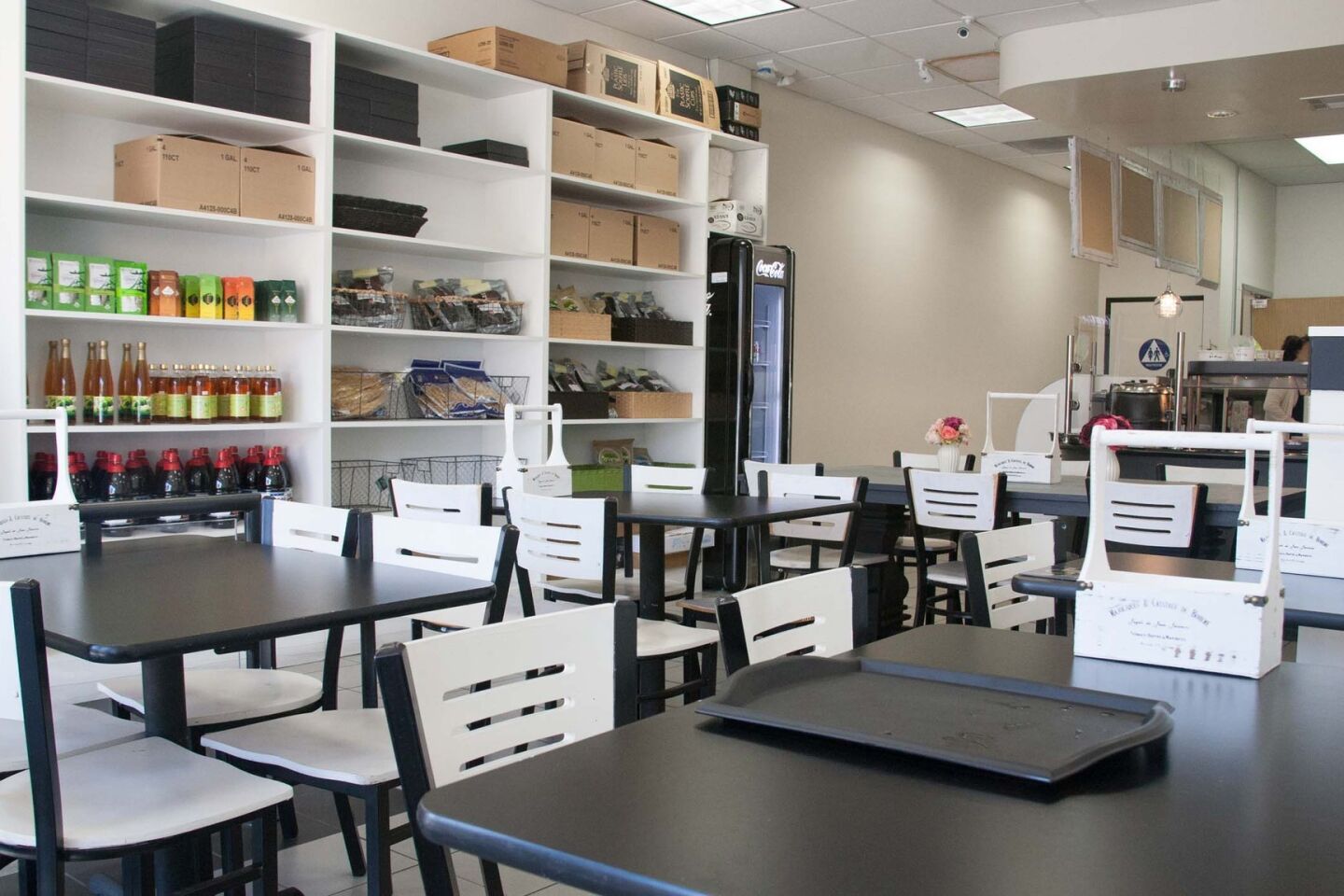 The interior of the Foodshop in Koreatown is black, white and casual.
(Cecilia Hae-Jin Lee / For the Times)
Who's at the next table? Though most customers pick up their banchan to go, a few single diners quietly eat their lunch or dinner with the company of their devices.
Service: Friendly, and a little old-fashioned.
Uh-oh… They're closed on Sundays, so you'll have to stock up on your banchan on Saturdays.
What are you drinking? Grab a bottle of something cold from the self-serve refrigerator. Sometimes, they'll have an array of freshly made juices.
Info: 147 N. Western Ave., Los Angeles, (323) 871-8833.
ALSO:
This honeycomb ice cream doesn't need an ice cream maker
Doughnuts, beer and stuff-on-toast, at a new restaurant in downtown L.A.
What we're into: Banh xeo, Glenfiddich Bourbon Barrel Reserve, Republique's roast chicken
Get our L.A. Goes Out newsletter, with the week's best events, to help you explore and experience our city.
You may occasionally receive promotional content from the Los Angeles Times.