Chocolate mooncakes arrive as Godiva gets in on Asian holidays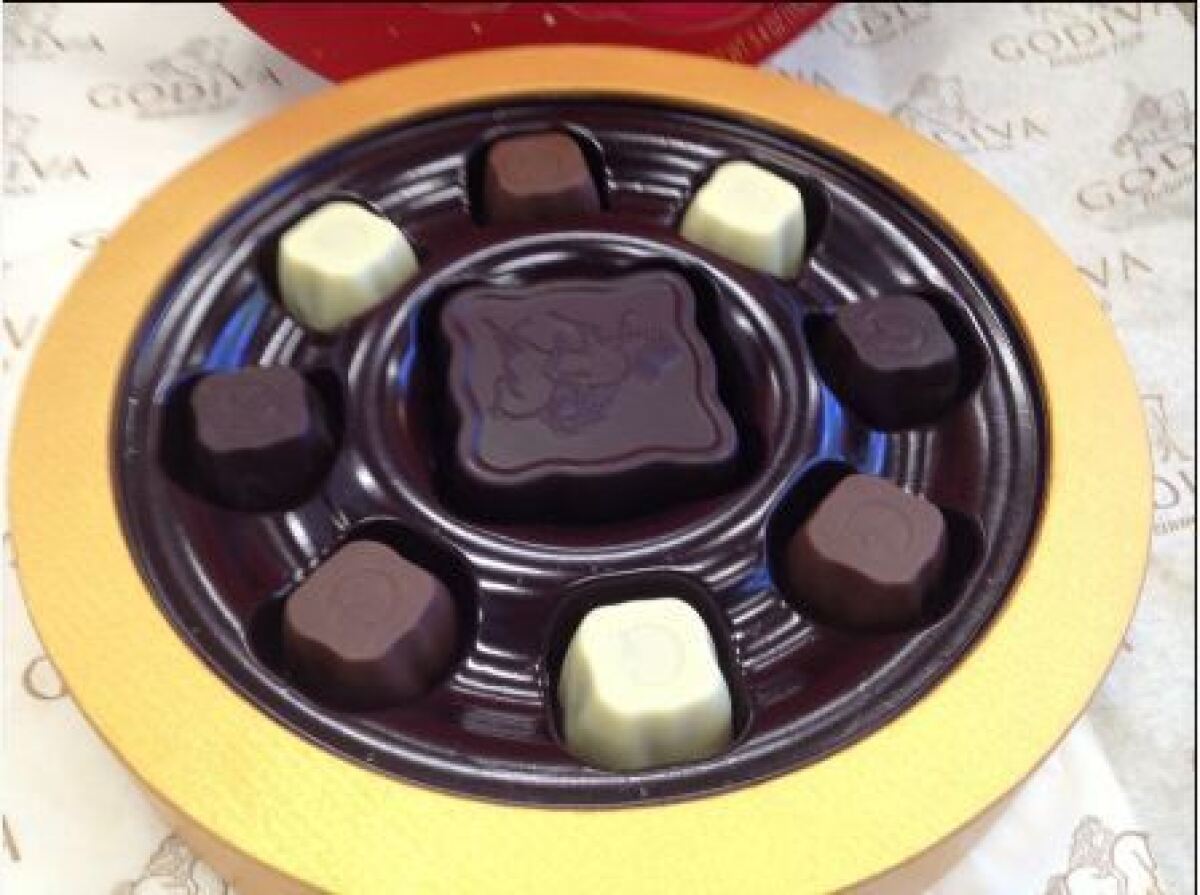 Every fall, the chewy, puck-shaped pastries known as mooncakes fill the racks at Chinese and Vietnamese bakeries, some filled with lotus seeds and dates, others with dried fruit and egg yolks.
Now, there's another ingredient in town. Chocolate.
Godiva has added a confectionery twist to a pasty that traditionally was meant to mark the arrival of the autumn harvest. The chocolatier is now offering mooncakes for the first time in the U.S., packaging them in a round gift box reflecting the shape of the orb. That shape symbolizes the moon and family unity.
"I heard about it on the Internet and got them before they ran out," said Anna Lui, standing outside the shop at South Coast Plaza where she and her cousin clutched four boxes. "I read that they're sold out in China and I can see why -- they're irresistible.
"When you add chocolate to anything," she said, "it always makes it better."
About 50 of Godiva's more than 200 stores nationwide carry the chocolate mooncakes, according to Julie Gallegos, associate manager at the South Coast Godiva.
Besides the location at South Coast Plaza, which draws many Asian American shoppers, they're available at locations in Brea, Arcadia and Glendale. The items arrived in mid-August, just in time for the popular Asian holiday, which celebrates the harvest and this year falls on Sept. 19.
At $50 a box, Lui considers them a "fair deal," adding that "it's special and has a brand name. Asians are status-conscious and this makes a good business gift."
Before making her purchase, Lui read about it on the company's website, which added Chinese to broaden its market.
Open the red and gold container and at the center lays a dark chocolate mooncake, tempting with a layered filling of orange, red currant and lemon zest, mixed with chestnut pear rice crisp.
Eight mooncake bites surround it. Their flavors include white chocolate filled with pomegranate juice and strawberry crystal ganache, caramelized hazelnuts and soy nuts, and milk chocolate filled with apricot and peach ganache, with a touch of ginger on a layer of Turkish hazelnuts and Louisiana pecan praline.
Even in a small crowd, they can be gone quickly.
The chocolate orbs contrast with traditional mooncakes, which can be salty or sweet, often stuffed with seeds and fruits. Some versions include roast chicken stuffing, others boast taro or durian fruit, starting at $25 to $30 for the average box of four.
"I think the ideal present is probably a bit of both," says Lui, who plans to gift her parents a selection from Chinatown and Godiva.
Cindy Lui, her cousin, chimes in. "We're expected to combine a bit of the old and new for family gatherings," she explains. "We like to experiment."
ALSO:
KFC offers deep-fried soup, but only in Japan
Asia Eater magazine focuses on culture and food
Get our L.A. Goes Out newsletter, with the week's best events, to help you explore and experience our city.
You may occasionally receive promotional content from the Los Angeles Times.