The difficulty of finding great wine at Trader Joe's, and 1 great buy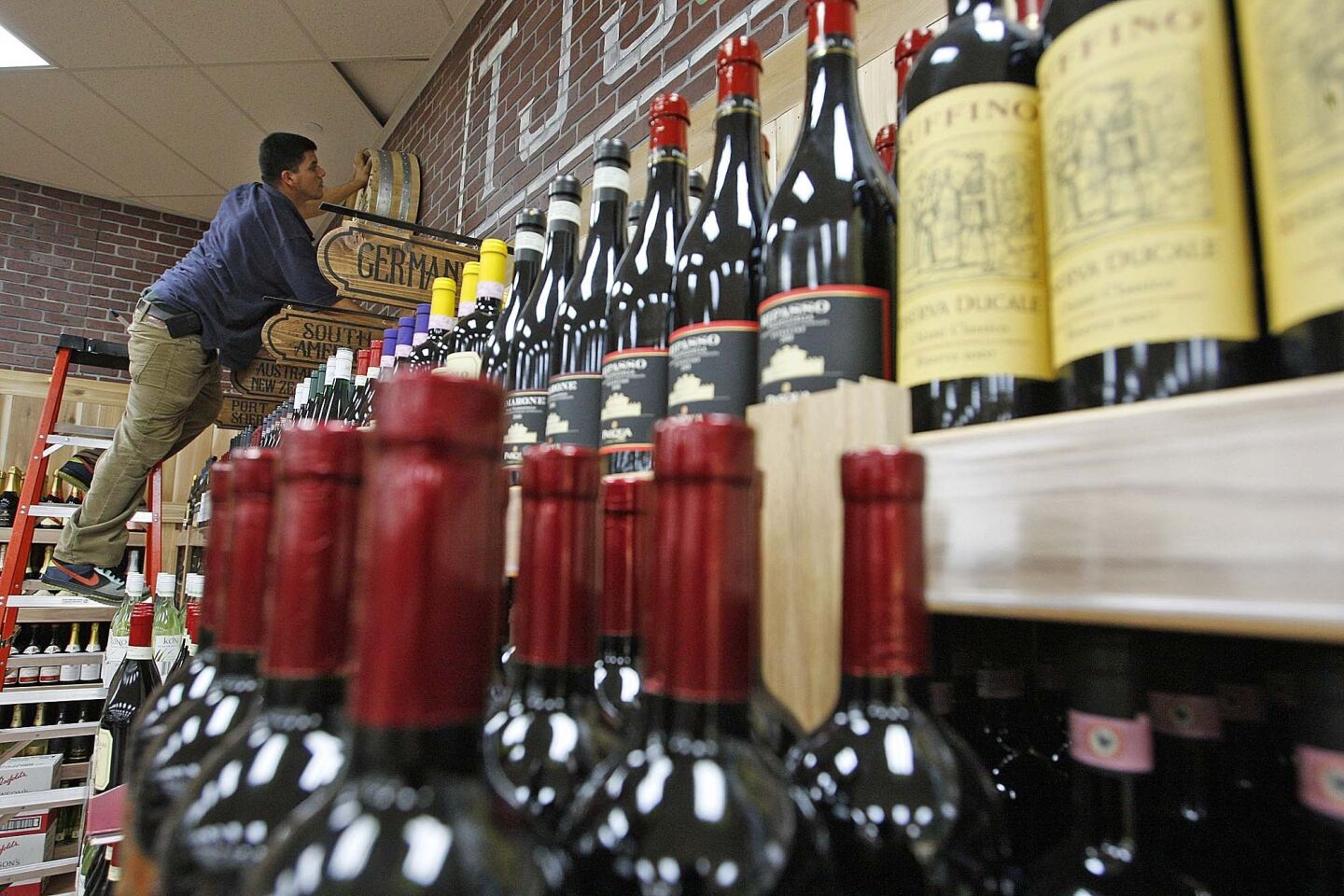 In the past, shoppers could find some wild, terrific wine buys at Trader Joe¿s. But the days of finding those kinds of wines on close-out seem to be long gone.
(Gary Friedman / Los Angeles Times)
Summer is winding down, but the parties just keep coming. Nine times out of 10 (or maybe it just seems that way), someone will have brought a wine from Trader Joe's, lured by the convenience—and by the low prices.
In the past, I used to find some wild, terrific buys at Trader Joe's—obscure but delicious German Rieslings, Languedoc reds or the occasional premier cru Chablis the store's savvy buyers would turn up on close-out. But the days of finding those kinds of wines on close-out seem to be long gone.
Hard-core wine buffs no longer patrol the aisles looking for that serendipitous bargain bottle. The labels don't change all that often. And the selection is more tilted toward wine as beverage than a treasure hunt for interesting bottles on the cheap.
But I thought it was time to go back to my local Trader Joe's to see what I could turn up.
One wine I'd wanted to buy--a French rosé I'd tried at a party--was out of stock. The store's wine guy suggested a Josefina rosé instead. Sold—for $4.99.
In the end I picked up six bottles of wine for a total of $54. Some were OK to fine; others not so much. Buying wine at Trader Joe's is something of a crap shoot. But you knew that already.
Zonin DOC Prosecco DOC Spumante Brut, Italy $6.99
This inexpensive Prosecco was a surprise—a good one. Dry and crisp, with lemon-lime overtones, it's perfectly acceptable. And it doesn't foam up in the mouth like some cheap Proseccos. Ideal for making bellinis.
2011 Louis Jadot Beaujolais, France $9.99
The most basic of Beaujolais from well-known producer Louis Jadot. It has some character, a bit of earthiness, but not the lush fruit or complexity of a Beaujolais cru. For $10, it's good for grilled sausages, a burger, or BBQ take-out.
2010 Penfold's Koonunga Shiraz, South Australia $8.99
The Australian winery Penfold's produces wine at every level, including some superb examples of Shiraz (Syrah). This is not one of them. What you get is dry, intense, a little raspberry and oak. The wine is blunt, but a good match for barbecue and anything with a char.
2011 Castle Rock Mendocino County Pinot Noir, $7.99
This Pinot is not going to impress anybody with its finesse. Unless you chill it down, a strong herbacious quality gets in the way of the fruit. But it's a pretty good choice for pizza or a sloppy joe sandwich. Just don't sip it on its own.
2012 Josefina Syrah Rosé Paso Robles, $4.99
It's not a good color, more rust than rosé. Bottled by San Antonio Winery, the Josefina Syrah Rosé is stinky on the nose, which doesn't encourage taking a sip. The taste is slightly sour, metallic. I threw it out.
2011 Wild Horse Winery & Vineyards Central Coast Pinot Noir, $14.99
At $15, this was the most expensive wine I bought. And while Wild Horse does produce some worthy reds, I'm just not sure I would buy this one again, mainly because of an off-putting weedy or vegetal quality.
ALSO:
PHOTOS: 15 burger recipes to wow your friends
PHOTOS: Summer whites: 7 crisp white wines you'll love
PHOTOS: Red wines: 16 of our biggest, boldest, juiciest picks
---
Get our L.A. Goes Out newsletter, with the week's best events, to help you explore and experience our city.
You may occasionally receive promotional content from the Los Angeles Times.