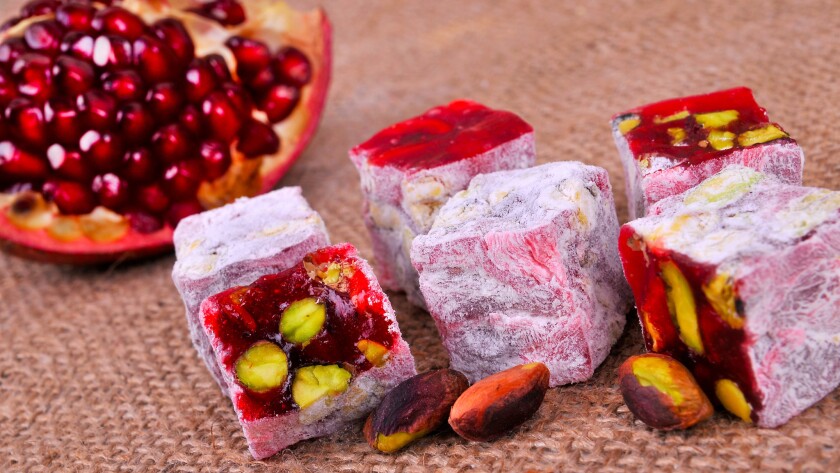 Loqhum, a Turkish candy shop in Garden Grove, opened inside Fresh Choice Marketplace in May, dazzling customers with spectacular candies straight from Istanbul. The candy is shipped in small batches regularly, specially made for shop owner Turkay Hot, who is also from Istanbul.
In Turkey, this chewy gel candy, ornamented with nuts, fruits, seeds and even rose petals, dates back centuries. There, it's called lokum. The spelling Loqhum is Hot's brand name.
Just like the stores that sell Turkish delight along Istiklal, Istanbul's famous street for strolling, shopping and snacking, Loqhum displays the candies in long rolls that can be cut to order. A few are in cubes, dusted with powdered sugar, coconut or powdered pistachios. Hot tested the market with 65 varieties. He's since reduced his selection to 39, including eight that are nut-free for customers with allergies.
Never tasted Turkish delight? Step up to the counter for free samples, then design your own assortment. Flavors include pomegranate, blueberry, melon, kiwi, rose, orange, lemon, strawberry, apricot, fig and coffee. Several incorporate chocolate. Some are sprinkled with coconut or cocoa. One is coated with Turkish coffee powder and another with tiny balls of chocolate-flavored puffed rice.
Other coatings include skinny kadayif pastry strands and Turkish saffron, which is safflower. Nuts used are pistachios, hazelnuts, almonds and walnuts. "Seventy percent of the hazelnuts in the world are in Turkey," said Hot. Pistachios are from Gaziantep, a town in southeastern Turkey that is famous for this crop.
The best seller at the moment is pistachio covered with more pistachios, followed by pomegranate with pistachios. The gel base of the candies consists of cornstarch and sugar. The candies are only lightly sweetened, and the white creme that appears in some is dairy free.
Turks, Hot says, eat Turkish delight with hot tea or coffee after a meal .
Loqhum is open 10 a.m. to 10 p.m. daily inside Fresh Choice Marketplace. 9922 Katella Ave, Garden Grove, www.loqhum.com.
ALSO:
Farmers market report: Passion fruit is in season
The geometry of pie: Because round may be boring, but we love it anyway
A foie gras terrine like you've never seen, plus fruity cocktails at Here's Looking at You in Koreatown
---