Tired of pumpkin spice lattes? Where to find five great turmeric lattes instead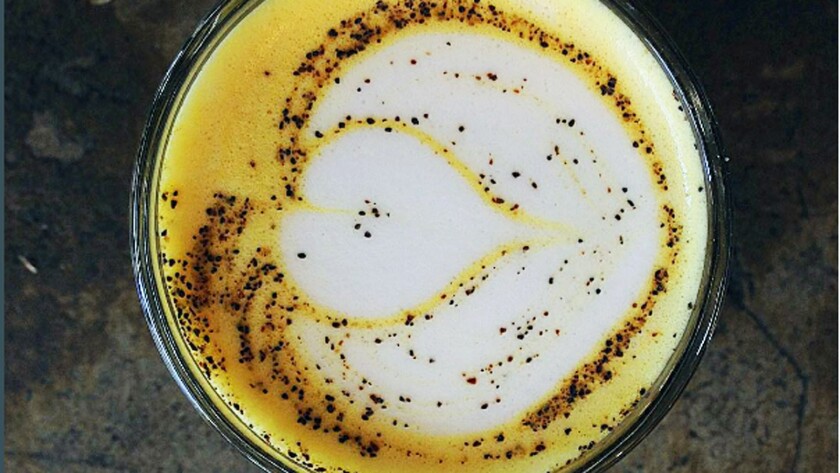 Whether you're a longtime turmeric fan, or just looking to try the superfood of the moment, coffeehouses are a good place to start.
Turmeric, a close cousin to ginger, is a ubiquitous ingredient in Asian and Indian cooking. For Food Network host Aarti Sequeira, growing up in an Indian household, turmeric was considered something of a "hallowed spice" used in Ayurvedic medicine to treat a variety of ailments.
Indian haldi doodh, which translates to "turmeric milk" or more poetically "golden milk," is simple to make: a spoonful of the slightly bitter and earthy turmeric, warmed milk and sometimes sugar or honey. "My mum would make it for us whenever we were feeling under the weather or had trouble going to sleep," says Sequeira.
The latest latte versions are a comforting, autumnal alternative to that other fall-weather drink, the pumpkin spice latte. But unlike the homemade versions, these coffeehouse turmeric lattes are made with more grandeur: turmeric powder or the freshly pressed root is mixed with frothed nondairy milk such as soy, coconut, macadamia or almond. A natural sweetener or in-house syrup cuts the astringency and bitterness. Some baristas also add black pepper. The result is an earthy, creamy and soothing drink.
Here's are five great turmeric lattes in L.A.:
G&B Coffee / Go Get Em Tiger
When G&B started serving its almond macadamia milk, non-coffee drinkers didn't have to feel left out at the Grand Central Market coffee bar anymore. The recipe has since been widely circulated on the Internet. (You can search for it online, and the alternative nut milk is easy to make at home.) The baristas are showcasing the milk via their "turmeric/ginger almond macadamia" drink. Raw turmeric, raw ginger and honey form the drink's concentrate. Then black pepper is added before that day's fresh almond macadamia milk is steamed and poured on top, giving the drink a creamy, slightly sweetened finish to contrast the woody, yellow spice. Multiple locations at www.gandb.coffee.
Cafe Gratitude
Café Gratitude's "I am golden" is a rather complex concoction. A fancy hydraulic juice press extracts the turmeric juice, which then gets mixed with raw wildflower honey and steamed almond milk. (The milk itself is made of two different types of almonds, blended with pink Himalayan salt and California dates.) Turmeric powder and essential oil of black pepper are added to the drink. And if you need a little bounce to go with that healthful boost, co-owner and "chief inspiration officer" Ryland Engelhart says they will happily add a shot of espresso to "awaken that golden." Multiple locations at www.cafegratitude.com.
M Café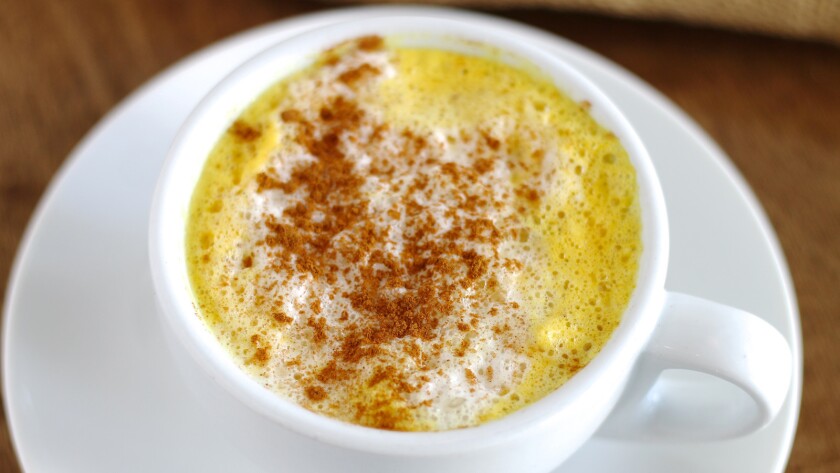 M Café calls its menu contemporary macrobiotic cuisine, and turmeric fits perfectly into the macrobiotic system. There are two options here for turmeric fans: the turmeric refresher and the turmeric latte. The former is a grab-and-go bottle of cold-pressed turmeric and ginger juice, lemon juice, brown rice syrup, mint and filtered water. The latter, added to the menu a year and a half ago, is customized with a choice of steamed almond, coconut or soy milk, then mixed with ground turmeric, ginger juice, cinnamon, brown rice nectar and vanilla syrup. Multiple locations at www.mcafedechaya.com.
Little Pine
Head chef Anne Thornton started serving turmeric lattes at the cozy Silver Lake vegan restaurant when she realized she needed a caffeine-free after-dinner beverage. "I finally reached the age where I can't have a caffeinated drink with dessert," she says, "not unless I want to stay up until all hours of the night reorganizing my shoes." Thornton's version is a mix of organic turmeric and ginger tea steamed with homemade cashew or almond milk, sweetened with Tahitian vanilla bean syrup and ginger syrup, and topped with cinnamon and turmeric powder. 2870 Rowena Ave., Los Angeles, (323) 741-8148, www.littlepinerestaurant.com.
The Butcher's Daughter
Despite being a New York transplant, the Butcher's Daughter gives off all California vibes with its organic menu and juice bar. On the menu is the Golden State, a turmeric latte made with freshly pressed turmeric, maple syrup, black pepper extract and with steamed almond milk. 1205 Abbot Kinney Blvd., Venice, (310) 981-3004, www.thebutchersdaughter.com.
ALSO:
Two writers consider their favorite savory Indian porridges
This company helps eliminate food waste by selling buffet leftovers for almost nothing
Diner en Blanc, the epic all-white dinner party, returns to L.A. Everything you need to know
---
Get our weekly Tasting Notes newsletter for reviews, news and more.
You may occasionally receive promotional content from the Los Angeles Times.