USDA cracks down on poultry industry; West Covina woman sues Foster Farms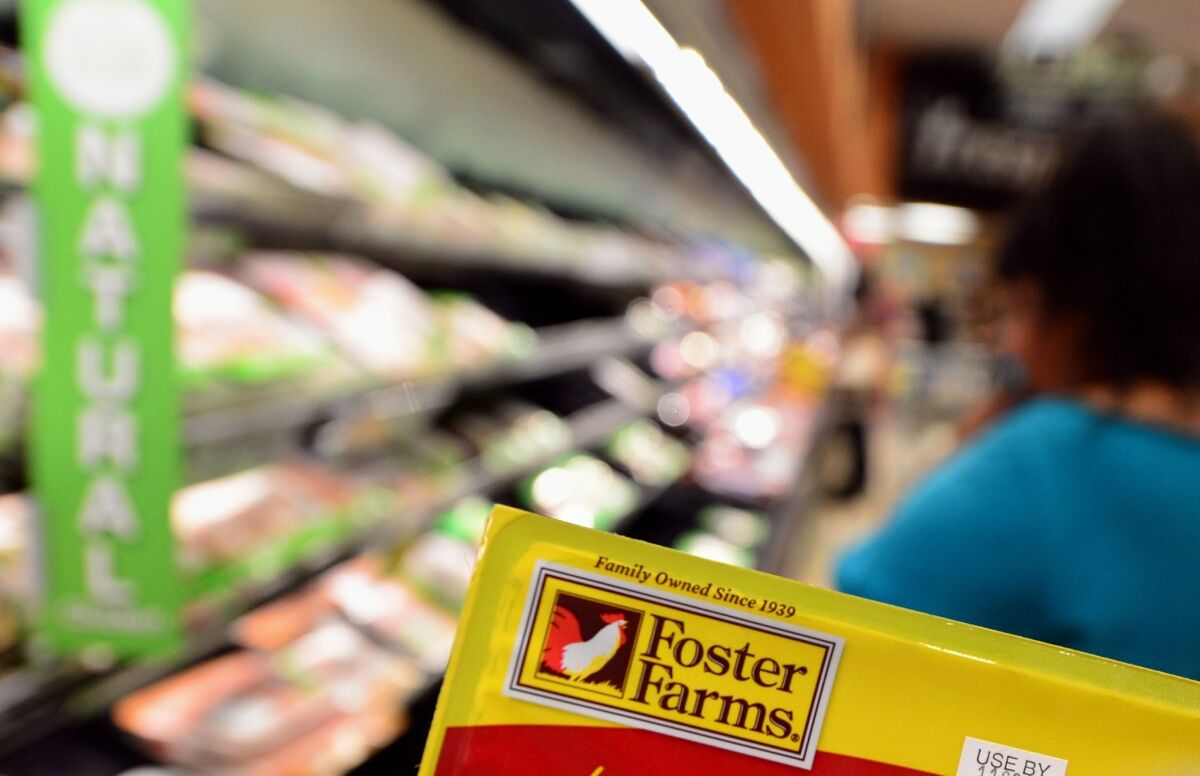 Just as the U.S. Department of Agriculture's Food Safety and Inspection Service has announced plans to crack down on poultry industry food-safety lapses, a West Covina woman is suing Foster Farms, saying she was sickened from eating the company's chicken.
Ruth Rivera claims she lost feeling in her limbs from Guillain-Barre syndrome, which she says she developed as a result of being infected with campylobacter after eating Foster Farms chicken in December 2011. Campylobacter is a bacteria found in chicken intestines and is one of the most common causes of food poisoning. She is suing the manufacturer for negligence and product liability.
The new USDA guidelines, which will go into effect in March, aim to prevent such illnesses. For the first time, the USDA plans to begin testing raw chicken parts, including breasts, legs and wings, rather than only whole chickens as it does currently, for bacteria that can cause food-borne illness.
Chicken parts make up 80% of the chicken available for purchase in the United States, according to public health officials, and salmonella and campylobacter levels increase as chicken is processed into parts. The goal is to get the level of bacterial contamination down to 15% for chicken parts (now it stands at 25%, on average).
Last year, an 18-month outbreak of antibiotic-resistant salmonella linked to Foster Farms chicken sickened more than 600 people, most of them in California.
The USDA estimates that implementation of the new safety standards will prevent an average of 50,000 illnesses annually.
"We are taking specific aim at making the poultry items that Americans most often purchase safer to eat," USDA Secretary Tom Vilsack said in a statement.
In addition, under USDA's proposed new measures, inspectors will routinely assess throughout the year whether companies are effectively addressing salmonella in poultry. Right now, inspectors test samples at facilities on consecutive days, infrequently.
"Although I applaud that FSIS is setting standards for chicken parts, and doing product testing for salmonella and campylobacter, 15% is too high," Seattle-based food-safety attorney Bill Marler told The Times.
"Like E. coli O157:H7, salmonella and campylobacter should be zero tolerance. If you want to save people and avoid lawsuits, do what FSIS and the beef industry did with E. coli O157:H7 — ban it. Fifteen years ago, 90% of my firm's work was E. coli cases linked to hamburger — that is now nearly zero."
As for Rivera of West Covina, Foster Farms disputes her claim, stating that she cannot show a receipt proving she ate the company's chicken before she got sick and that she could have picked up campylobacter from another source such as raw eggs, shellfish or turkey.
---
Get our L.A. Goes Out newsletter, with the week's best events, to help you explore and experience our city.
You may occasionally receive promotional content from the Los Angeles Times.