Here's a secret about Whittier: It's ascending as a great food city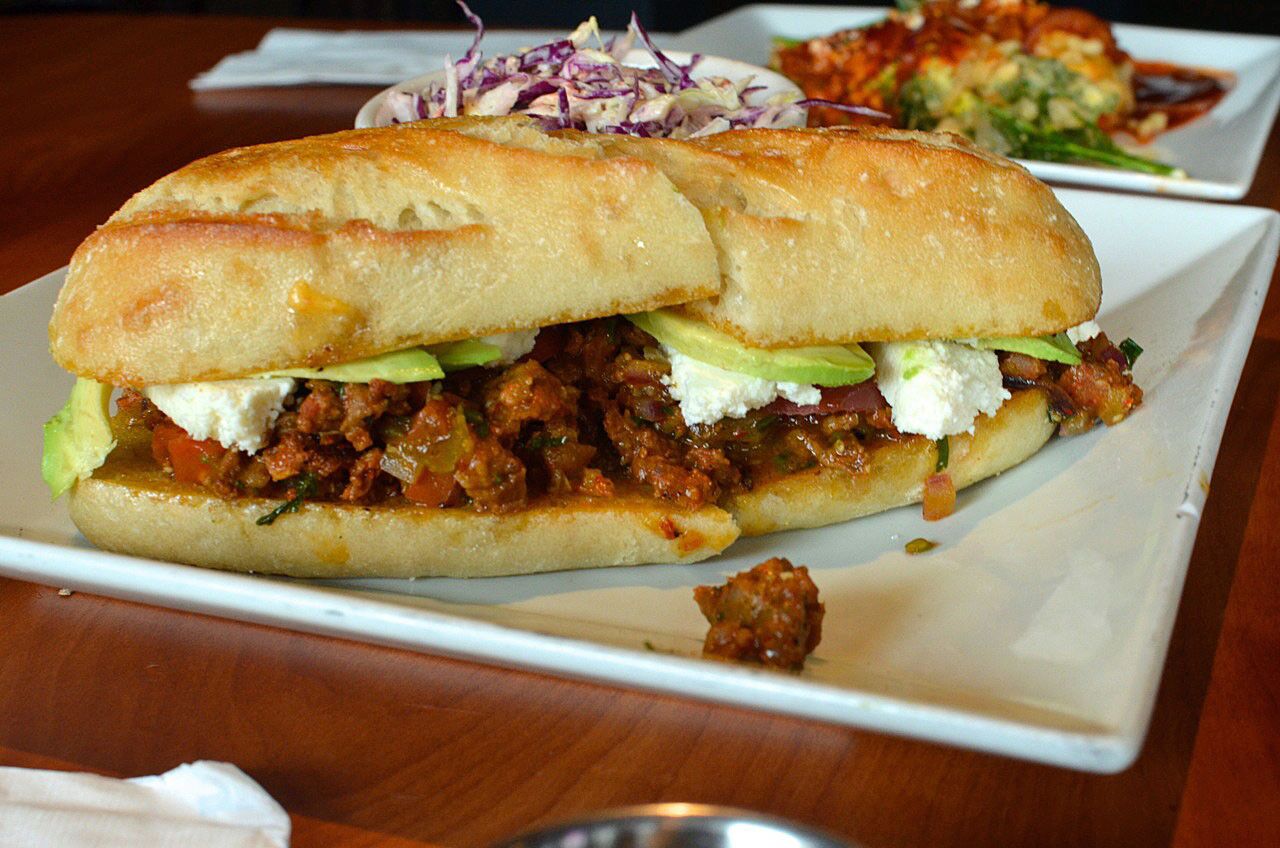 Torta de chorizo is full of housemade spicy sausage.
(Javier Carbral / For The Times)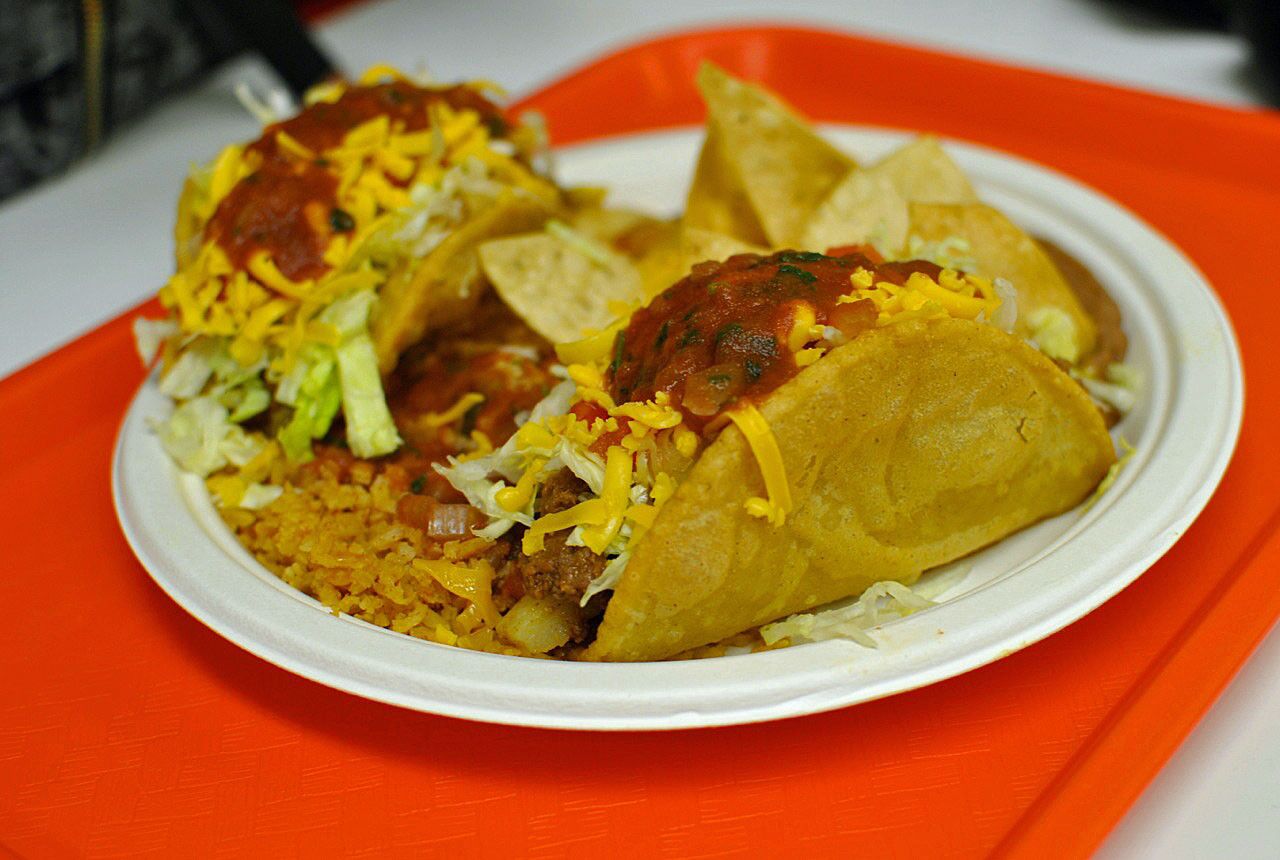 Arturo's has been the home of puffy tacos for years.
(Javier Cabral / For The Times)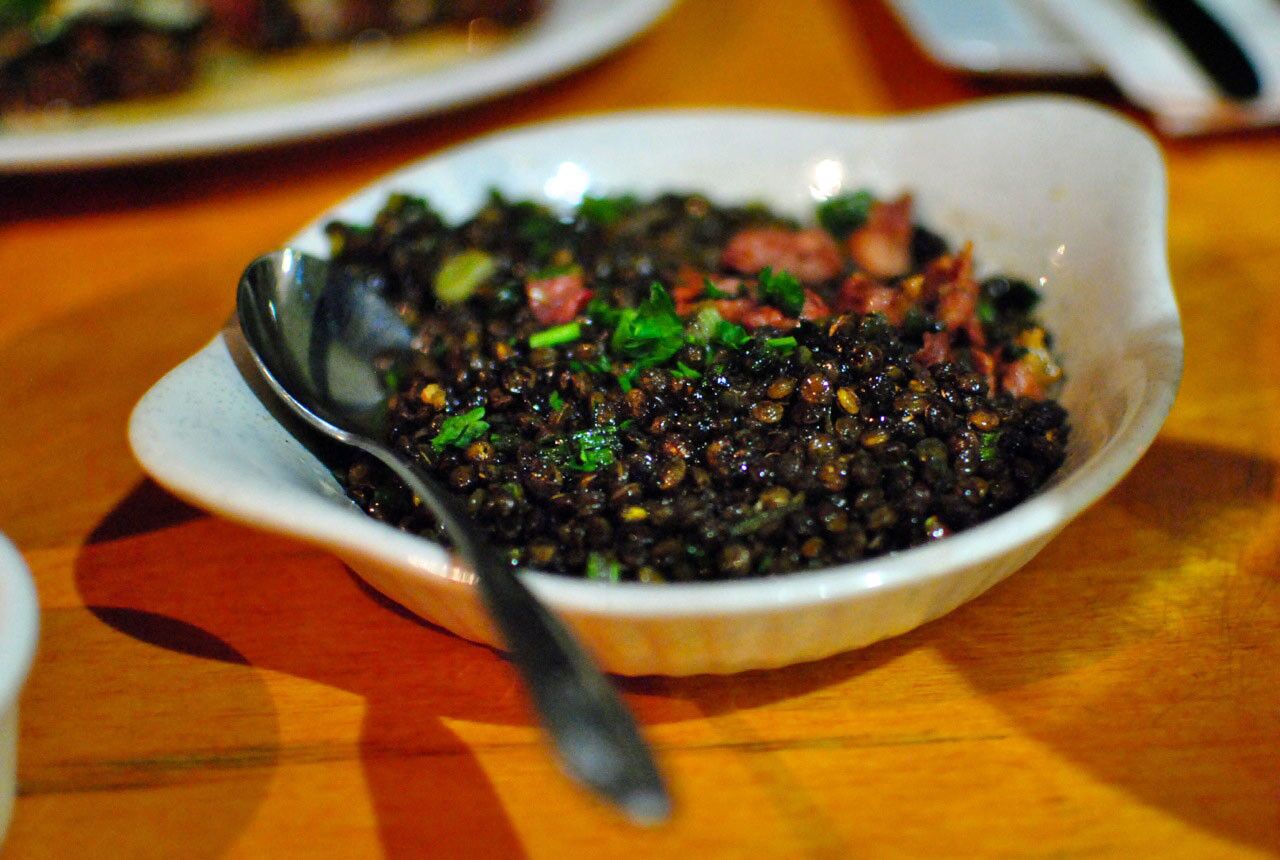 Crispy black lentils with jamon Serrano from Phlight
(Javier Cabral / For The Times)
The crispy buttery Tony's tots at the Bottle Room are something between hash browns and tater tots.
(Javier Cabral / For The Times)
Until now, Whittier's blossoming restaurant scene filled with contemporary regional Mexican food, craft beer and oyster bars, serious gastropub fare and original puffy tacos was L.A. County's best-kept secret. But it's time to stop being selfish and share its delicious wealth. Here is the best of what Whittier has to offer.
Bizarra Capital
Chef and restaurateur Ricardo Diaz is no stranger to the Los Angeles restaurant scene. He comes from the same family responsible for L.A.'s iconic Mexican seafood restaurant franchise, El Siete Mares. At his flagship restaurant Bizarra Capital, you'll find unique home-style Mexican dishes with a provincial fisherman/chef angle. They can be as astonishingly simple as a torta made with a chewy rustic ciabatta roll and filled with juicy Zacatecas-style chorizo that he makes himself, seared steelhead trout tacos on homemade tortillas or a hyper regional Mexican pre-hispanic dish of huazontles capeados, a broccoli-like Mexican vegetable that is battered with egg and cheese and then served in a bright guajillo red salsa. All, to be washed down with a good local or dark Mexican beer on draft.
12706 Philadelphia St., Whittier, (562) 945-2426.
The Bottle RoomThe unparalleled tap menu at the Bottle Room is enough to impress even the snobbiest of hopheads, always chock-full of obscure sours and extremely limited IPA's. But while a lot of other beer bars would be satisfied with just an epic beer list and undermine the food side of the menu, the Bottle Room does the exact opposite and make its food menu just as fierce. This is due mostly to the chef and co-owner Tony Alcazar and his past work at places like the Ritz-Carlton and with various Patina Group restaurants. For the Bottle Room, he's developed a fresh and seasonal approach with a menu that might have a lobster and scallop mousse raviolo on one day and a heirloom tomato salad on another. Though there are a couple of extremely beer-friendly staples on the menu, such as Thai-style fried calamari with a Sichuan dipping sauce and their customer favorite, Tony's Tots, made with shredded buttery crisp Yukon Golds and served with chipotle mayo.
6741 Greenleaf Ave., Whittier, (562) 696-8000.
PortsmouthPortsmouth is not your average oyster bar, unless your oyster bar also serves things like Korean-style lobster ceviche and crabmeat-fortified versions of the Mexican street food classic of grilled shaved corn, esquites. Also, their daily oyster selection can keep up with any oyster bar in trendier parts of Los Angeles, especially on weekends when you can find as many as 10 types. As you taste the aforementioned menu options and sample the more basic ones like their fish and chips (fried in peanut oil; nutty) or a salad of grilled kale with tender octopus and crispy pork belly in a red wine dressing, you'll quickly realize that chef Daniel Salcido is literate in the language of fresh seafood done properly. An extensive list of lighter craft ales is available here as well.
13103 Penn St., Whittier (562) 789-9700.
Phlight A thriving restaurant scene would not be complete without its proper Spanish tapas and wine restaurant. In Whittier, Phlight is that place, though with a slight Mexican twist. It's owned by Nikomi and Jay Arroyo; their cousins Noe Garcia and Pedro Mota are the chefs. Stop in here to enjoy classics such as boquerones on toast and spinach croquetas. There are a few other more enticing offerings of course, such as an addictive plate of crispy black lentils peppered with jamon serrano in a sherry glaze sauce. Their expertly cooked medium-rare flat iron steak served with chimichurri and a runny Idziabal cheese sauce was particularly memorable. The wine list is vast and extremely by-the-glass friendly; or you can just do a "phlight" of three, four or five 3-ounce pours of any wine you want.
6724 Bright Ave., Whittier, (562) 789-0578.
The Rusty MonkKyle Koestner is somewhat of a force to be reckoned with in Whittier, not only because he beat cancer but also because he's the proprietor behind Whittier's popular indy music venue-cum-juice bar-cum art gallery, Fenix 5-4. Now, he's also the owner of the brand-new Belgian gastropub across the street from it, the Rusty Monk. He's worked in and around the restaurant industry all of his life and the Rusty Monk is the result of all that experience. It's a vintage-y place that stays open a little later than other spots around town. Settle in to the comfy booths for a full-fledged dinner of say, brown butter U10 scallops served with peppery roasted local purple cauliflower grown by Whittier Backyard Farms, a local CSA. There's also a nice bar that is perfect to lounge around with friends after work. The kitchen's soft Bavarian pretzel with whipped beer cheese, both made in-house are highly recommended. The tap list is strictly European but you may find really neat things like hard apple ciders fermented with wild brettanomyces yeasts.
6749 Greenleaf Ave., Whittier, (562) 698-5553.
SetáSetá may deceive you into thinking that it's just another fancy white-tablecloth steakhouse, until you eat there and spot such complex contemporary Mexican menu items as a "shellfish tart" with shrimp, calamari, clams and scallops on a ridged corn masa crust with ancho chile cream, or shrimp chile rellenos with huitlacoche sauce. Of course, what would you expect from a restaurant by Hugo Molina, who formerly headed Pasadena's Arroyo Chophouse and Parkway Grill and Los Angeles' Spanish Kitchen? On any given night, the restaurant and lounge may have live music and locals sipping on their strong mixology-based cocktails designed by Aricia Alvarado, Molina's wife.
13033 Philadelphia St., Whittier, (562) 698-3355.
Arturo's Puffy TacosOf all of the food available in Whittier, Arturo's Puffy Tacos undoubtedly has the most historically significant. For starters, the Lopez family that runs the establishment has popularized an entire new genre of tacos for Southern California. Thus, it is your civic duty as a taco-loving Angeleno to go and experience them for yourself at least once. They are related by family to the owners of the famous Henry's Puffy Tacos in San Antonio, which explains all of the shredded yellow cheese and piles of shredded iceberg lettuce. The final fried masa product is something of a mixup between a Yucatecan panucho and hard-shell Mexican American-style taco with a sope thrown in, yet lighter and flakier. The original version is stuffed with a hearty ground beef picadillo, though most swear by their carne asada-filled ones. If you're really feeling hungry, round out your puffy tacos with a side of their corn-tortilla wrapped crispy hot dogs, which are exactly what they sound like.
15693 Leffingwell Rd, Whittier, (562) 947-2250.
ALSO:
PHOTOS: Delicious dining in Whittier
Grimaldi's in El Segundo could be L.A.'s best NY-style pizza
---
Get our L.A. Goes Out newsletter, with the week's best events, to help you explore and experience our city.
You may occasionally receive promotional content from the Los Angeles Times.